Last fall, he left North Carolina's historic Rockingham Dragway with the Pro Extreme trophy in hand. This weekend (Sept. 10-12), instead of defending his event title as the all-eighth-mile Professional Drag Racers Association (PDRA) returns to "The Rock" for Dragstock XII, Snyder will compete in a different class—with the same car.
"We decided to try something new this year and took the Pro Extreme screw blower off and replaced it with a roots blower and our new ComSYNC EFI system that manages the fuel, the coil packs, everything. In this case EFI stands for engine, fuel, ignition, and it's way more consistent than a mechanical system ever could be," Snyder explains. "Of course that also means we couldn't remain in Pro Extreme, so we went back to our roots as bracket racers and are running now in Top Sportsman."
Despite making a late-season start with his first 2015 PDRA appearance in the familiar, bright orange Powersource Transportation '63 Corvette just last month in Memphis, Snyder arrives in Rockingham already a Top Sportsman winner. He narrowly defeated new class points leader Ronnie Davis in the final round of the 2nd annual PDRA Memphis Drags.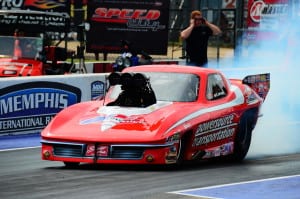 "It's always great to win, but that did come as a bit of a surprise," Snyder admits of the quick success. "Just like so many guys in Top Sportsman, Ronnie is a great driver with a really good car, so it's definitely not easy to win here.
"I just hope we haven't raised everyone's expectations to where they think we can do that anytime we want," the Demotte, IN-based driver adds with a laugh. "I think Top Sportsman is just as tough—if not tougher—to win as Pro Extreme. What I mean by that is if the 16th-place guy can cut good lights and run his number (dial in), then he has just as much chance of getting to the final as the number-one qualifier, whereas the number-one guy in Pro Extreme usually has a distinct advantage, at least in the early couple of rounds.
"We'll just do our best again and see what happens. But yeah, it would definitely be nice to be leaving this year with another trophy."