Tommy Kundrik is living his dream.
But on a memorable January morning with Barry Mitchell at Bradenton Motorsports Park, Kundrik, the Motorsports Manager at Mickey Thompson Tires, definitely thought he was dreaming.
It was also a day that not only changed his life but changed the course of drag radial racing.
"We had lost the market to Hoosier and we went in there for one test with three specs of tires," Kundrik said.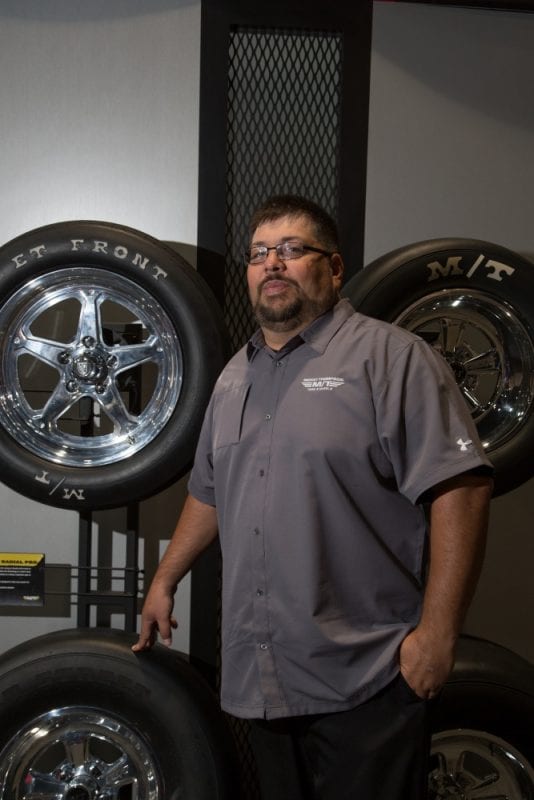 "Barry Mitchell at the time was running really fast. He had really fast 60-foots, like 1.13 and 1.14. We put the Hoosier on the car because we always do back-to-backs against our competition. He puts it on and blows the tire off. He goes out again and blows the tire off.
"I'm just like, 'Let's put these on and see what's going on.' Well, the thing goes out there, and nothing touched the track and it was definitely a hotter part of the day, and the guy goes 1.10 60-foot and goes down the racetrack. I'm like, 'What the hell? No way.'
"We put the Hoosier back on and it blows the tire off again. We put our tire back on and it goes down the racetrack, 1.10 60-foot. I was like, 'You gotta be kidding me.' There's no way we hit this thing dead on first time. It's that much better than the competition where theirs is spinning and ours is trying to drag the bumper off the thing going 1.10 60-foot.
"So, we waited 'till the next day and ran the same test again," he continued. "Prep the racetrack, put the Hoosier on and he goes like a 1.15. He puts ours on, 1.10 60-foot again."
Stunned as Kundrik was, it wasn't a dream and the story, at least some version of it, was out by the end of the day.
It didn't take long for it to spread, as evidenced by a sudden rash of calls at the Mickey Thompson office, all the while Kundrik was trying to take in what had just taken place. The world of drag radial racing was growing at a phenomenal rate and by all appearances, Kundrik and his team, which now features nine different people and five different semi trucks that travel to races across the country, had come across a potential game changer.
He went back to the facility, made 100 tires, headed to Donald Long's "Lights Out IV" a month later at South Georgia Motorsports Park and found out immediately about how much word had spread.
"We made 100 tires and that's all you could make in the time we had," Kundrik said. "The way I had it structured was, 'Hey guys, we have a 100 of these things. Be in line at 9 a.m. on Thursday and we'll sell them until we're sold out.' We sold every tire. There was literally a line at the tire trailer with 100 guys in it. It was crazy. I've never seen anything like it."
It also made every single customer that day overjoyed with what they received. Kundrik and his team didn't need any slick marketing slogan at the race and following what transpired during the event, one wasn't necessary afterwards, either.
"We released it at Donald's race and it set every record, first race," Kundrik said. "It was everything you could have ever wanted. You set every record, you took the market over completely, everybody's happy and you sold every tire you had. It was unbelievable."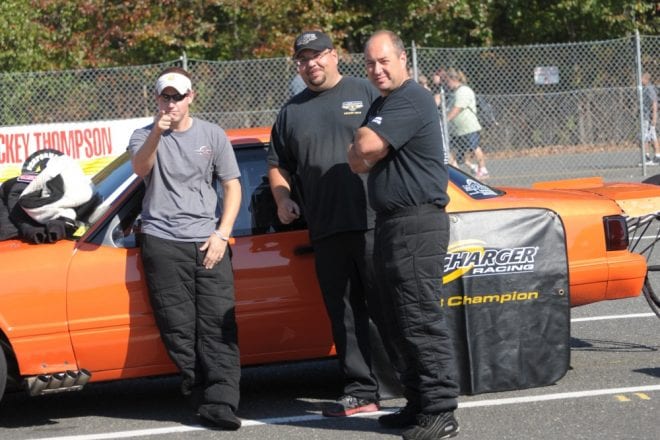 Kundrik was still waiting to get pinched when it came down to one of the biggest decisions of his career. In retrospect, it seemed like a no-brainer, but from a single test session to full-on production in a month or two seemed almost too good to be true. The performance of the tire at Long's race was further backing of the tire's performance and capability, but Kundrik, who was in charge of the project at the time, often wondered if he was being too ambitious to release the tire that quickly.
It didn't take long for that trepidation to turn into extreme satisfaction.
"I couldn't sleep for like two days, my stomach was turning, because it's a lot of money to say this is the right tire," Kundrik said. "We had one test on it. In the seven years that I had been there, we tested stuff for half a year before we released it. You just keep second-guessing yourself, but finally you say it's good enough.
"[Kundrik's boss] asked me how many we were going to sell and I said 1,200 because all I did was add up all the X275 cars in the country. Well, no. No, we sold like four times that the first year because everybody wanted it. It fits on everything. It's 28 inches tall, 10 and ½ inches wide. It's our best-selling tire."
It's a wild tale that will live on forever and, for Kundrik, it's one of the vast number of reasons he loves what he's doing. After working at American Racing Wheels, Kundrik went to Mickey Thompson in 2006 and has continued to live his dream for the past decade. He's a staple at races and one of the more beloved figures at them, in part because of a giving, likable personality that has forged friendships with everyone he comes across.
"The relationships, that's the best part of the job for me, making those friendships along the way," Kundrik said. "I've raced for a long time and you know what everybody goes through. I would do anything for these guys out there and so will my guys. I'm doing the job that I love and not many people get to do what they love. That's the thing that means the most to me.
"It's like family. There's so many good guys out there and I've made a ton of good friends. This means everything to me and I couldn't see myself doing anything else. I think as long as you're fair in this business you'll go a long way."
Kundrik continues to be impressed with the growth of drag radial racing, which continues to boom in popularity. The market has been just as explosive and Kundrik and Mickey Thompson have had a direct impact on that with their drag radial tire. Seeing drag radial cars go 3.70s at well over 200 mph is now the norm, in part because of the modern marvel Kundrik and his team created.
"It blows my mind every time I see someone go really, really fast," Kundrik said. "To be part of something that's the next level, it's just amazing. It's awesome because I'm an enthusiast, I'm a participant, everything. We've done a lot of cool stuff."
While the tire has revolutionized drag radial racing, Kundrik is the first to admit he's relied on simple aspects, whether it's common sense to see what's needed, taking good ideas and running with them or good market research. With that in mind, it wasn't rocket science to see that drag radial racing was where his team needed to focus.
"For radial to keep going, to where it's at currently and to keep going strong for what…eight years? It's amazing. And it just keeps growing," Kundrik said. "It's absolutely amazing. Just to see all these guys that were anti-radial and to see what Donald has done with this deal and see where it's gone – again, it's amazing. To have 400 radial cars at the same property, it's just amazing to see what it's blown up to today."
Kundrik now sells drag radial tires to countries around the world – "to countries you wouldn't think you could
ever sell them to" – but constant progression continues to be the goal. He has witnessed what he calls the "rise and fall of Outlaw 10.5 right in front of my eyes" and wants to continue to set the bar, whether it's the next generation of radial tires or something to give the Outlaw 10.5 participants a boost.
"The 275 Pro started it, then the 315 Pro followed it and it's that much better. It's going to carry us into the future," Kundrik said. "You know, we have a 33×10.5x16W coming. It's kind of a blip on the radar now and we're getting ready to start testing that, trying to give the Outlaw 10.5 guys a boost because if we leave them alone I think they'll be a 3.95-4.00 car for the next 10 years.
"I'm a huge believer in the notion that competition makes the world go around. You have to have someone out there pushing you to be better, someone setting the benchmark. I would like to think we're the benchmark. We're the best. Come get us. That's what we're striving for."
That means Kundrik will continue to live his dream, constantly looking for moments like that one magical day in Bradenton. But whenever and whatever that moment may be, he's damn near positive that a drag radial tire will be involved.
"I think it's the next step," Kundrik said. "I think radials are safer, they're definitely faster. It's the next step. You have to figure out how to make that next tire. We make little tires very, very well. Now, we've got to learn how to make big tires really, really well, and do it in a radial. You go to that next step and maybe someday you'll see a Pro Mod with a big radial on it. If that day comes then we've succeeded because you can only go up. Nobody wants to go down. They just want to go faster and if you can give somebody a tenth and two miles an hour, it's going to be huge – especially if you do it just by bolting a tire on. I see the market going that way, I really do. It's just a matter of time."