Whenever Kenny Floyd catches a glimpse of something that hooks his attention, it's usually not just a passing faze. For example, there was that time he went out on a blind date with a pretty gal named Linda back in 1975. After a brief courtship, the two were married. Forty-two years later they're still happily together and loving life. While the longevity of their relationship is indeed compelling, Kenny and his beloved 1958 Corvette have actually been together even longer.
"When it's right you know it," he insists. It's clear he speaks with parallel examples when describing objects of his affection. As for the latter, he still remembers the first time he ever laid eyes on the sexy curves of this American classic two-seater while still a teenager. The 'Vette was a local car that belonged to a paint and body shop owner who lived in Floyd's hometown of Charlotte, North Carolina. Floyd knew he must own this car, and even though he was a young man still in high school, he was a hard-working lad who had also made some mighty good car trades early in life, even before the Corvette came into the picture.
It all started with a 1955 Chevy Nomad he bought from his parents for $500 when he was 16 years old. A short time later he and a guy swapped even: The Nomad for a 1961 Impala, equipped with a 348 Tri-power engine. He then took the Impala and traded even yet again, this time for the beautiful 1958 Corvette that he still owns nearly 50 years later! Perhaps the only trade that even comes close to that one was the time he swapped a .45 caliber Colt pistol for a 1955 Chevrolet. Back in those days it wasn't uncommon to barter a pistol for a car, especially in the "Don't Tread on Me" culture of the South, where owning guns ranks as high in importance as eating!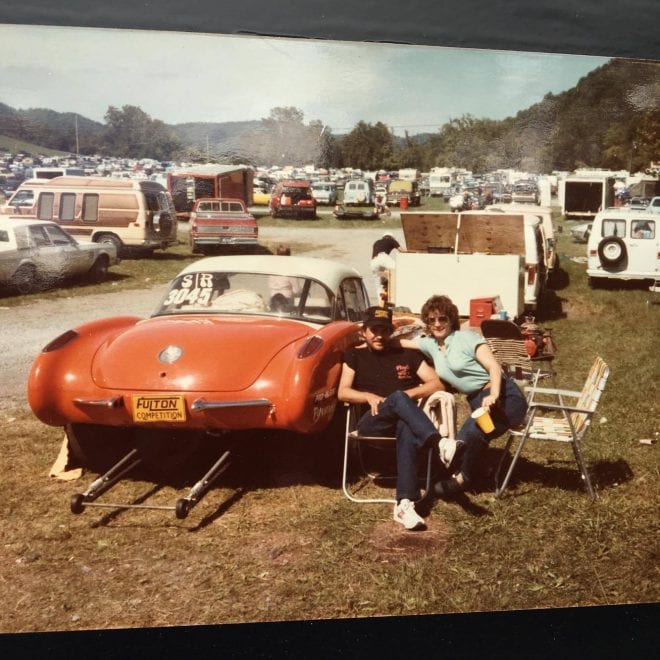 Well, upon taking delivery of the Corvette, Floyd immediately started driving the car to high school. It was truly the stuff dreams are made of, and all these years later he looks back fondly on the experience. The blind date with his eventual wife, Linda, would happen shortly thereafter and Kenny's lifelong drag racing adventures would soon become part of the young couple's life together. "I don't know if Linda immediately fell in love with drag racing, but she's been tolerating it for quite a while now," he laughs.
For Kenny, though, the car culture and racing life instantly struck a chord with him as early as age 12. In fact, after school would let out, Kenny would walk up the block to Dick Behling's service station and sit in his front engine dragster parked out front and pretend to race. "Then when I was probably 14 years old I started going to Shuffletown Dragway with my older brother, Terry, just as spectators," recalls Floyd.
Spectator status would change, though, right after he acquired the Nomad from his parents, and pretty soon he had the car screaming down Shuffletown's eighth-mile, just as he did the Impala and eventually the Corvette. "I also used to race at the old Concord Dragway when it was still open, and it's actually where I won my very first race. The year was maybe 1970 and Concord had just switched to AHRA sanction. They had some sort of gas class for sports cars and that's where they put me to race my Corvette. It had a real soft index and I was able to cover it and win. Best I remember, I won something like $10 and a trophy," he remembers fondly.
Since the sporty 'Vette didn't have a trunk large enough to tote slicks, he'd show up with street tires and race the car just as it was. "I had a lot of fun and won some races," he says. Soon after Kenny graduated high school he took his beloved Corvette off the street, electing to make a full-fledged drag car out it. He swapped the factory 327 and 3-speed transmission for a 355 small block and 4-speed transmission. "It's always been a small block car, but I've had a variety of engines in it over the years. In addition to the 355, I eventually stroked that engine to 383, and at some point, I had Gene Fulton build a 302 bored to 305. I've also had a 406 in it," says Floyd.
Whenever the block became completely worn out, he would get a new one and begin putting together his next race engine. The car has also had a litany of transmissions over the year – everything from a Lenco to a Powerglide and 5-speed, to the aforementioned 3- and 4-speed transmissions. He finally settled on a 400 cid small block with a Powerglide as his current combination. The engine features 3.750 stroke with 4.125 bore. Kenny relies on 6-inch Carrillo rods, Manley pistons, 18-degree Trick Flow heads with an 18-degree Chevrolet intake.
Impressively, he does almost all of the work on the car himself. He built the chassis, maintains all the paint and body work and even hand-made the 4-link brackets. He outsourced the roll cage and front snout, but that's pretty much it. Amazingly, the last time he painted the car was in 1985. The 'Vette stays safely tucked away in the trailer, and just as important cosmetically, out of the sunlight. It's a true head-turner wherever Kenny takes it.
Although the car has been driven almost exclusively at the drag strip since 1970, there was the exception of a three-year stint when Floyd became disenchanted with drag racing and actually put the Corvette back on the street in the early 1980s. "When everybody started bracket racing, I said to heck with it!" he laughingly remembers, and elected to convert the Corvette back to a street cruiser. He returned to the drag strip when index racing lured him back a few years later. "I like racing heads-up, so that was enough to bring me back to the drag strip."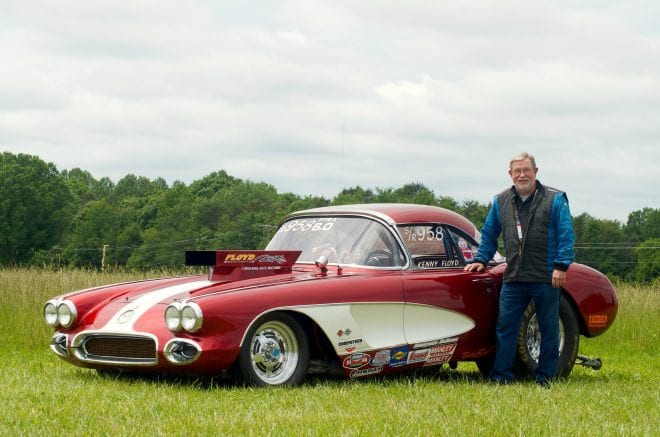 Floyd routinely competes in the IHRA Summit Sportsman National Championship series, while racing in the 6.40 index class of Super Rod. One time while throttling on the full quarter mile, the car clocked a best of 9.23 at 143 mph with one of his previous engine combinations, although he mainly sticks to eighth-mile events these days. Local to the southeast is a popular series called the Pro Tree Racers Association, which is the perfect application for the style of racing Floyd loves most. He's enjoyed success over the years while competing in this touring series, capturing four PTRA Championships in the 6.00 class. Additionally, he's won a pair of track championships (2012 and 2015) at Shadyside Dragway while competing in the 5.99 category. His driving ability actually seems to improve with age, and he's even picked up a pair of wins this year during the month of May at Pageland Dragway in South Carolina.
Recently retired from the automotive upholstery trade, Floyd says he now has more time to race and collect and restore vintage Corvettes. He enjoys the relaxing place he and Linda have reached in their lives. Oftentimes, their daughter, Michelle, accompanies them to the track for many of the local races.
So, with no particular place to be and no one really depending on them for much of anything, the Floyds have been able to take their newfound freedom to new heights! To kick off the 2017 race season they loaded up the race car and headed to Florida in January with the intentions of staying gone for no less than three weeks. They joined up with friends from Canada who also compete in some of the same circuits and together they raced, traveled and camped in their motorhomes and enjoyed life with few restrictions. You'd be hard-pressed to conjure up anything more genuinely blissful than the life these two are currently living. "It's the first time in our lives that we have been able to leave home and stay gone for weeks at a time. We're loving it and intend to do more of it," he smiles with satisfaction.