For Ronnie "The King" Davis it ain't over 'til it's over. With this weekend's double-race weekend for the Professional Drag Racers Association (PDRA) at Virginia Motorsports Park (VMP), the veteran Top Sportsman competitor feels he still has a shot at earning the series' first championship.
"We've got a lot of hard work ahead of us this weekend, that's for sure," the golf cart dealer from Suwanee, GA, acknowledges. "But hard work is nothing I've ever shied away from. We've got the car and we've got the opportunity; now all we have to do is put in the effort to go out and win a couple of races and the championship will take care of itself."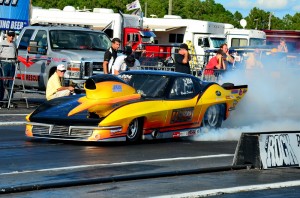 With elimination rounds for the PDRA's previous event rained out last month at Rockingham Dragway, this weekend will see the North Carolina event concluded within qualifying (Oct. 10) for the 2014 PDRA Championship Finals, which will wrap up the series' inaugural season with eliminations the next day.
That means Davis, currently in fifth place, has the chance to gain 100 points for each round win he can score and potentially make up the 509-point deficit he faces behind the current leader.
"It's not going to be easy, there's a lot of good cars and drivers to get by, but it's also not impossible," says Davis, who a couple of years back won an NHRA Division 2 Top Sportsman championship by just one point in another come-from-behind charge. "I feel good, the car is running good and we're going to give it our best shot. There's only one chance to be the first champion and there's nothing I'd like better than to represent the PDRA in that role next season."
Motivated by a nitrous oxide-injected, 822-cubic-inch powerplant from Jon Kaase Racing Engines, Davis qualified his Tommy Mauney-built '63 Corvette second at Rockingham, then defeated Cheyenne Stanley in the first round before the rain arrived. He'll go up against William Brown III in round two from "The Rock" when racing resumes Friday at Virginia Motorsports Park.
Since its inception in 2002, Davis has sponsored the NHRA Top Sportsman class through his business, Davis Golf Cart Sales, a full-service dealer of stock and customized carts for home, business and racing use. He's now applying that experience by also working behind the scenes at PDRA, most recently orchestrating the addition of Drag Race Central, the undisputed leader in live, round-by-round online drag race reporting, to the PDRA's race weekend media mix. Presented by Davis Golf Cart Sales, Drag Race Central (DragRaceCentral.com) will cover both the postponed Rockingham races and the PDRA Championship Finals from Virginia.
"I and everyone at PDRA wanted to get Drag Race Central because they are clearly the best at round-by-round coverage and I think they give a sense of importance to what we're all doing out here," Davis says. "I want to thank Rick Green of FastNews Network and also Summit Racing for helping me get this done. Hopefully it's something we'll have for all of next year, too."
(Photos by Ian Tocher)