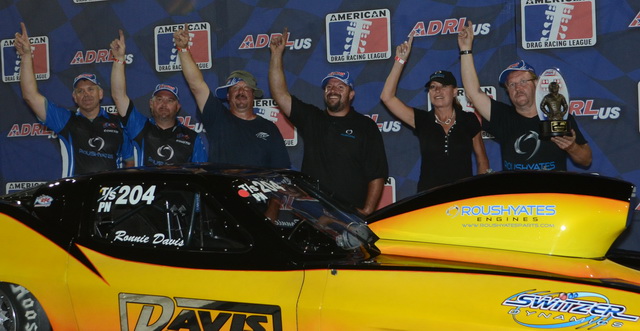 It's been a month since Ronnie Davis won his first ADRL Top Sportsman race, but the five-time IHRA Top Sportsman world champion and two-time NHRA Division 2 champ is still pumped up over his Dragstock IX victory at zMAX Dragway in Charlotte.
"I had my good luck charms with me at zMAX—my girlfriend Micki Dearing and world-famous dog Honeybear—we even had Honeybear in the winner's circle with us," Davis said. "We all had a lot of fun that day, but that really was a big win because it put me right back into contention for the ADRL championship."
Davis heads into this weekend's (Sep. 7-8), ADRL Memphis Drags III at Memphis International Raceway in fourth place—but less than four rounds behind the current points leader.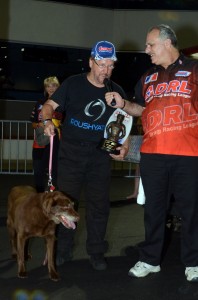 "I feel like we're within striking distance now and anyone who knows me will tell you, as long as I have a mathematical chance at winning I'm going to give it everything I've got to try and make that happen," the Suwanee, Georgia-based golf cart dealer said.
"I use a two-man crew, always have, myself and Pete March, but I prefer to do 90 percent of the work myself—that way if it goes well, it's all good; and if it goes bad, I have no one to blame but myself."
With just three events left in the ADRL's 10-race schedule this year (Memphis, Norwalk, OH, and Dallas, TX), Davis is looking to put his Tommy Mauney-built '63 Corvette back into the winner's circle as soon as possible.
"I've gone back to the way I was running the car last year, which helped a ton in Charlotte and I'm confident it'll work just as good in Memphis, too," Davis stated. "Switching to the converter from Cameron Bradham at Torque Converter Services made a big difference and the Switzer Dynamics nitrous system was dead on, too.
"And of course with 822 cubic inches of Roush Yates horsepower, which is just awesome and so reliable, it's exactly what you need when you're going up against the best Top Sportsman racers in the world," he added.
Despite starting his 2012 Top Sportsman campaign in February at the NHRA Div. 2 season opener in Orlando, Florida, and being second in points one month later after three events, Davis stuck to his pre-season plan to go after the ADRL's inaugural Top Sportsman championship.
"My goal for the 2012 season, right from the start, has been to win the first official ADRL Top Sportsman championship," Davis said. "I'm feeling good; the car is ready; it's consistent; so maybe we can get it done again in Memphis. We're sure going to give it our best shot and see if we can move up a little more in the point standings, too."