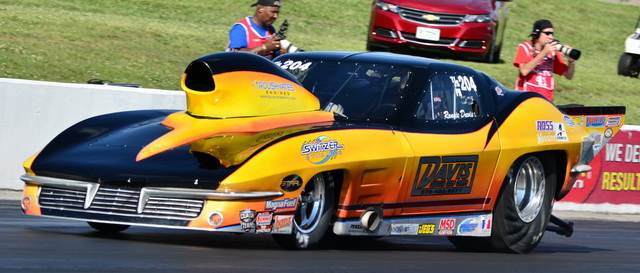 Driving his black-and-gold colored, Tommy Mauney-built '63 Corvette this weekend (June 29-30), at U.S. 131 Motorsports Park in Martin, Michigan, veteran Top Sportsman racer Ronnie "The King" Davis will enter the second half of the eight-race American Drag Racing League (ADRL) schedule determined to make a run up the points list.
Though currently 12th, Davis says there's still time to qualify for the ADRL's Battle for the Belts, a special event for the top eight in points this September at North Carolina's historic Rockingham Dragway.
"Basically it comes down to going a few rounds and hopefully winning a couple of events and we'll be right back in the thick of things," the Suwanee, Georgia-based golf cart dealer said as he heads for the ADRL Summer Drags IX. "With $10,000 going to the Top Sportsman Battle for the Belts winner, you know I want to be included."
Davis also said he will have the nitrous oxide-injected Roush Yates 822-cubic-inch engine in his Corvette tuned up for the task.
"We've been super busy here with the golf carts lately—which is good—but it does make it hard to find time to work on the race car," he admitted. "But we've been getting after it late at night and just got everything buttoned up. I have a feeling it's going to be fast and ready to race as soon as we arrive at the track."
Also making demands on his time while preparing for the weekend is Davis' recently accepted role as Director of Sportsman Racing for the ADRL. In addition to fielding questions and settling competition issues for those in the ADRL Top Sportsman and Top Dragster ranks, Davis has been kept busy building up the contingency sponsor involvement for the ADRL's bracket-racing classes.
"It's exciting to see where these classes are going with the ADRL. We just came off the most successful and biggest Top Sportsman field in ADRL's history over at Richmond (VA) with 32 entries and I think we'll see another big racer turnout at Martin," Davis said. "Kenny (Nowling, series president) has made a strong commitment to these classes and I want to help in any way I can to support his efforts."
In addition to working and racing with the ADRL, Davis has competed this year in select NHRA Div. 2 Top Sportsman events with plans to continue. Since its inception in 2002, Davis has sponsored the class through his business, Davis Golf Carts, a full-service dealer of stock and customized carts for home, business and racing use.