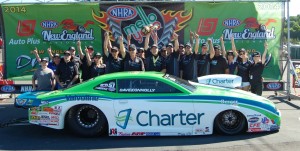 Mooresville NC 6/26/14:  Dave Connolly gave JRi Shocks' new electronically controlled shock system, dubbed the JRide, it's first professional win this weekend in the NHRA Pro Stock class in Epping, New Hampshire.
Connolly has been working closely with JRi Shocks since March on developing the system, which offers an entirely new level of control compared to the current damping systems on the market. Current "adjustable" systems allow for only one adjustment where the JRide system allows multiple adjustments to be made the entire length of the track. The electronic system is activated through the trans brake, clutch pedal or wide open throttle, and preprogrammed adjustments are made at specific intervals during the course of the run.
Back in April, JRi Shocks submitted the JRide system to the NHRA seeking approval for competition use. Aside from the many features of the JRide system, NHRA officials were most concerned that the system offered no active capabilities. After a detailed presentation by JRi engineers, the NHRA gave it the green light. "We're incredibly happy for Dave and the whole Gray Motorsports racing team," said Pete Brower, Drag racing market manager for JRi Shocks. "Our team has worked very hard to bring the JRide system to the drag market and to see success with it, especially this quickly reiterates in our minds that this is a valuable technology for the drag market."
The NHRA approved JRide system is available for $7500 a set. Contact Pete Brower at 704-360-5860 or [email protected] for more info.
About JRi Shocks…Since its inception in 2007, JRi Shocks has utilized cutting edge technological advancements with over 100 years of collective experience in shock absorbers, hydraulics, and electronics to create high performance, high precision shock absorbers for the racing and automotive industry. JRi offers applications for NASCAR, offroad, street performance, motorcycles, short track, drag racing and more.