Young gun wheelman Darian Boesch is looking forward to his third season in the NHRA sportsman ranks for more than one reason. After finishing in the top ten of the Top Dragster points standings in Division 4 in his first two years behind the wheel, Boesch, 18, is adding a 2018 Chevrolet Camaro built by Jerry Haas Race Cars to the family's Louisiana-based stable.
With two strong seasons in NHRA Top Dragster following his seven-year Jr. Dragster career, Boesch is eagerly anticipating a strong run in the quickest and fastest bracket classes in 2018. Being a second-generation driver in the two categories is a tough shoe to fill as his father also saw plenty of time in TD and TS, reaching success in both.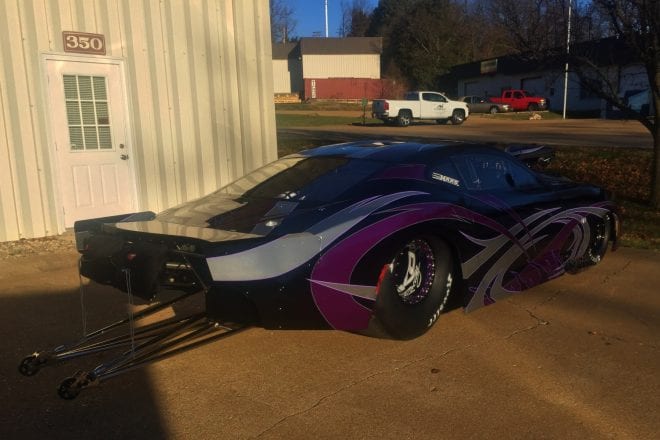 The Boesch family enlisted the skilled professionals at Jerry Haas Race Cars to construct the double framerail chassis fabricated under the 2018 Chevrolet Camaro body. "Building this car with Jerry Haas has been the best build experience ever," Boesch said. "They are all true craftsmen who care about their work and treat their customers like family. We were very impressed from start to finish."
Jim Hooker was next on the table to lay the color to the body panels and even splashed some color on the Weld Racing V-Series and Delta 1 wheels on all four corners. Bill Doucet was tabbed to assemble a 540 ci big block featuring a CN billet block, Headhunter cylinder heads and a DMPE 14-71 high helix supercharger and carbon fiber injector hat. Abruzzi Racing provided a 2-speed Powerglide and a custom torque converter tailored to the strict competition that the Boesch family will be facing in Top Sportsman. Topping off the build will be a Racepak data logger for the team to make necessary changes and find the most consistency possible in a short amount of time to find immediate success in a very challenging category within the National Hot Rod Association.
For the 2018 season, Darian plans to chase the NHRA Division 4 points championship in both Top Sportsman and Top Dragster. The new Camaro will make its competition debut on March 2nd at the NHRA Divisional event at No Problem Raceway in Belle Rose, Louisiana.
"We can't wait for the 2018 season with us fielding three cars at national and divisional events," Boesch added. "In 2017, we ran two Top Dragsters and with throwing a door car into the mix, it will make things more exciting in our camp. We love the Top Sportsman category and the people involved in it and we are very excited to compete with them again in 2018 and beyond."