Pro Modified veteran Tommy D'Aprile raced to a 3.701-second pass at 200.20 mph Friday night to earn his second Moroso Pro Boost No. 1 qualifier award in as many races at the Professional Drag Racers Association (PDRA) North-South Shootout at Maryland International Raceway.
Joining D'Aprile as low qualifiers at the North-South Shootout were Terry Leggett in Bryant Industrial Pro Extreme presented by Pro Line Racing, Jay Cox in Switzer Dynamics Pro Nitrous presented by MoTeC, John DeFlorian in Liberty's Gears Extreme Pro Stock, Ashley Owens in Drag 965 Pro Extreme Motorcycle and Dillon Voss in East Side Auto Transport Pro Outlaw 632. The professional classes will go into eliminations Saturday afternoon.
The PDRA's sportsman classes received two of their three qualifying sessions on Friday. Billy Albert drove Stan Nance's '17 Camaro to a 3.878 at 192.99 to take the provisional No. 1 spot in MagnaFuel Top Sportsman. Chaz Silance in his supercharged Worthy dragster topped the Lucas Oil Top Dragster field with a 3.811 at 190.00. Mason Allen used a 7.909 to hold the No. 1 spot in Coolshirt Pro Jr. Dragster, while Christopher Suppers leads Gilbert Motorsports Top Jr. Dragster with a .006 reaction time. The sportsman classes will receive one final qualifying session Saturday morning before moving into eliminations.
PRO BOOST
After qualifying No. 1 and reaching the semifinals at the season-opening PDRA East Coast Spring Nationals at GALOT Motorsports Park last month, Tommy D'Aprile and his Al BIlles-led team were motivated to continue their strong performance levels. The Floridian driver and Canadian tuner did just that when D'Aprile in the team's Noonan-powered '69 Camaro clicked off a 3.701 at 200.20 in the night session.
"I think we have a fantastic car and an even better team," D'Aprile said. "To continue running this well is awesome. We had a $20 parts breakage that cost us at the last race, but it didn't lower our morale at all because we knew we had a good car. The whole program is happy right now – the car is happy, the motor is happy and the crew is happy. We have a lot to look forward to."
D'Aprile will line up against Eric Donovan in the first round. East Coast Spring Nationals runner-up Chuck Ulsch in his Roots-blown '68 Camaro qualified in the No. 2 spot with a 3.745 at 196.16, followed by Jerico Balduf in his Batman-themed '69 Chevelle in third with a 3.779 at 196.42.
PRO EXTREME
GALOT event winner Terry "Legbone" Leggett added another highlight to his early-season success, posting a 3.602 at 212.66 in his screw-blown Leggett Logging & Trucking '71 Mustang to take the No. 1 spot. Leggett and tuner Terry Coyle navigated a tricky track surface as the sun beat down on the Maryland eighth-mile, but the North Carolina driver is moving his focus to readjusting for Saturday's forecasted cool conditions.
"We come to win and all that, but we really come to run fast," Leggett said. "The track was real hot today. We struggled a little. We had new tires on the car, which it always seems like it takes a couple runs to get them where you want them to be. It was just so hot. But whatever you did today doesn't mean anything tomorrow. If the track holds up and the weather cools down like it's supposed to, we should be able to go pretty fast."
Sweden's Adam Flamholc is second in his Florida-based '63 Corvette with a 3.673 at 201.13, while Scott Farley qualified third with a 4.338 at 171.71 in his supercharged '70 Camaro.
PRO NITROUS
Perennial Pro Nitrous favorite Jay Cox fended off a late-night charge from provisional No. 1 qualifier Randy Weatherford to claim the final No. 1 qualifying spot in the final qualifying session. Weatherford in his Virginia-based '69 Camaro was leading the field going into the final session. He then fired off a 3.696 at 203.31 to solidify his position, but Cox and his "Pumpkin" '69 Camaro ran a few numbers better to lock in the No. 1 spot with a 3.691 at 202.12.
Cox's first-round opponent is Scott Blake, in from Red Deer, Alberta, Canada with his Albert-powered '69 Camaro. Weatherford will take on chassis builder Tommy Mauney. Back-to-back and defending Pro Nitrous world champion Tommy Franklin qualified No. 3 with a 3.709 at 202.73 and will face David Campbell.
EXTREME PRO STOCK
Missouri's John DeFlorian used a last-ditch effort to push his Amsoil '16 Camaro into the Extreme Pro Stock field. DeFlorian's 4.099 at 176.84 moved him from the No. 10 spot to the top spot, allowing the Jerry Haas Race Cars shop foreman to move into Saturday eliminations with a burst of optimism.
"We were pretty far down in the qualifying order when we were going up for the final session, then we got bumped out," DeFlorian said. "I was a nervous wreck. I knew we had to just get through low gear and make an A-to-B run, just enough to get in. I left the starting line, felt pretty good. The shift light comes on and I knew it was going. Then I look up and see that .09 on the scoreboard and just started screaming my head off. It was a huge relief. We went from the lowest of lows to the highest of highs in a matter of 4.09 seconds."
DeFlorian will race Dave Hughes in the first round of eliminations Saturday afternoon. Multi-time mountain motor Pro Stock champion John Montecalvo is second with his 4.115 at 178.12, while East Coast Spring Nationals winner Elijah Morton and his 4.118 at 176.19 round out the top three.
PRO EXTREME MOTORCYCLE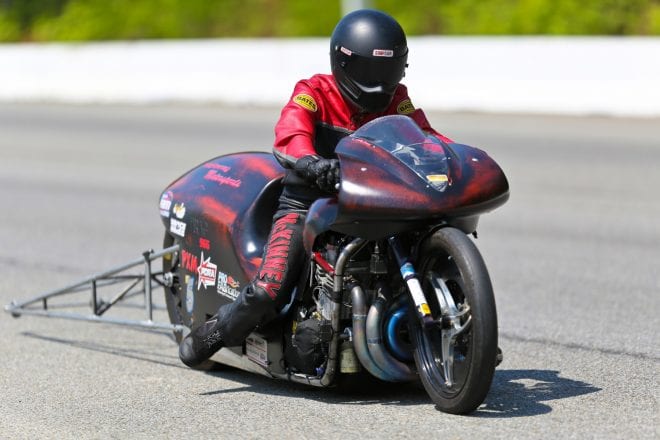 Longtime Pro Extreme Motorcycle star Ashley Owens rode his McKinney Motorsports '11 Suzuki to a stout 4.008 at 176.35 to lead a field of 19 motorcycles. Despite missing the first race of the season, Owens was able to figure out what his bike wanted while additionally tuning teammate Eric McKinney's Suzuki.
"It feels good to come out here and qualify No. 1," Owens said. "We're struggling a little bit with the other bike. I wish we could be No. 1 and No. 2, but I'm glad my bike is running good. Glad to be back in the swing of things. We'll see if we can get the other bike going down the track. It's a little up and down, so we'll see what happens tomorrow. Everything could turn around."
Multi-time event winner Brunson Grothus sits second with a 4.029 at 175.34 on his Indocil Art Suzuki, followed by Chris Garner-Jones and his 4.046 at 172.28. Defending world champion Travis Davis is qualified No. 11.
PRO OUTLAW 632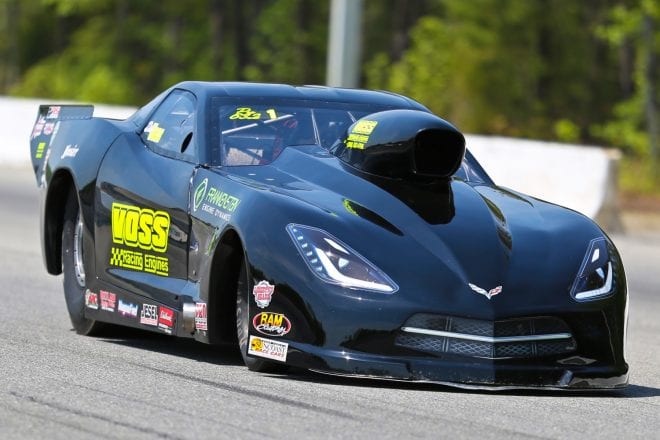 Racing for the first time as an official PDRA professional category, Pro Outlaw 632 is led by defending world champion Dillon Voss in his Suncoast Race Cars-built Voss Racing Engines '17 Corvette. Tuned by twin brother Cory, Voss ripped off a 4.225 at 169.10 in the final session.
"We've got a really good car right now," Voss said. "We just went as fast as we did at GALOT and the air is a lot worse here, so we're showing very promising results from the testing we did last week. We can't be any happier than we are right now."
Connecticutt's Ken Quartuccio follows Voss in second with a 4.231 at 173.01 in his '69 Camaro. GALOT event winner Johnny Pluchino sits third in his Kaase-powered '06 Escort with a 4.311 at 169.81.
The PDRA North-South Shootout at Maryland International Raceway will continue Saturday, May 5, with sportsman final qualifying at 9:15 a.m. Sportsman eliminations begin at noon, followed by professional eliminations at 1:45 p.m.