­­­­Amidst one of the most tightly contested and competitive seasons in the history of the J&A Services NHRA Pro Mod Drag Racing Series, Danny Rowe went the distance at state-of-the-art zMAX Dragway and became the 8th different driver to make it to the winner's circle in 2015.
After qualifying 2nd amongst the ultra-quick 16-car field with a 5.885-second, 247.66mph blast in the Jimmy Rector-tuned Agave Underground Tequila Pro Mod Corvette, Rowe dispatched Dan Stevenson, Jim Whiteley and Steven Whiteley before facing off with fellow Canadian-born racer Eric Latino in an all-supercharger shootout for all the marbles. When it mattered most, Rowe was off the line first with a .052-second reaction time and never waivered, taking the wire-to-wire victory with a 5.941-second, 245.09mph performance over Latino's 5.950-second, 244.92mph effort.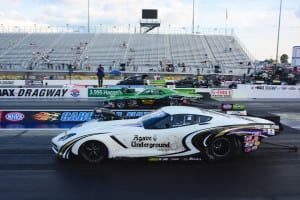 "We brought this new Tim McAmis-built C7 Corvette out in Indy and knew that we had a killer piece," says Rowe. "We always hate not making it down in the first qualifying session, but when Jimmy [Rector, crew chief] looked at the data – he knew exactly what needed to happen to put this Agave Underground hot rod in the hunt. We made some changes and went up for the second round of qualifying and went that 5.88 at 247; ended up second in the field and felt like we had a good shot going into Saturday.
"The racing surface was definitely a factor this weekend – it was tricky out there," continues Rowe. "And that's when you're really glad to have someone like Jimmy Rector on your side. He kept picking at it, this great group of guys kept their heads down, stayed focused and the next thing you know we're headed up for the final against Eric Latino. I knew we just needed to leave together, and when I let the clutch out I saw him for an instant and never again. The car was drifting left, but I kept pulling it back; believe me – we were going to the finish line under power."
The win was Rowe's first since June of 2012, ending a three-year drought for the longtime NHRA Pro Mod championship contender, five-time event winner and nine-time number-one qualifier.
"It's huge," says Rowe, still excited, though, now well removed from the winner's circle at zMAX Dragway. "It's been too long; it's been too long for this team – for this great group – to go without a win. Through thick and then this team has held it together and pressed forward. Jimmy and Karen Rector, Junior, Daryl, 'Chop', Chris, Gary and everyone else who play a part have never waivered, and I think that's what makes this so special for all us. What Steve Matusek and his family have brought to this team is tough to describe. Not only has his contribution as the driver of our second Agave Underground Tequila Pro Mod been invaluable, but the way he and his family are so committed to the team is unreal.
"That said, I have to admit it was emotional down at the top end of the race track. These guys deserve it more than I do. I can't thank them enough, or all the sponsors – Agave Underground Tequila, Aeromotive, Hoosier Racing Tire, NGK Spark Plugs, J&E Pistons, Lucas Oil, ARP and everyone that has supported Danny Rowe Racing over the years. I also have to thank NHRA, the Real Pro Mod Association, J&A Services and all the great people and sponsors that support this series."
Rowe moved into 7th in the J&A Services NHRA Pro Mod Series championship points standings with the win, 107 points back of series points leader Mike Janis.
"When you consider how competitive this class has become in recent years, winning one of these races has an entirely new meaning," concludes Rowe. "It was only a few years ago that we had 16-17 cars showing up for a race, and a field separated by over half a second. Now there is a tenth-of-a-second between No. 1 and No. 16 and there's 30 cars trying to qualify – it's unbelievable. So, to see this Agave Underground Tequila Corvette in the winner's circle at this point in time, it's not something you're going to forget very quickly.
"This is exactly what this team needed, and we're hoping we can ride this momentum going into the final two races of the season. We look at it like we've got nothing to lose and everything to gain; we're going to be swinging for the fences from here on out."
The J&A Services NHRA Pro Mod Drag Racing Series returns to action this coming weekend at Gateway Motorsports Park during the 4th annual AAA Insurance NHRA Midwest Nationals.