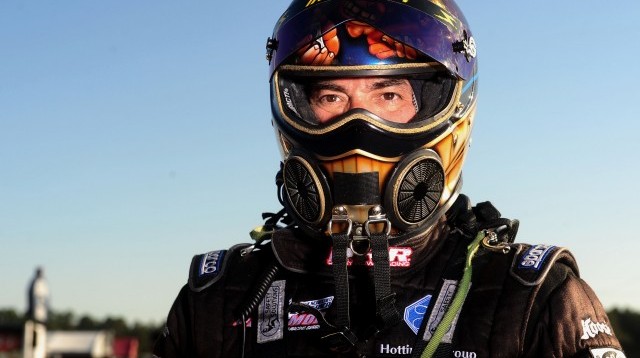 Rolling into the season-opening race of the 2012 NHRA Pro Mod Drag Racing Series tour, Danny Rowe simply wants to start the year the same as they ended the last one.
"I feel like we've done a really good job," says Rowe, "but the goal for this team is to win a championship, and we're going to do everything in our power to make that happen for everyone who has supported us over the years. We had a few miscues last season that cost us greatly late in the season, so we want to minimize those things, focus on each round and make every run down that quarter-mile count."
Competing against two other highly-competitive engine combinations (turbocharged, nitrous oxide-injected) last season, Danny Rowe and his supercharged, methanol-burning '67 Camaro tuned by the renowned Jimmy Rector maintained frontrunner status from start to finish. Rule changes leading into the 2012 season should have the field as competitive as ever, thrusting even more responsibility onto the shoulders of the drivers.
"There are so many good teams out here that there's never any room for error," says Rowe. "The margin has diminished drastically. You need to go out and make the best possible run every time you pull up there. Again, that's our focus for 2012 – making every pass in this Sterling Bridge Pro Mod Camaro count. If we want to win a championship, we'll have to."
In 2011, Rowe kicked off the season with an impressive final round appearance at Gainesville Raceway, stringing together four consecutive low 5.90 and high 5.80 runs down the notoriously fast Florida quarter-mile. This time around Rowe won't settle with being in the final round – he wants to win it.
"The Gatornationals are one of the big ones," says Rowe. "You want to win every race, but there are a few on the NHRA tour that have a lot of history behind them and the Gatornationals are certainly on that list. There's nothing we'd like more than to get this season started off right with a win down here in Florida. We've got a great team – an unbelievably dedicated group of people – and we're ready for whatever comes our way. I think we're all excited to be back out here."
The Danny Rowe Racing team also unveiled a new website (DannyRoweRacing.com) to start the 2012 season. Loaded with photos, behind-the-scenes videos and more, the new DannyRoweRacing.com is designed to provide as much insight into the team as possible so that fans can follow the action all year. The new site also showcases Danny Rowe Racing's family of sponsors and marketing partners, as well as the charities and foundations the team supports like Fuel The Cure for Diabetes and Don't Worry Be Happy.
Check out the brand-new Danny Rowe Racing website at www.dannyroweracing.com
Visit Danny Rowe Racing Sponsors:  www.hottingergroup.com , www.sterlingbridge.ca, www.gainsboroughcapital.com , www.rcdengineering.com, www.impactracing.com, www.hoosiertire.com, www.redlineoil.com, www.ngksparkplugs.com, www.weldracing.com, www.permatex.com, www.promodzone.com, www.competitionproducts.com, www.fstopaerialmedia.com, www.mr-horsepower.com
Visit Danny Rowe Racing supported charities and foundations: http://dwbhshirts.com, http://www.rustyunlimited.com