The Professional Drag Racers Association (PDRA) has contested 23 events in its tenure thus far. Dan Ferguson has held the points lead in Ronnie Davis Top Sportsman presented by MagnaFuel for 18 of those events. Now, at just 29 years old, Ferguson is up for his second World Championship in his three year Top Sportsman career. If he wins one round of competition, the 2016 PDRA Top Sportsman World Championship is his.
The PDRA is down to its final two races of the season. While qualifying for the Sunshine State Shootout was completed on the original date at Bradenton Motorsports Park, eliminations were postponed until the World Finals at Virginia Motorsports Park, due to water seepage on the track. Both the Sunshine State Shootout and the World Finals will be completed October 20-22 in Virginia. If Ferguson wins first round of the Bradenton event, he'll secure his championship. If not, he must qualify for the World Finals to mathematically lock up the championship and be crowned the 2016 Ronnie Davis Top Sportsman presented by MagnaFuel Champion.
With the high level of success Ferguson has seen in his three years as a Top Sportsman pilot, one would assume he's both well funded and classically trained. Neither of these things are true, however. Ferguson races on a shoestring budget, largely self-funded for much of his short career; he's also an almost entirely self-taught driver. His success hasn't come because of big bucks or a long drag racing lineage. But nonetheless Ferguson keeps proving that those things aren't what determine champions. Still, racing is an expensive hobby, and Ferguson somberly admits that if he doesn't secure sponsorship for 2017, he may not be able to continue his Top Sportsman journey.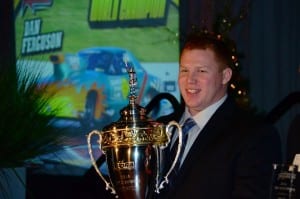 "Honestly, [being up for my second championship] is not where I expected to be at this point in my life," stated the Pennsylvania native. "I started doing this in 2014, and I just wanted to go to a race and qualify at the time. It was a win to me if I made the field. This style of Top Sportsman racing is tough. Not only do you have to dial in and hit the tree, but you have to really be able to tune, maintain, and repair your car, too. I failed to qualify this year at Martin, Michigan and it was a reminder of how tough it can be. It really hurt me in points, because I ended up getting in as an alternate and went to the semis, but there are no points for alternates, which is fair and is the right thing. If I would have qualified at Martin, Michigan and earned the 300 points for going to the semifinals, this championship would already be locked up.
"I'm obviously thrilled to be up for my second championship, but I'm also more than a little bit concerned about the possibility of having to hang up my helmet next season," Ferguson added. "I dove in head first and wound up at a much higher level than I ever planned on trying to race before I built a business or career that could sustain competing on a national level."
On top of racing two events in one weekend and being up for a championship, Ferguson will also be competing in GALOT Motorsports Pro Boost as the hired gun for Cor Valentyn. Valentyn mainly plans to run his '63 Corvette, deemed "The Patriot," locally in Ohio, but is venturing south for the World Finals. The team is still new and just getting a handle on fielding the Pro Boost car, but is certainly having fun doing it.
"The World Finals is going to be very busy, but I have the best crew out there between Rick Fogle, Dale Pittman, and my other two friends Jim Rowe and Marty Noir when they can make it to the races. We will all work together and deal with whatever comes at us like we always do. One car being a blower car and one being a nitrous car makes the cars so different from each other that I don't really worry about getting mixed up about how I stage, pro tree vs full tree, etc. They are both 1963 Corvettes, and they can both run 3.90s, but they are two very different animals."
As if all this wasn't enough, Ferguson was also called out by Top Dragster competitor, Kathy Fisher, and will run her in a $5,000 to win Shocktober Smackdown Grudge Match. "Kathy called me out, and I said, 'bring it on girl; let's go!' She has been low 3.90s, and I have been mid-upper 3.90s. It's going to be a close race, whoever wins. We can both cut good lights and the ETs should be similar.
"We are friends, but believe me, she wants to kick my ass," Ferguson asserted. "And I don't care if she's a girl, I don't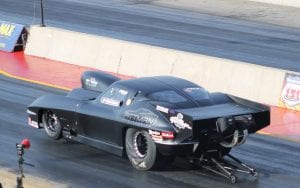 discriminate. If she's going to be over in the other lane, then I want to kick her ass, too! There's a lot at stake and several reasons for big rivalry. It's TS vs. TD, nitrous vs. blower, man vs. woman. Whoever loses is going to be bummed out, because this is grade A, dead serious, she wants to win, he wants to win, girl wants to beat boy, boy doesn't want to get beat by a girl, competition."
The Shocktober Smackdown will take place on Friday night of the World Finals, during the third qualifying session.
Ferguson will face Kris Thorne of Titusville, Fla. first round of the postponed Sunshine State Shootout. If he gets past Thorne, that mathematically locks up the championship and a huge celebration will ensue. No matter what the outcome of the 2016 season, however, Ferguson is having the time of his life.
"I love doing this with my guys. These guys are my friends first and my crew second. We are serious about this, but we are doing it for fun and enjoyment. We're very competitive and we are there to win, and this is just what we like to do together.
"It's fun, but I also enjoy the struggle. It's literally a constant struggle. There is always some adversity to work through with the truck, trailer, generator, car, there's always something wrong and we have to handle it. And we always make it happen, and sometimes we proceed to kick ass and win a race. When you go through that stuff then go some rounds, it is the most gratifying thing in the world. It definitely makes us feel like we had to earn it!
"I just plain love racing. I've been racing one thing or another since I was 12 years old and it's completely in my blood. It's all about the people you do it with though. Without them, the fun is lost. I love my crew and I a lot of others at the races too."
Ferguson wishes to thank the partners that have aided him in the 2016 season: Pittman Engineering Inc, Mike Matheos Race Cars, Pat Musi Racing Engines, Rossler Transmissions, along with contingency sponsors Hoosier Racing Tires, Edelbrock EFI, Flatout Gaskets, Jesel Valvetrain Innovation, Lovendahl Racing Solutions, and Top Sportsman class sponsor, MagnaFuel.