Despite competing against some of the toughest bracket racers in the country and not winning even a single event last year, relative unknown Dan Ferguson scored the inaugural PDRA Top Sportsman championship. That he did so in a 15-year-old race car and working by himself most of the time made the title that much more impressive, but the Ohio native now living in Pennsylvania knew he needed to put one in the win column to truly feel like a champion and took care of that detail in this year's PDRA season opener at Dallas with a final-round victory over Bob Gulitti.
"It got back to me that some people said I was just lucky to win the championship, so it felt good to prove them wrong and show I could win a race, too," Ferguson says. "It really was a great way to start the season."
The win obviously put him into the points lead again, too, a position Ferguson held through the first six PDRA races this year. He left race number seven in Memphis less than two rounds behind good friend Ronnie Davis, however, with three chances left to score win number two and improve his odds of repeating as class champ.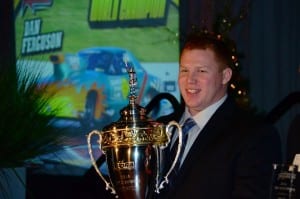 Ferguson bought his bright green Firebird in July 2011 from Jeff Solyan, who built the car in 1999 for IHRA Top Sportsman use. It now carries a nitrous-boosted 765 cubic incher put together by Mike Matheos and Dale Pittman of Pittman Engineering, with help coming from Jim Rowe and Marty Noir, along with Teddy Miller at Transfer Performance Machine. Ferguson reserves most of his thanks for his parents, Todd and Mindy, though, as well as grandparents Roger and Susan Ferguson and Bob and Maxine Patterson. "It may look like I'm out there on my own a lot but really I have a lot of support," he says. "Nobody can do this alone."
He adds, however, that it's been a struggle financially just to hit all the PDRA events this year. "I've been racing more, going to some Quick 8s around home, that kind of stuff. If you win you can make some good money and I've won a couple and went out early in a couple, so it's kind of been a wash. It is more wear and tear on the car, though, and that costs money. All it takes is a couple of mechanical failures to wipe you out. It's not a lot of fun away from the race track when those kind of things happen."
Ferguson recently graduated from Rowan–Cabarrus Community College, near Charlotte, where he earned a degree in motorsports marketing. He bought and sold cars to support his student life and still does a little of that while also working for a friend's towing business.
"It's not easy but I'm going to keep trying," he promises.
This story originally appeared in Drag Illustrated Issue No. 101, the Sportsman Issue, in July of 2015.