Saturday was a night of firsts in the Street Outlaws: No Prep Kings world, as Damon Merchant earned his first-ever Invitational win at the first NPK event ever held at The Strip at Las Vegas Motor Speedway.
With the Vegas skyline as a backdrop, Merchant piloted "Rogue" – his 1968 Camaro – through a 32-car field to hit the $40,000 jackpot. It was his third final-round appearance in nine races this year, and a monumental win for one of this season's breakout stars.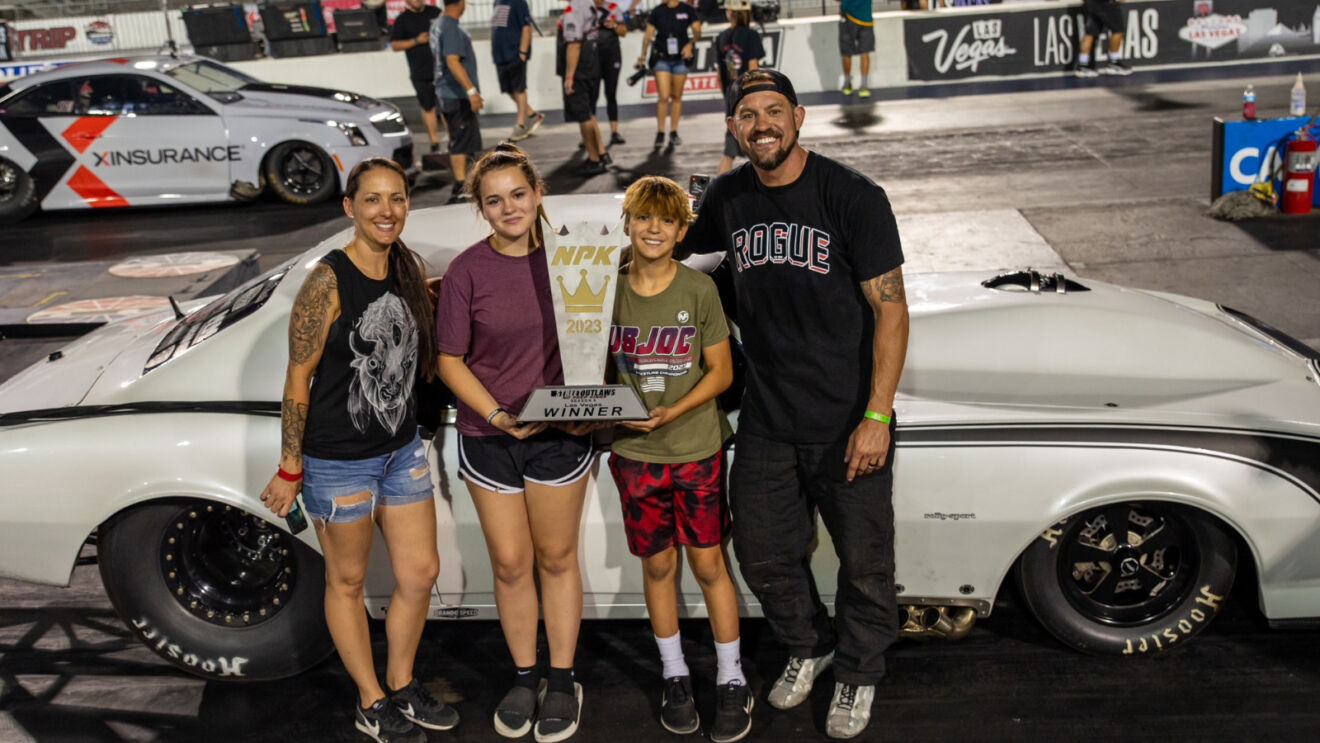 "It's a very surreal experience right now. Pretty overwhelming, to be honest," Merchant said. "All the good times, the bad, the sacrifices by so many, the expense of it all, the doubters, the heartache, the passion, the excitement, the support, the love – it made it all seem worth it."
Merchant started the day off strong, taking out top-10 driver David Gates in the opening round of eliminations. He then defeated Jim Howe in round two, setting up a titanic matchup in the quarterfinals against points leader Kye Kelley. The two drivers have formed a budding rivalry this year, with Kelley defeating Merchant in his two previous Invitational final round appearances. This time, however, Merchant had an ace up his sleeve, securing a holeshot advantage and never looking back.
"Honestly, going into this, I wanted to race Kye in the earlier rounds, or hoped he'd get put out early," admitted Merchant. "He had a pretty solid [points] lead on us going into Vegas, and we needed this race to make up some ground and make a statement. Maybe, just maybe, that NOLA voodoo curse he had going on with us has run its course and we can get a little more redemption in the races to come. We owe him a few more."
The work, though, was far from over, as Merchant drew Nate Sayler – another driver that's in the top five in points – in the semifinals. A victory there put him in the finals against Drag Week legend and longtime NPK competitor Larry Larson. Once again, Merchant left first and never trailed for the win, giving him a huge payday and equally huge trophy. He also moved to within 20 points of Kelley in the Invitational points standings. It was a moment of redemption after some recent struggles in Idaho and Denver.
"This win was everything to my team and myself," Merchant said. "After a few weeks of going out early, I seen people were quick to give up on us as being a real contender and criticize whether we really have what it takes to compete at this level. This is a very humbling sport, and if you don't believe in yourself and your team, it's easy to fold. But just like all season long, we worked and pushed our way through."
Merchant is quick to point out that none of this would be possible without the overwhelming support of his family and team – his wife, Lacy Merchant; their three children – Logan, Teagan, and Bryson; his father and mother, Roger and Carol Merchant; and longtime friends and crew members, Craig Stephens and Mark Niebes.
"It's our rookie season and we're still trying to figure it all out," said Merchant. "Racing at this level is a new thing for us, but racing itself isn't. On the track and in the beams is what feels like home to me. My crew and family are what drive this program, because there's no way I could do this without them. We damn sure have our head held high coming out of Vegas. We want to use this momentum, and let others know that we are there to win and as hungry as we've ever been."
The intense No Prep Kings schedule continues this weekend, Sept. 22-23, heading across the country to Dragway 42 in West Salem, Ohio.