With no less than three past champions and a dozen former race winners among 26 entries, the stars and cars of the E3 Spark Plugs NHRA Pro Mod Series returned to the Texas Motorplex for the first time in a decade Oct. 5-7, where it all came down to a pair of first-time finalists to determine the AAA Texas NHRA FallNationals winner.
Based on the strength of a .016 starting-line advantage, Lugoff, SC's Jeremy Ray steered his supercharged "Carolina Kingpin" '63 Corvette to a 5.78-seconds pass at 248.07 mph over the Motorplex quarter mile to beat by just five-thousandths of a second, a quicker and faster 5.77 at 255.53 mph put together by Canadian Justin Bond in a twin-turbocharged '68 Firebird.
"I knew in the final there that he could probably outrun me, so I just did what I had to do," Ray said while celebrating what he called the "top win" of his career. "Winning with a holeshot was a big deal for me, being a legitimate tuner/driver, because there's only me and Rickie (Smith) and maybe one more like that out here."
After qualifying fifth, Ray made his quickest run of the weekend in round one of eliminations,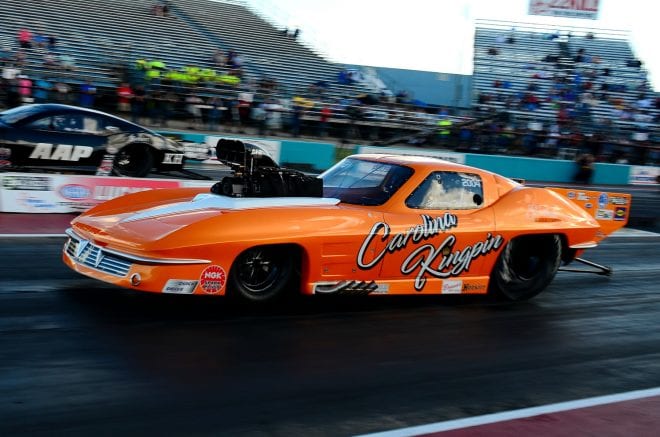 going 5.76 seconds at 247.57 mph in beating a traction-challenged Stevie Jackson. He then caught a huge break in round two when Steven Whiteley's 2018 Camaro launched into severe tire shake after posting a likely insurmountable .091 holeshot, while Ray ran 5.79 at exactly the same speed from the opening round once he got going.
"Other than that I felt like I had everybody covered. I was pretty confident all four rounds," Ray insisted, despite also benefiting in the semis from a mistake in the opposite lane.
Number-one qualifier Sidnei Frigo squandered a 5.78 at 256.36-mph pass–his best of eliminations–with a -.030 redlight start. Ray, meanwhile, posted another solid 5.79 at 247.20 effort to reach his first NHRA Pro Mod final round.
On the opposite side of the ladder Bond was writing his own amazing story. Remarkably, after being a bracket racer his entire life, he was competing at the Motorplex with a heads-up start for the first time.
"I've been co-owner of the team with Shane (Molinari) the whole time he's been competing in Pro Mod and he was at his great aunt's 100th birthday party this weekend, so he was nice enough to suggest I drive the car here," Bond explained. "And here we are."
Bond started an impressive third with a 5.79-seconds pass at 255.82 mph after three rounds of qualifying were completed ( a scheduled fourth session was rained out Saturday night). That set up a first-round pairing against Keith Haney, who finally made a race-day start in the last of three scheduled NHRA appearances for him this season. Bond left first and never looked back, going 5.74 at 255.68 as Haney was forced to shut down his nitrous-fed '17 Camaro early.
Smith got the drop on Bond with a .018 holeshot from his own nitrous-boosted Camaro in the quarter-finals, but Bond's twin-turbo power kicked in at the top end and he won by .012 at the stripe. In the semis, though, Bond led from start to finish over Todd Tutterow in a blown '68 Camaro, winning in 5.77 seconds at 255.82 mph and earning lane choice for his first final in his first Pro Mod event.
Despite the loss to Ray, Bond said he was heading home to Mission, BC, near Canada's west coast, happy and satisfied with the experience.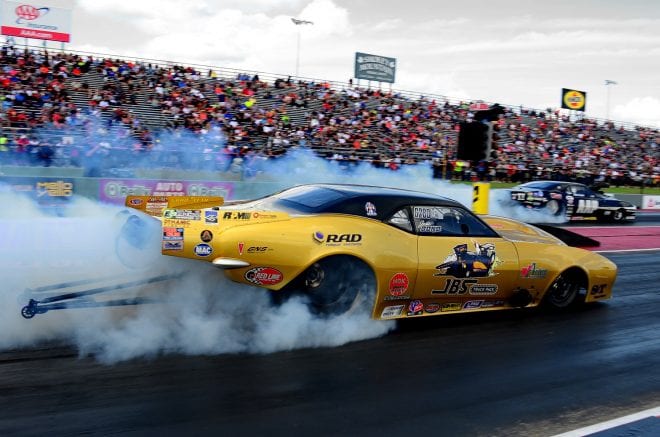 "I'd only driven the car once before, on September 11th at Charlotte, where I took it to the waterbox six times, but only made it down twice," he recalled. "But Brad (Personett, crew chief), he gave me a great car here that I could just go up there, stage it and drive it down the race track. I never had to arm wrestle with it here.
"This was an exhilarating experience, absolutely awesome," Bond added. "I had a lot of great people who came with me and helped me and it was really a lot of fun."
Of the three Texans among the Pro Mod entries, only Chad Green of Midland saw eliminations after qualifying 10th. It was a short-lived visit, however, as Florida's Rick Hord nipped Green and his nitrous-injected C7 Corvette by six thousandths after Green took a .045 advantage off the start.
Houston native and past two-time Pro Stock World Champion Erica Enders just missed the Pro Mod cut, placing 17th in her twin-turboed Elite Motorsports 2018 Camaro, while Brandon Pesz of The Woodlands, TX, was 21st overall in his supercharged 1958 Corvette.