Whether you call it "Tangerine" or "Pumpkin Orange", the Bryant Rigging sponsored '69 Camaro of Smithfield, NC's Jay Cox is now a contender at every track where he competes. Having moved up to the Pro Nitrous category from Top Sportsman, Jay learned his lessons well and has a winning car that is capable of low 3.70's at all of the tracks, whether it be St. Louis or Piedmont Dragway or Virginia Motorsports Park. So it is no large surprise that Cox won both the July and September Big Dog/EOPM combo events at the track where he developed tremendous driving skills competing in the Renegade class with the likes of Jamie Chappell, Brett Nesbitt or Tim Lawrence – Piedmont Dragway. With a Rick Jones car powered by Charlie Buck power, Jay not only drives, but maintains his car with as he puts it, "the smallest budget of anybody out here."
For 2016, Cox and team, will compete in Bradenton, FL in January then will begin the PDRA season in Oklahoma before turning his attention to local events at Rockingham, Piedmont Dragway, VMP, and the new facility at GALOT Motorsports Park. The only changes for this season will consist of a Mark Micke transmission hooked up to a Neal Chance converter and a new powerplant from Buck Racing. Jay wants to thank his wife Megan and daughter, his Mom and Dad; Lloyd, and especially Bryant Mariner and wife Candy for, "allowing him to live his dream". Charles Carpenter and Switzer Dynamics are also helping Cox and team make it look easy to run consistent 3.70's at over 200 MPH. This season should produce more of the same.
In Jr. Dragster, the points champ is Ms. Sierra Eure, winning a very competitive class of up-and-coming drivers.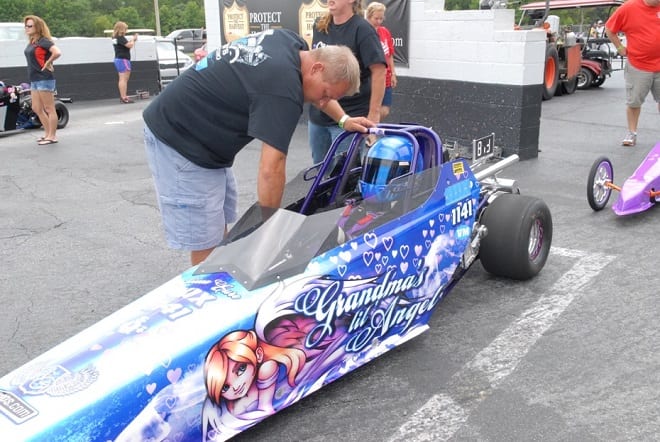 Story and photographs by Greg Burrow