Jay Cox is the provisional No. 1 qualifier in Switzer Dynamics Pro Nitrous presented by MoTeC after two sessions at the Professional Drag Racers Association (PDRA) North-South Shootout at Maryland International Raceway.
Also leading in the other professional categories at the PDRA's fourth of eight events are Terry Leggett in Pro Extreme, Tylor Miller in Andy McCoy Race Cars Pro Boost, Trevor Eman in Extreme Pro Stock, and Eric McKinney in Drag 965 Pro Extreme Motorcycle.
The provisional low qualifiers in the PDRA's sportsman classes are Dan Ferguson in Magnafuel Top Sportsman and Chaz Silance in Lucas Oil Top Dragster. Alexcis Schultz leads Campers Inn RV Pro Junior Dragster, while Suffolk, Virginia's Josh Priddle Jr. sits atop the MegaCorp Top Junior Dragster qualifying order after three qualifying sessions.
PRO EXTREME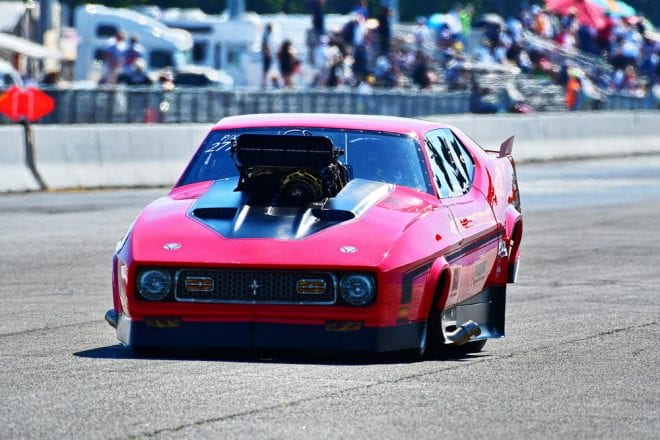 North Carolina logger Terry "Legbone" Leggett came out on top of the Pro Extreme field after a tight day of qualifying. Leggett's supercharged '71 Mustang crossed the eighth-mile mark in 3.538 seconds at 216.83 mph. Leggett was also the No. 1 qualifier at the GALOT race in April.
"It feels mighty good to go No. 1 tonight," Leggett said. "Our first race this year was the GALOT race and we just had an outstanding weekend. Then we went to Darlington and had lots of gremlins. We started out that same way in testing yesterday, then we had more little gremlins on the first run today. Maybe we got them off our back now and we can have a good weekend."
Four of the other seven competitors behind Leggett are separated by just thousandths of a second. Darlington race winner Mattias Wulcan is second with a 3.551 at 212.59 in the "Black Bird" '69 Camaro, followed by past world champion Jason Scruggs in the "Mississippi Missile" '69 Camaro at 3.558 at 219.65. Valdosta race winner Tommy D'Aprile and the Mel Bush Motorsports '15 Corvette are fourth with a 3.565 at 213.27, while GALOT race winner Mike Recchia is in fifth at 3.566 at 215.68.
PRO NITROUS
The ultra-competitive Pro Nitrous class is topped by Smithfield, North Carolina's Jay Cox, who jumped to the top of the 21-car order with a 3.684 at 201.46 in his Clements Mechanical "Pumpkin" '69 Camaro. It's the second time Cox has held the provisional No. 1 qualifying position this season.
"We got that No. 1 qualifier spot at the first race of the year, then Musi-motored cars got it the last two races," Cox said. "I take pride in that No. 1 spot. It's just a good rivalry we have going with the Musi cars. I'm just tickled for (engine builder) Charlie Buck and all of my sponsors. I've struggled at this racetrack a lot in the past. I guess struggling so bad here had me and my crew guys fired up. We wanted to come up here and prove a point."
The cool forecast for Saturday has Cox and the rest of the field priming their nitrous-assisted power plants for ideal conditions.
"The track is going to be really good tomorrow," Cox added. "Jason Miller and the PDRA are doing a great job with the track. It's only supposed to hit a high of 78 degrees tomorrow, but the air temperature doesn't really matter as much as direct sunlight. If we can get a little cloud cover to go with those cool temperatures, it's going to be fast all day. It's going to be a fun little race."
Chasing Cox in the second spot is defending world champion Tommy Franklin with a 3.697 at 204.76 in his "Jungle Rat" '69 Camaro. Randy Weatherford's clutch-equipped W.S. Construction '69 Camaro is third with a 3.729 at 200.32.
PRO BOOST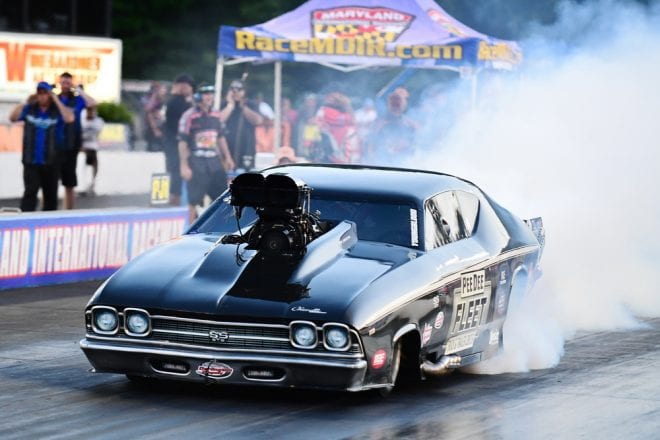 Pro Boost low qualifier Tylor Miller had no idea he was on a No. 1-qualifying run when he drove his Pee Dee Fleet supercharged '69 Chevelle to a 3.72 at 197.86 to cap off Friday's second session. The run was also Miller's quickest et in PDRA competition.
"It felt boring, actually; very slow," Miller joked after hopping out of his Mike Kopchick-tuned, Andy McCoy-built entry. "Normally those passes are the fastest. And I actually pulled the 'chutes early, had to be pushed off the end of the track. We went number one and I'm excited; thankful for all of the people who help me. I've been getting more support here lately and everything is coming together."
Fellow young gun Ty Tutterow sits second after posting a 3.736 at 199.79 in the GALOT Motorsports "Tomcat" supercharged '69 Camaro. Points leader José Gonzales, winner of the Valdosta and GALOT races, is third in the Q80 Racing turbocharged '67 Mustang with a 3.75 at 213.13.
EXTREME PRO STOCK
Trevor Eman and the Aruba.com '11 Mustang continued a hot streak Friday night when he recorded a 4.022 at 178.80 for the provisional number-one spot and a potential PDRA Extreme Pro Stock record. Eman is coming off of a win at Darlington and a No. 1 qualifying effort at GALOT.
"We struggled a little bit earlier in the day," Eman said. "Unfortunately, we weren't able to make any test runs yesterday, so we felt a little behind compared to everyone else. You get data to work off of whether you make a good run or bad run, so we had data to look at from Q1 and made the changes we thought were necessary to get down the track. I must admit I didn't expect it to run a 4.02, but hey, we'll take it."
Eman will be the new Extreme Pro Stock elapsed-time record holder if he can back up the 4.02 with a 4.04 on Saturday. Though he's focused on winning the race, Eman can't ignore the potential to walk away with the record.
"If we get our last qualifying session in early enough before the heat settles in, (the back-up run) may be possible. We're definitely just concentrating on getting down the track every run. But if we happen to back up the record in qualifying, we'll take that too."
Longtime mountain-motor Pro Stock star Cary Goforth is close behind Eman in second with a 4.034 at 177.91 in his Dean's Casing Service/Dewayne Higgins Trucking '15 Camaro. Defending world champion John Pluchino is third with a 4.044 at 177.46.
PRO EXTREME MOTORCYCLE
After suffering a holeshot loss in the PDRA Spring Nationals final round two weeks ago, Eric McKinney was looking for redemption. The three-time PDRA world champion found it in the form of a 4.039 at 175.25 during the night session, giving him the provisional top spot.
"Hopefully we can stay in the No. 1 spot," McKinney said. "There are a few of these guys who can run well in the heat, but we can do that too. We ran well in the heat here last year when the race was in July. The heat is a problem, but it doesn't bother us."
As strong as the performance was, McKinney expects even better numbers out of not only himself, but his competitors once eliminations begin.
"Going into eliminations tomorrow, the weather is going to get cool, and the track here is awesome. I wouldn't be surprised if we see some 3-second runs tomorrow night. Hopefully one of those 3s will be us."
Behind McKinney in second is Chris Garner-Jones with his T.T. Jones Racing Hayabusa with a 4.058 at 171.66. Points leader Travis Davis, who won the last two races on tour, is third with a 4.062 at 173.18 aboard his Timblin-built Suzuki.
TOP SPORTSMAN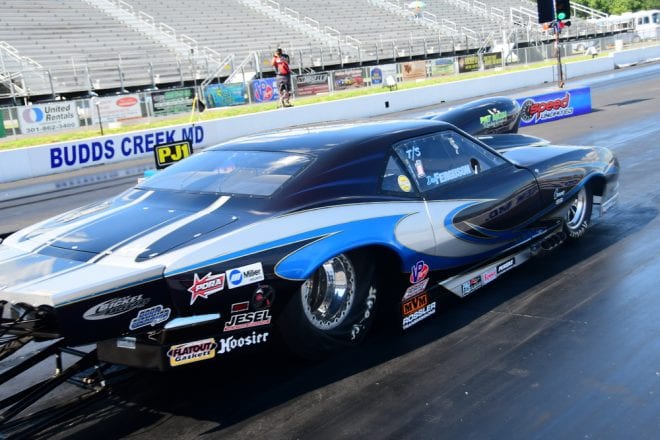 Driving Henry Dogay's "Cajun Nightmare" '68 Camaro, defending world champion Dan Ferguson ended up in the top spot for the second race in a row. His 3.835 at 199.26 was the quickest and fastest run of the day out of 40 Top Sportsman entries. Engine builder Billy "The Kid" Albert ran a 3.867 at 196.42 to claim the second spot. In the third spot is Randy Perkinson with a 3.971 at 185.10.
TOP DRAGSTER
Jacksonville, North Carolina's Chaz Silance leads the Top Dragster field with his Buck-powered Worthy dragster with a 3.825 at 191.38. Kathy Fisher and her Procharger-equipped "Dragoness" American dragster jumped right to the number-two spot to start the day, running 3.836 at 188.86. Defending world champion Justin Kirk is in third with a 3.916 at 184.77.
The PDRA North-South Shootout will resume Saturday with Edelbrock Bracket Bash's final time trial at 10 a.m., followed by sportsman final qualifying. Professional classes will begin their third and final qualifying session at 12 p.m. Eliminations are scheduled to begin at 3 p.m.