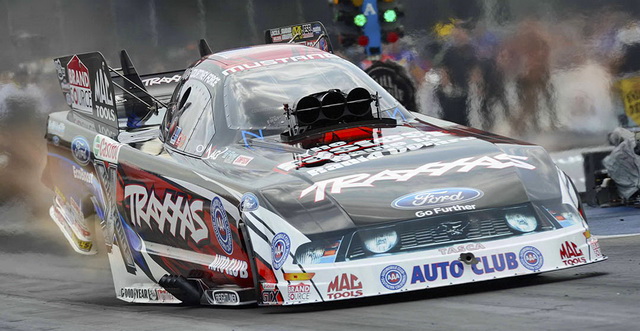 For the second time in three races, rookie sensation Courtney Force (above) was running for the money July 21, behind the wheel of her Traxxas Ford Mustang Funny Car at Bandimere Speedway, near Denver. But at the 33rd running of the MOPAR Mile-High NHRA Nationals she dropped an incredibly close final-round race to veteran Jack Beckman, losing by nine-thousandths of a second, 4.289 seconds to 4.277 seconds. Force reached her first Funny Car final in Chicago two races earlier on the 2012 NHRA schedule.
"We had a great day. Making it all the way to the final round was huge for our Traxxas Ford Mustang team. Going up against someone like Capps was tough. It's definitely a challenge taking on someone like that so getting that win against him was huge. Going to our second final in three races shows that I have a great race car and we're constantly fighting for that top 10 spot. We definitely have a shot at it," said Force, the front-runner for the Auto Club Road to the Future Award.
"When we paired up against Beckman in the final I left on him, which I tried to do everything I could as a driver. I think it dropped a hole at the other end and I tried to pull it back as good as I could to keep it in the groove. It was a close race; 28 to a 29. I did everything I could. I wish I could have done better, but that's' why it's a drag race so we'll have to just keep working hard and get after them again next weekend."
She was one round win away from being the eighth different driver to win a Full Throttle tour event in a John Force Racing Ford Mustang. This was just her thirteenth race of her young career. By comparison sister Ashley Force Hood went to her first Funny Car final in her 20th race and won in her 27th. Her father, John Force, went to the finals in his fourth pro race, as did brother-in-law Robert Hight. Teammate Mike Neff was a finalist in his seventh race as a driver.
She would have become just the third female winner in Funny Car after sister Ashley and Melanie Troxel.
Today Courtney defeated Tim Wilkerson, Robert Hight (No. 1 in points) and Ron Capps (No. 2 in points) en route to her final round match up with Beckman (No. 4 in points). The opening round race was a huge points match-up considering Wilkerson was knocking on the doorstep of a Top Ten position. By stopping him the first round she helped give her father a decent points cushion, 70 points, with four races before the Countdown cut-off.
"We needed that win for our team. We need to keep my dad and I in the Top Ten. That was a huge one for us. We are just going to try and keep this Traxxas Ford Mustang going rounds today," said Force from the top end.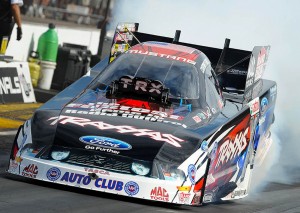 In her second round match-up with her brother-in-law and teammate Robert Hight Courtney had he hands full all the way down the track. At the hit of the throttle her Traxxas Ford Mustang dropped a cylinder and she had to muscle the Funny Car down the track. Hight was out in front of her until about 800 feet when he ran into issues of his own.
"I drove this car as hard as I could. You never know what is going to happen on Sunday. I just kept driving it after it dropped a hole at the hit. Sometimes that is game over but I just kept fighting it to try and keep it in the middle of the groove. I got it down there. I don't know what happened to Robert but I was able to drive around him for that win light. We are moving up in the points which is exciting."
She moved from a tie for eighth place with Jeff Arend at the start of the day to sole possession of 6th place in the Full Throttle point standings. She has a 128 point lead, which is equivalent to seven rounds of racing, over Tim Wilkerson who is in 11th place.
Courtney had a shot at racing her father in the finals but the 15-time Funny Car champ red-lit against Beckman in the semis. The last time Force red-lit was to Beckman in the semi-finals at Denver in 2007.
Force gave a big assist back to Courtney in the second round when he beat Cruz Pedregon. By eliminating Pedregon and Courtney going to the semis she was able to move around the two-time Funny Car champ in the points. Force defeated Cruz's younger brother Tony in the opening round on Sunday.
"I said all these kids are out here spanking me. I am a 60-year-old kid. You can't ever root against Wilkerson, he is our friend and our teammate with Ford. I love the guy. I was rooting for Courtney because I root for her no matter who she races. I don't need her to win for me I need a win for myself. I am getting my stuff together."
"I need points every round and so does my girl Courtney, "added Force. "It is all about the love of this sport and the fans to give you the adrenaline. I love racing Cruz Pedregon. He is an animal up there. I saw him on the lights put out the top bulb but I am fighting for everything I've got."
(Photos courtesy JFR/Ron Lewis; Click to enlarge)