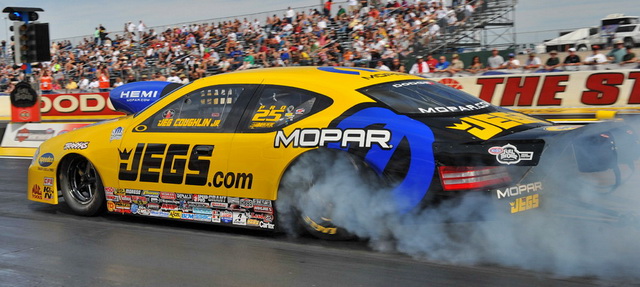 Jeg Coughlin Jr. isn't a stranger to having a bull's-eye on his back because the affable Ohioan has won numerous Pro Stock championships in the past.
As the 2014 opens this weekend in Southern California with the 54th annual Circle K NHRA Winternationals, Coughlin will once again assume the mantle of "the one to beat" in the always-competitive factory hot rod category.
"We are really jacked up," Coughlin said. "We're ready to start the fight, and for sure it's going to be a fight, just like every season. We're looking at the Winternationals as Step 1 of the many steps it will take to win our sixth Pro Stock championship.
"There's a definite spring in our step. We're coming off such a solid season, and obviously we ended the year on the top step of the podium, as it were, so that's kept us in high spirits throughout the off-season."
As much as Coughlin and the mechanics on his JEGS.com/Mopar Dodge Avenger race team wish to keep the momentum of their title charge going, there have been some changes at J&J Racing. Two of the more notable events were the departure of co-crew chief Jim Yates, who was replaced by Adam Hornberger, and the exit of fellow Mopar driver and teammate Vincent Nobile.
"There have been changes across the Pro Stock spectrum, not just with our team," Coughlin noted. "Lots of mergers and drivers moving around. It should be interesting to see how all these moves work out. We're down to two cars now, so the focus will be even more intense, which should be good all the way around.
"We're excited about Adam stepping up and assuming more responsibility. He and Mark (Ingersoll, crew chief) work together very well and it has been an extremely smooth transition. I think we all feel like both Allen (Johnson) and I had great cars and very good tune-ups at the end of 2013, so we're staying pretty close to where we were as a starting point for this year's campaign."
The group has made several test passes this off-season and are stopping off in Arizona for some last-minute adjustments this week.
"The cars have responded very well to what Mark and Adam have asked of them," Coughlin said. "Plus, the guys at J&J have put in countless hours finding us more horsepower. It never ends. The support from Mopar and the staff over there remains at a phenomenal level. It's our job now to go out there and win them a third straight title."
(Photos courtesy JEGS; Click to enlarge)