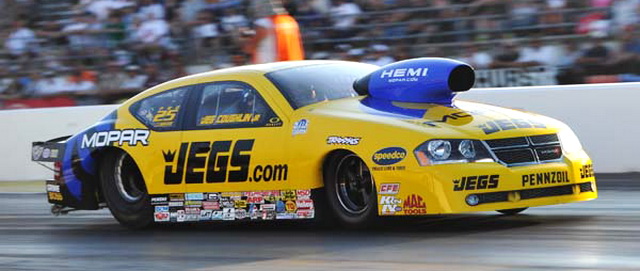 Green turned to yellow at the New England Nationals on Friday at New England Dragway, as JEGS.com/Mopar Dodge driver Jeg Coughlin Jr. grabbed the provisional Pro Stock pole in the NHRA's first appearance at the Epping, NH, facility.
"Coming in here, we were a little bit green," Coughlin said. "We wanted to be a little bit cautious on the first run, which was good because we were a little bit too aggressive that first run, knowing the track was going to come around with one full round of cars on it and knowing that sun was going to peek around the hill just a little bit more."
Coughlin was third after the first session with a pass of 6.573 seconds at 212.16 mph. But the team adjusted the tuneup, and Coughlin's JEGS yellow Avenger picked up to 6.533 seconds at 212.43 mph in Q2.
"We made a really, really nice run," Coughlin said. "I let the clutch out, and the car started rolling out about midway through first gear and hiked the front end up real nice. I hit second gear, and it was a real smooth transition.
"If there was a camera inside my helmet, you would have seen a grin from ear to ear because it felt fantastic."
Coughlin figured Mike Edwards or Shane Gray would come close to eclipsing his elapsed time, as they were first and second, respectively, in Q1. But Coughlin's J&J Racing teammate, Allen Johnson, ended up second.
"It stuck," Coughlin said. "We're extremely happy with that. We've got six runs down this race track with ourselves, Allen and Vincent (Nobile). To have Allen and I 1-2 is fantastic, and I'm sure Vincent will sneak closer to the top tomorrow."
Coughlin has been encouraged by the fan support he received in NHRA's first trip to Epping, and he hopes to reward them with a victory on Sunday.
"The reception's been amazing," Coughlin said. "It's been really, really nice, and we look for some great things to come here. They've got a really nice facility, and the track itself is going to continue to mature with our setups.
"We'd love to come out of here Sunday night with the inaugural win here at Epping. Stay tuned: A lot of racing between now and then."
First, though, he hopes to secure his second No. 1 of the season, as he's been the only driver in 10 races to keep Edwards from the pole.
"We're not counting our chickens just yet," Coughlin said. "But we're going to continue to peck away at our JEGS.com/Mopar Dodge Avenger and see if we can't keep everyone in our rear-view mirror."
(Photo courtesy JEGS/Kommel)