John Lombardo Jr. and the NAPA Filters/Lucas Oil Chevrolet Camaro have seized momentum in the competitive Top Alcohol Funny Car category after two consecutive event victories.
Lombardo entered his last two events knowing it was time to stake a claim in the NHRA Lucas Oil championship chase while competing at the same events as others who were on top of the standings. A series of close defeats punctuated by a narrow .001-second decision in the Gainesville semifinals had the entire team headed by owner/crew chief Rick Jackson and tuner Les Davenport laser-focused to get back to the winner's circle.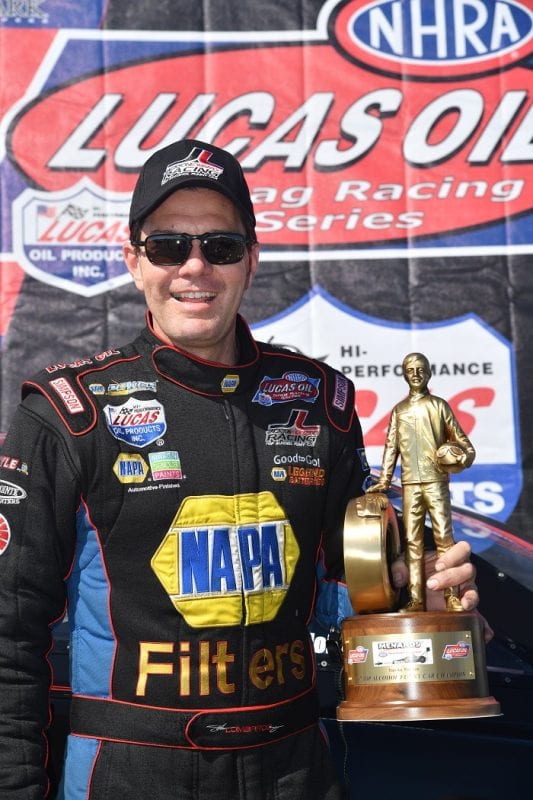 "When you look back at the last couple years, we had a half-tenth on most everybody with the exception of [2015-2016 champion Jonnie] Lindberg's car," said Lombardo. "At about the middle of last year, it really tightened up. At the same time, we were having some reliability issues. [Shane] Westerfield, [Doug] Gordon, and [Annie] Whiteley all really tightened the gap, and it showed at the beginning of this year. Les and Rick went back and dug in and found some more."
They started turning in the right direction with a victory in the Lucas Oil Regional Series at The Strip at Las Vegas Motor Speedway on April 7-9. Lombardo recovered from a bottom-half qualifying position to set low e.t. of the event at 5.488 seconds and defeat Gordon in the final round.
On May 19-21, Lombardo returned to Heartland Park Topeka where his powerful Camaro was able to sink its teeth into the fast racing surface in unseasonably cool conditions. In a monster second-round matchup against Gordon that would give the winner a bye run into the final, Lombardo recorded a career-best 5.398-second run, the third-quickest elapsed time in the history of the category. He parlayed that round-win into a final-round victory over Annie Whiteley, putting himself in striking distance of the top three drivers in the Lucas Oil standings with less races claimed than each thus far in the best-10-of-15 championship format.
"The way the car ran in Topeka was really encouraging," said the Menards NHRA Heartland Nationals presented by Minties champion. "It was really different to have 1700-1800 feet [corrected altitude] and an 87-to-88-degree race track. When we went 5.40 on Saturday, we thought, 'Man, that's a heck of a run at 1,700 feet. We have something here to work with.'"
The win gave Lombardo a photo opportunity he had coveted – a winner's circle photo with two NAPA-sponsored Funny Cars as his NAPA Filters Chevy Camaro was joined by Nitro Funny Car victor Ron Capps' NAPA Auto Parts Dodge Charger.
"It was a big day for NAPA," said Lombardo. "We've been looking forward to winning a national event at the same time as Ron, getting that photo op, and sending it to NAPA in Atlanta. There is definitely a lot of hype with Ron and his team winning four in a row, and deservedly so. It was a pleasure to be there with him and his team in the winner's circle."
There is no rest for the weary with the Jackson-Lombardo Racing team. The California-based team will be on a slew of NHRA Lucas Oil Regional Series activity beginning at Route 66 Raceway on June 2-4 followed by stops in Denver and Tulsa, Okla., before returning to Chicago in an attempt to win their third JEGS Allstars special event victory in four years.
"It was good to put some points on the board in Topeka," said Lombardo. "It's going to be a long season full of great competition for everybody watching along. I couldn't be happier with the efforts of our team and supporters."