The Drag Illustrated World Series of Pro Mod received record participation when it came to drivers at its event in 2018. That type of impressive participation also carried over to sponsors, as a record number of partners worked with the WSOPM during its second annual event this year at Bandimere Speedway.
Leading that charge for a second consecutive year were title sponsors One Cure and J&A Service, two companies who both continued to support the WSOPM in a major way.
For One Cure, an initiative created in 2011 by the Flint Animal Cancer Center at Colorado State University, the race on Thunder Mountain again provided a unique opportunity to spread awareness about their cause on a national level. The One Cure initiative was founded on the principle that cancer affects all creatures and breakthroughs in treatment come through collaboration between scientists and doctors working with both people and animals.
Spreading that message through motorsports has been an important aspect of One Cure's ability to raise awareness, which played a key role in getting involved with the WSOPM.
"It's been a wonderful experience," One Cure's Greg Schumann said. "You talk to these drivers and even if they're putting the car back together, they stop and talk and get some things for you. You don't see that very often. These guys are so willing to help the cause. Our No. 1 goal is to create awareness and we're definitely on the grassroots side of it. For this race, it's just been phenomenal. We're elated."
The WSOPM competitors helped put together more than 50-60 goodie bags loaded with apparel and merchandise to be used for drawings, while the Jr. Dragster drivers racing at Bandimere Speedway as part of the event also competed to help to raise awareness for One Cure and the children with cancer that they work with. It proved to be a touching tribute during the event, while the atmosphere of the race continued to play a major factor in One Cure's involvement.
"The excitement of the race and just the consistent, positive energy, it's so refreshing," Schumann said. "Everyone is here to race and have fun. It's competitive, but it's a fun competition. That happens because everyone is here for one purpose and they want to see that enjoyment in the fan's faces."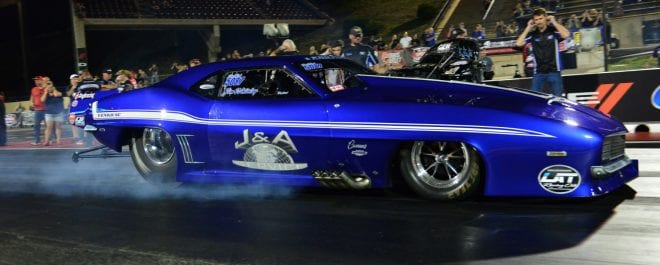 There were plenty of smiles from Jim Whiteley, who again competed in the WSOPM for a second straight year, but also had his J&A Service company serve as a sponsor for a second consecutive season.
J&A Service was previously the title sponsor for the NHRA Pro Mod class, moving to a presenting sponsorship role in 2018, while its participation as a partner with the WSOPM the past two years has also helped enable the company for impressive growth.
"The J&A name is a household name now," Whiteley said. "We're real happy we're part of (the NHRA Pro Mod class and the WSOPM)."
The television time on the NHRA Pro Mod scene paid dividends for Whiteley's company, while the WSOPM has also spread awareness while taking place almost in Whiteley's backyard.
The Grand Junction, Colorado, native has raced at Bandimere Speedway for years, but never at an event like the WSOPM. Whiteley called the race the most fun he has had in more than two decades of racing, leaving him excited about the impressive growth of the race.
Business-wise, the proximity has been extremely beneficial as well. With more than 25 years of experience, and nearly 300 employees operating in 10 states, J&A Service has proven itself to be a leader in oilfield production. That means designing and fielding custom flowback equipment to solve challenging oilfield problems, a message the WSOPM has helped spread at its events. Being able to showcase the company at his home track is simply the icing on the cake for Whiteley.
"For us, it's huge because it's the home base and it's close," Whiteley said. "If I could race 16 races in Denver, I would. Not to take anything from other facilities, but we know the folks here and they treat us so well. They're just super folks and I'm tickled to pieces they're doing it here."
Photographs by Scott Arnold and Katie Anderson of SRA Photo
This story originally appeared in DI #137, the World Series of Pro Mod Issue, in October of 2018.