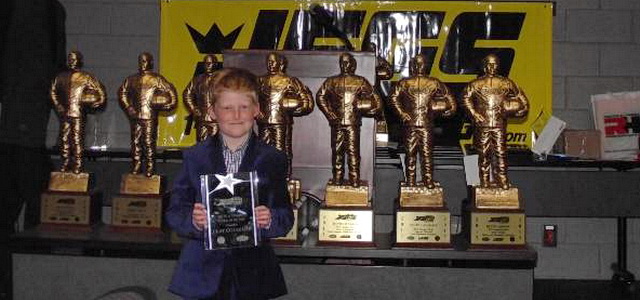 The annual National Trail Raceway Awards Banquet Saturday evening at OSU-Newark's Reese Center had a distinct yellow and black hue as third-generation driver Clay Coughlin accepted his championship trophy.
Coughlin's hard-earned trophy was one of three awards claimed by JEGS, the high-performance mail order parts giant that calls nearby Delaware, Ohio, home.
"It was a very special night," said Mike Coughlin, Clay's father and one of four brothers who own and operate JEGS. "It's a unique feeling to see your child accomplish something like this, and Kriss and I are so proud of him. I know his brother Jack was fired up as well.
"What really made it special was that it reinforced his love for the sport we all grew up in, and he's that much more fired up about the coming season. I think we all are."
Nine-year-old Clay captured the Jr. Dragster 1 championship, a 12.90-second class for young drivers. He also was named Jr. Rookie of the Year, a surprise for the fiery redhead.
"He was super excited," Mike said. "We did work on a speech for his championship, but it took a little coaxing to get him up there in front of 300-plus people. It's funny because normally he's a little chatterbox, but I think it's a different story when you look across a room full of people. I can assure you, he was very appreciative of everything.
"When they later announced that he'd won Rookie of the Year for the Juniors, that was such a bonus. We definitely weren't expecting that one, so again, it was very cool."
The revelry didn't end there, as JEGS was named Sponsor of the Year for the historic facility.
"National Trail is where my brothers and I grew up," Mike said. "It truly is a second home to us, and we're honored to help in a small way. Obviously, with JEGS being headquartered here in Delaware, it's a home track, not only for the Coughlin family but for all of our associates that enjoy racing.
"Our special thanks to Mike Fornataro, the entire Stilwell family, and everyone else at National Trail for taking such good care of us."
(Photos courtesy JEGS)