When Mike Janis Jr. walked into the Las Vegas Monte Carlo Hotel and Casino ballroom last October for the 2015 NHRA J&A Service Pro Mod Series championship awards banquet, he never expected to hear his name called when it was time to dole out the Crew Chief of the Year award. Surely it would be Steve Petty, the turbo wizard who tuned Troy Coughlin to his second NHRA Pro Mod championship, or Chris Bell, who turned Bob Rahaim's nitrous-assisted C7 Corvette into an instant contender with a surprise win at the season-opening NHRA Gatornationals. Instead, it was indeed Janis who was called up to the stage to accept the award previously adorned by names like Jimmy Rector, Howard Moon, and Petty.
"I almost fell off my chair," Janis laughs. "That was my first reaction. After that, I felt really proud and respected because of everybody who voted for me. We couldn't vote for ourselves, so that means my peers were who voted for me. That was a really big deal to find that out."
The Crew Chief of the Year award ultimately recognized Janis' role in his father's 2015 campaign during which the Pro Modified veteran finished second in the NHRA Pro Mod points standings. At just 34 years old, he's easily the youngest recipient of the prestigious award, but his humble speech in front of his peers reflected a maturity beyond his years.
"It was just the whole deal about being in disbelief and having known that we've worked so hard and that I'm just a piece in the ultimate puzzle. It's a great award, but I wanted to share it with the rest of the team and my dad."
And though he has loads of appreciation for the work of his son, the elder Janis admits he was just as surprised when he heard Mike Jr.'s name announced.
"Being the father, being proud of your son, I guess words can't describe it. I had tears in my eyes when they said that because we were in shock. We had no idea he was up for it. The feeling as a parent that your son came up and he's that responsible is unreal. At first, years ago, I would kind of second guess him. Now I have my own thoughts and I just keep them to myself and he just does what he needs to do. It's working very, very well for us."
A weekend at the local drag strip was the norm for Mike Jr. as early as five years old. He grew into the usual beginner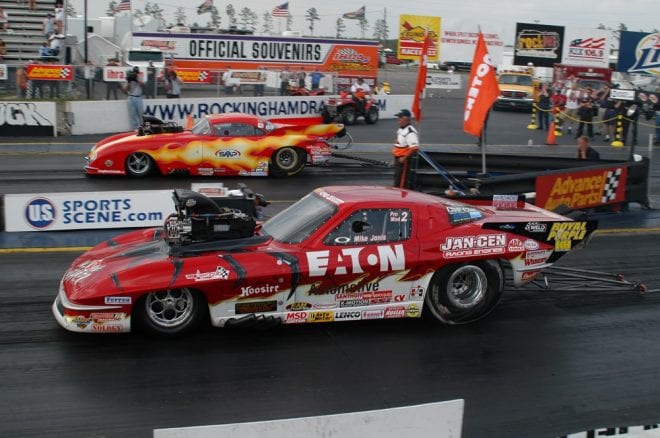 tasks: cleaning tires, polishing his father's car, generally helping out with simple tasks here and there. By his late teens, though, Janis was helping with motor assembly and disassembly, and even serviced the clutch under the tutelage of his father and the team's crew chiefs. After winning the IHRA Pro Modified world championship in 2001, Janis parted way with his crew chiefs, leaving the father-son duo to make the tune-up calls on their own. That's when Janis Jr. had an important epiphany.
"I was sitting in the truck one day and never really understood how the clutch worked. Right there I kind of realized I had to teach myself starting right now because no one is going to help me anymore. I started asking more questions. That truck ride was a major turning point. I started asking my dad questions and he started trusting me with decisions on the car."
Janis Jr. never looked back, forging forward to tune his father to a second IHRA Pro Modified world championship in 2004. As important as the Ironman trophies are to Janis, he also places significant value on the opportunity to go racing and travel the country with his father. The duo has spent a lot of time together, from long days in the shop to late nights behind the wheel of their toterhome while chasing the IHRA and NHRA Pro Mod series around North America.
"It's an experience that you can never really have the words to say how cool it is," Janis says. "I went to college and earned a bachelor's degree but I ended up working for the family business. It's something that can never be taken away. I've been working with my dad full-time since I was 14. Not everyone gets to work with their dad every day. If we don't see eye-to-eye all the time we talk it out. He's my best friend. The memories that we've made have just been awesome."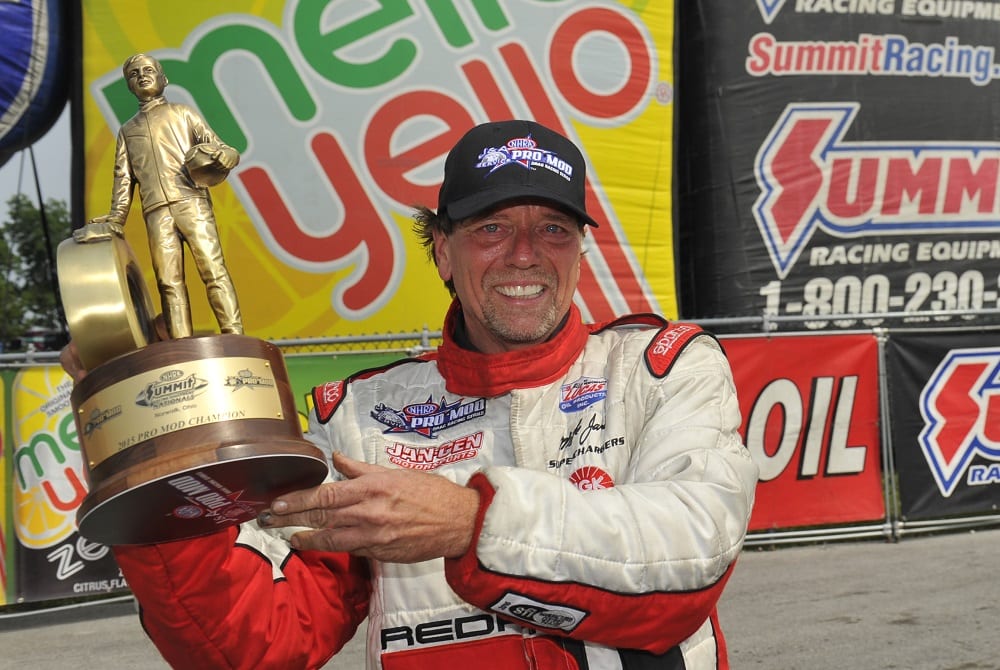 As Janis Sr. said, the arrangement has worked very well for the Jan-Cen Motorsports team. Janis has finished in the Top 10 in points four times in the six seasons that Pro Mod has been recognized as an official, points-earning NHRA class. In fact, the Jan-Cen Camaro even came within 14 points of the 2015 NHRA world championship on the strength of consistent round wins and a sentimental event win at the Summit Racing Equipment NHRA Nationals in Norwalk, Ohio.
"Last year at Norwalk was my biggest win, bigger than the Indy win or anything else. It's the home race and all kinds of family were there. (Mike Jr.) called all of the shots for it. We wouldn't have won if I was calling the shots, I guarantee you that," Janis Sr. chuckles. "He raced real smart."
Home for the Janis team is Lancaster, New York, a quaint town just east of Buffalo. Father and son both spend their weekdays at the small shop and manufacturing facility shared by Jan-Cen Racing Engines and Mike Janis Superchargers. The building also houses a Polaris and Arctic Cat dealership, complete with a factory authorized service center. Along with longtime friend and employee Kevin Peters, Mike and Mike Jr. design, manufacture and develop their own engine and supercharger components for their car, as well as for domestic and international customers in doorslammer racing and tractor pulling.
"Our car is a test vehicle for everything that we run on our customers' cars. We started building and modifying our own superchargers about eight years ago. Since then we've been manufacturing our new billet injector hats and all or own supercharger parts that go into the raw casting of the case. We're able to constantly develop and try new things not only for ourselves but anything that will help our customers down the road," Janis Jr. explains.
"Every part and piece on the car, whether it's the engine or the driveline setup with our converter, any of that stuff is just stuff that we've worked on. When you have total control of your product you're able to do that. We're fortunate that we work with a lot of outside sources and knowledgeable people. It's all about surrounding yourself with really good people. That's where we've been able to separate ourselves from everybody else."
One of those people is Kevin Peters, who toils away in the shop during the week and travels with the race rig to all 10 NHRA Pro Mod events and the occasional test session.
"I want to highly stress that our success would not be possible without our longtime employee, Kevin Peters. He's responsible for all of the R&D development that goes on here. He pushes us to be better. Together we call ourselves the Three Musketeers. Without him and the effort he's put in over the last 20 years, none of this success would be possible. We're grateful for him being an employee, but even a better friend," Janis Jr. adds.
Janis Sr. also gives Peters a wealth of credit for being a driving force behind the innovation that has come out of the Jan-Cen shop, especially over the last several years. Whether it's an unusual injector hat design or a set of headers with adjustable tips, the trio is always trying something new.
"Between the three of us, we'll spend all day working and one of us will walk over and bounce an idea off of the other. We're in a 40-by-60 building, working together all day. I think that's where it starts. The lunch table discussion is all about motors and how to go faster. We're pretty serious about it. Kevin and Mike Jr. have been the big drive behind the whole thing. Kevin is just incredible with his thoughts and machining. He's done us a lot of good."
Having the right people in place is critical for the Jan-Cen team, seeing as their skeleton crew must handle the workload and schedule of a much larger operation. When most of their competitors are testing or preparing their cars for a race, the "Three Musketeers" are designing a new injector hat, machining a supercharger case, or making dyno pulls on a customer's engine. Test sessions are carefully scheduled when the shop schedule and budget allows. Late nights and early mornings are reserved for after-hour maintenance on the Jan-Cen Camaro.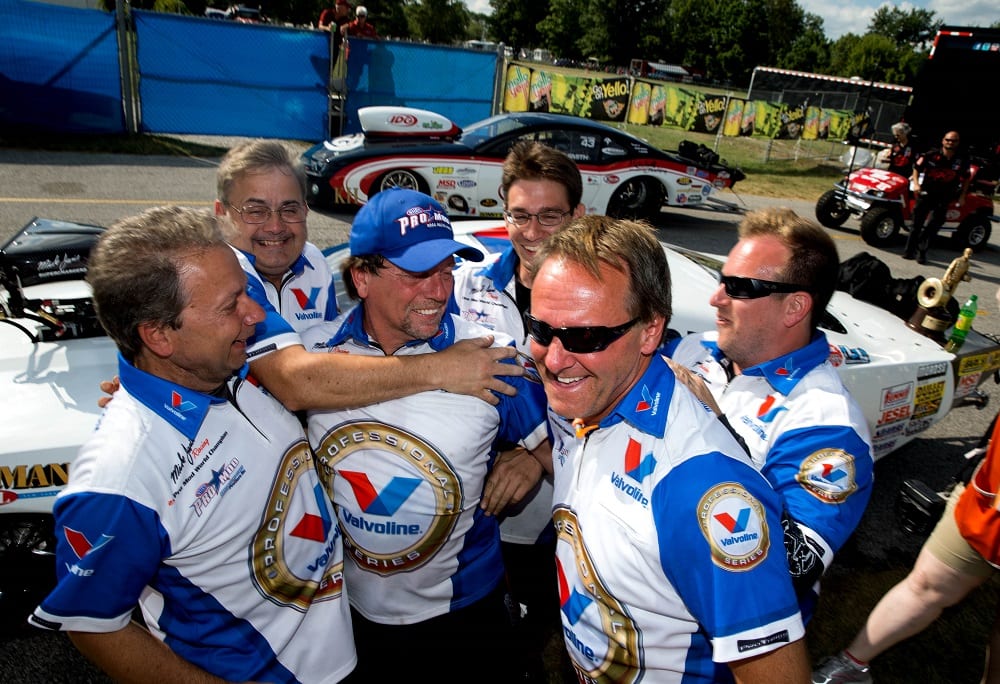 "We're working fulltime with the business so it's not like we can work on the car during the day like most other guys can. We're working on the car at 4 a.m. It might be late at night before we're ready to pack up. We're normally one of the last teams into the track, whether it's late Thursday night or early Friday morning. That's how it's always been and until something changes, that's how we're going to keep doing it."
As trying as it might be to compete on doorslammer racing's largest stage with such a small crew and budget, Mike Sr. also can appreciate the positives of his current situation. When a tightknit group of family and friends can come together to defeat the big dogs, the win lights are a few shades brighter.
"A lot of times it's hard to deal with, but it has a big impact on me personally when we know we can go out there as a small, family team and we can run as good or better and dominate. We're all just working guys and we can put it all together and get along well. There's no arguments or fighting. Win, lose or draw, we're always having a good time on the way home. It's a great feeling when you know you can do it. It gives you the drive to keep doing it, too."
The Jan-Cen Motorsports team has been competing without a major backer for the last few seasons. The sponsorship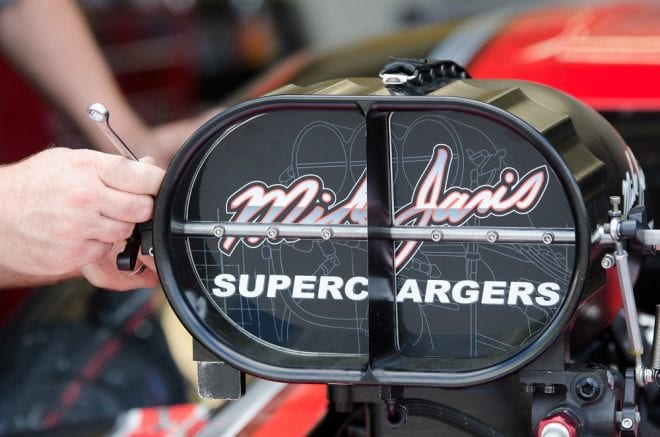 acquisition role is another area where Janis Jr. has used his talents to help the family team race to the front. He's actively seeking a primary sponsor to join the likes of Lucas Oil, Strange Engineering, Wally Stroupe Race Cars, MAHLE Clevite, Total Seal Rings, Line to Line Coatings, Goodyear Tire, T&D Rockers as Jan-Cen partners. A breakthrough on the sponsorship hunt would mean big things for Janis and his dad, though he insists they won't be resting on their sponsor's dollars.
"We can outwork anybody. We're not afraid to get up and work early in the morning. If the finances were available, it really wouldn't change how we work on the car or the business," Janis Jr. insists. "It would give us the freedom not to worry and to do a little more. We would be able to put more people in place at the shop so we could go testing more. That would really help our program a lot. If we had the opportunity to have major funding, I think the other guys (in Pro Mod) might want to consider staying home."
Janis' on-track R&D program would be the first thing to receive a boost from a major sponsorship, since a rigorous testing schedule is almost required to compete at the top level of the NHRA Pro Mod series. Aside from a few laps at Virginia Motorsports Park before the three-race "East Coast Swing" and a short session at New York's Empire Dragway, the Janis team does all of their testing during race weekends or in the dyno room back at the shop.
"We went testing at a local track last weekend. This is what guys like Rickie Smith do mostly every week. You can get
so far ahead if you have the backing to go testing and not have to worry about hurting parts. That's just a big part of the game right now unfortunately. We know that, but we're willing to work with what we have. Hopefully someday it will pay off for us and we can get some sort of big deal going," Janis Jr. says.
Running a business in the motorsports industry has given Janis a special appreciation for the team's sponsors. As someone who sees sponsorship proposals come across his desk on the regular, he takes special care to ensure the team's backers are properly represented and get the most bang for their buck.
"You have to realize that it's no different than if somebody were to come to Mike Janis Superchargers/Jan-Cen Racing Engines and ask for money or product. It's all about what you can do for the company. We hope we do a great job for them. These are some of the biggest companies in the United States, and the world for that matter. People like Forrest and Charlotte Lucas and Tom Bogner at Lucas Oil, we're fortunate to be involved with them and we owe everything to these companies because they're what keep us out there."
While his focus lies within the advancement of his father's car and their Jan-Cen customers, Janis Jr. is also a staunch proponent of the NHRA Pro Mod Series and the people behind its tremendous growth over the last few seasons.
"When I won the Crew Chief of the Year award last year, I was able to give a speech at the awards banquet. I asked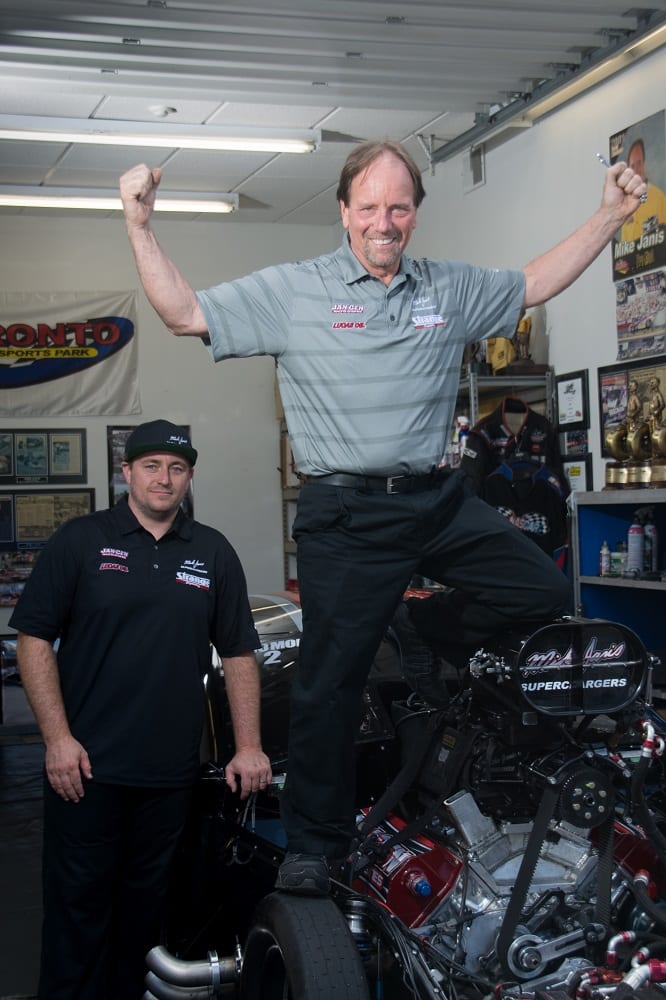 Peter Clifford (NHRA president) and Graham Light (NHRA senior vice president of racing operations) to stand up. I first of all thanked them for the hospitality and all that they do for us, but at the same time I also told them, 'I know you like your Top Fuel and Funny Cars, but we need to look around the room. There's 30 good teams here and these guys have multi-million dollar businesses. These are the people attending your races right now.'
"That's one thing that my dad or I won't hold back on, where we are with the state of the class right now. People like Danny Rowe, Steve Matusek, Troy Coughlin, John Waldie, Harry Hruska, Forward Sports Marketing; these guys are putting in countless hours trying to find sponsors for the class and they have been for the last three years. They're doing everything right and everything in their power that they know how to do."
As far as the class has come, Janis passionately believes Pro Mod still has a lot left in it before reaching its true potential.
"It's really upsetting and alarming to me that we're still not where we need to be with the class. We have the biggest car counts out of anybody. Even more cars would come in if they allowed them. And yet at the end of the day we're getting $300 to qualify. It was a thousand or two thousand dollars back in the day. It's nobody's fault, it's just that every dollar that we get has to go to the NHRA. It costs us (the Pro Mod Series) $50,000 per race to race there, plus the points fund, and none of that money comes back to the racer. I really hope NHRA sees the light at the end of the tunnel and realizes that Pro Mod is synonymous with drag racing. It doesn't matter if it's the United States, Europe or Australia; it's the biggest class out there."
Janis has bold ambitions for the growth of the NHRA Pro Mod class, but also retains reservations about the possibility of expanding to an expanded schedule that would likely come with the Mello Yello Series pro-class billing that some Pro Mod supporters have suggested. Junior accepts the possibility of a rumored two additional races in 2017, but thinks much more than that could result in a negative impact on the class's plentiful car counts.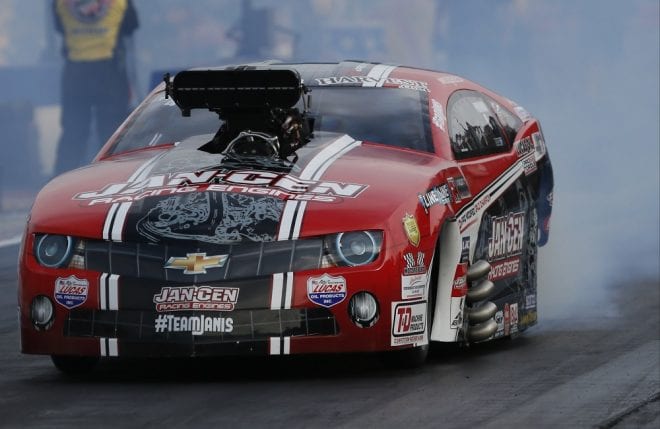 "I definitely would like to see it become a pro class, but nobody wants to run 24 races. Nobody can afford to run 24 races. We're all in agreement that Pro Mod should run 12 to 16 races. We would be OK with that, but the financial numbers for running 24 races just don't add up for us or any of the other teams. We would have low car counts and it would be no different than what you're seeing with Top Fuel and Pro Stock right now. The cost of running everything is so expensive nowadays and running all these races is very tough."
No matter how tough it might get, Mike Janis, Mike Janis Jr. and their Jan-Cen team will power ahead through the trials and tribulations.
"We're going to focus on the NHRA deal the rest of the year and see where we are after St. Louis. If things are still looking good, then we'll go to Vegas. If not, we'll probably have to end up missing Vegas due to the financial load.
"There's a possibility that we can win the championship but it's unlikely, so our goal is to finish second in points. That's a big deal for us. We're self-funded, so any (championship points) money we can get is a big deal to keep us racing."
Photographs by Steve Janis, Mark J. Rebilas, NHRA/National Dragster, and Ian Tocher
This story originally appeared as the cover story in Drag Illustrated Issue No. 113, the Crew Chief Issue, in September of 2016.