Pro Modified veteran Chip King used a blistering 3.591-second pass at 207.88 mph in his brand-new Dreamworks '70 Charger to qualify No. 1 atop the quickest 32-car field in Outlaw Pro Mod history Saturday at the U.S. Street Nationals presented by M&M Transmission. Just a tenth of a second separated King and the No. 32 qualifier by the time qualifying was complete at Bradenton Motorsports Park.
Along with Outlaw Pro Mod, several other classes completed qualifying at the U.S. Street Nationals. The low qualifiers are Jason Collins in Pro 275 presented by M&M Transmission, Paul Gargus in Limited Drag Radial presented by TBM Brakes and Pro Line Racing, Jamie Stanton in X275 presented by Rife Sensors and PST Driveshafts, Brian Keep in Ultra Street presented by TRZ Motorsports and Innovative Racecraft, Brad Schehr in Limited 235 presented by SPA Tools and ICE Ignition, Daryl Stewart in Outlaw 632 presented by Voss Wheelie Bars, and Kevin Lumsden in Sealed Crate Motor Shootout presented by Scoggin-Dickey, NTS, and Jason Dietsch Trailer Sales.
OUTLAW PRO MOD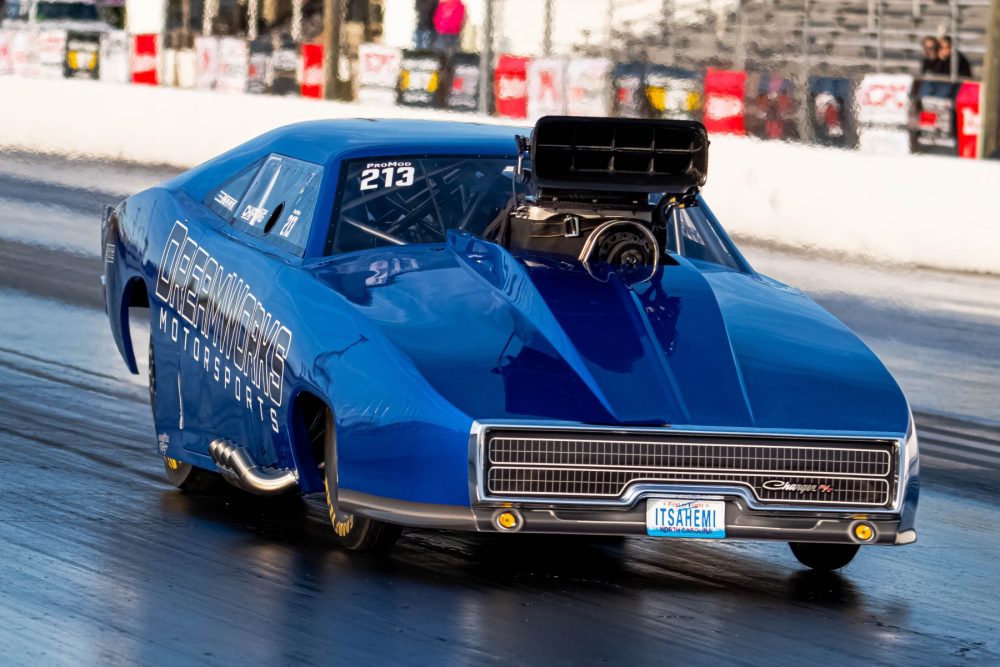 After qualifying No. 13 on Friday, Chip King rolled into Saturday qualifying on a mission. King and his Dreamworks Motorsports team led by Terry Coyle and Justin Carmack successfully executed their mission when King fired off a 3.591 at 207.88 in the first session of the day. He took away the No. 1 spot from Mark Micke, also debuting a new car, who shot to the top with his 3.594 at 218.55 just moments earlier. King was still on top after two more sessions, which his team sat out.
"It means that I have the best team in Pro Modified drag racing," King said of qualifying No. 1. "Maybe not the best driver, but I have the best team. It just shows my dedication over the last 23 years to Pro Modified drag racing, being an innovator, and not only bringing out a new body, but a new chassis builder, and a Carmack 12-inch rear end that everybody wrote off two years ago. All that, we put together just to show that we are the best team in Pro Modified racing right now.
"We have the right people in place and I'm open-minded enough not to follow what everybody else does," King added. "We do our own deal. That's the difference. Everybody wants to follow what everybody else sees. Well, what if you go totally outside that box and do what you believe is the best way to do it? That's what we're doing."
King enlisted veteran chassis builder Jerry Haas Race Cars to build his screw-blown '70 Charger. It's already a consistently quick piece, running 3.639 and 3.646 on Friday before ripping off the 3.591 on Saturday.
King and the Dreamworks Motorsports team are also fielding a roots-blown '70 Mustang driven by Coyle, who ended up No. 22 in the field with a 3.664 at 204.94. The team brought two cars not only to double their chances on race day, but also to gather data for the upcoming Drag Illustrated World Series of Pro Mod, March 3-5, at Bradenton.
"We're looking at the World Series of Pro Mod going, 'Where's the rules package put us right now? Let's bring the best screw-charger car and the best roots-charger car that we can into the World Series of Pro Mod,'" King said. "A lot of people have approached it different ways, but we're bringing two cars to the race before, one with a roots-charger and one with a screw-charger and let's see which one's the fastest. That's how serious my team is taking the World Series of Pro Mod."
While King's new Charger is a clear favorite going into eliminations, he isn't ruling out Coyle and the Mustang. The team has worked to make sure the two cars have an equal chance at going rounds on Sunday.
"We really believe in the roots combo also," said King, who worked into early Saturday morning with Justin and Kyle Carmack servicing Coyle's car. "Tomorrow, the goal is winning the race. Roots car, screw blower car; new car, old car; Mustang, Charger; Terry Coyle, Chip King; we're a team. Hopefully tomorrow one of the two cars is in the winner's circle. It truthfully does not matter to me which one. I would be just as happy to see the red Mustang in the winner's circle as I would the blue Charger. Dreamworks Motorsports feels the same way. That's the way we operate. When one of us is successful, all of us are successful."
Micke in his new twin-turbocharged '69 Camaro qualified No. 2 with a 3.594 at 218.55. Randy Weatherford, Friday's provisional low qualifier, took the third spot on the strength of his 3.605 at 210.11 in his ProCharger-boosted WS Construction Camaro. Multi-time Pro Extreme world champion is fourth in his screw-blown "Mississippi Missile" '23 Camaro with a 3.615 at 210.93. Melanie Salemi, driving Mike Stawicki's brand-new, screw-blown '19 Camaro, stepped up to a 3.617 at 207.66 to qualify No. 5.
Behind King and Micke, 32 drivers made passes in the 3.60-second range throughout qualifying. Scott Quesenberry claimed the bump spot with a. 3.693, while Ty Tutterow and Andrew Handras were the quickest of the non-qualifiers with their 3.697s.
PRO 275
Pro 275 featured some strong performances, but the top 3 qualifiers from Friday remained the same. Jason Collins in Scott Tidwell's new screw-blown '69 Camaro qualified No. 1 with his 3.678 at 204.60. Mo Hall took his new Fulton-powered '20 Corvette to a 3.708 at 203.89 to maintain the No. 2 spot. Marcus "The Axman" Birt in Tommy Youmans' ProCharged "Salvage Title" Mustang is third with a 3.717 at 199.40.
LIMITED DRAG RADIAL
In Limited Drag Radial, Paul Gargus's record 3.866 at 194.80 set Friday night in Scott Tidwell's '69 Camaro held up for the No. 1 spot. Richard Reagan's 3.91 at 192.14 in his '91 Mustang also held on to the No. 2 spot. Seminole, Florida's Chris Perry moved into the top 3, though, recording a 3.914 at 193.10 in his '67 Camaro. Twelve cars ran in the 3-second zone.
X275
New York's Jamie Stanton held on to the No. 1 spot in X275, improving to a 4.146 at 171.08 in his '00 Camaro. Kenny Hubbard, fresh off a win at the Snowbird Outlaw Nationals in December, is second with a 4.174 at 168.66 in his ProCharger-boosted '74 Nova. DJ McCain continued to step up in his new nitrous-fed '06 Corvette, using a 4.177 at 174.75 to hang on to the third spot going into race day.
ULTRA STREET
The three drivers who topped the Ultra Street qualifying sheet on Friday night maintained their spots through Saturday's two sessions. Brian Keep in his '98 Camaro and Jason Spina in his '90 Mustang both ran 4.446, with Keep taking the top spot by speed. Shawn Pevlor stayed No. 3 in his '92 Mustang while improving slightly to a 4.448 at 154.47.
LIMITED 235
Several racers in Limited 235 made consistent runs through qualifying, though the top 3 drivers didn't improve. Brad Schehr is No. 1 with a 4.887 at 138.63, Meranda Burris is No. 2 with a 4.921 at 143.38, and Eddie Ramirez is No. 3 with a 4.994 at 137.88.
OUTLAW 632
Jupiter, Florida's Daryl Stewart stepped up in Saturday qualifying to take over the No. 1 spot in Outlaw 632. He recorded a 4.161 at 170.51 in his nitrous-fed Chassis Engineering '12 Camaro. Alan Drinkwater, who won the Snowbirds in December, also improved with a 4.204 at 168.75 in his naturally aspirated '04 Escort to qualifying second. Jason Ventura is No. 3 in his nitrous-fed Brand X Marine '70 Camaro with a 4.236 at 167.34.
Eliminations at the U.S. Street Nationals presented by M&M Transmission will kick off Sunday at 9 a.m beginning with the index classes. A complete schedule and run order can be found on the Bradenton Motorsports Park Facebook page.