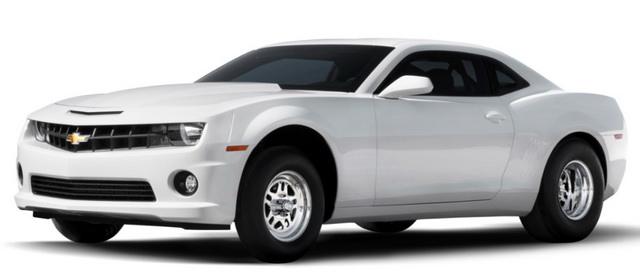 Chevrolet will produce a limited number of Camaro NHRA-certified rolling chassis designed for drag racing that provides racers with a professionally assembled, painted body and chassis ready to be finished. Consumers add their engine, transmission and other drivetrain components.
The rolling chassis go on sale Thursday, March 28, at noon EST and will be priced at $55,000. Each specially numbered chassis is assembled by hand at the same facility that constructs Chevrolet's COPO Camaro production race cars.
"This is a great opportunity to buy a factory-built foundation for a competitive Camaro race car, saving racers the time of building their own from the ground up and offering them the opportunity to compete with a piece of Chevrolet history, because we're only going to build a few of them," said Jim Campbell, General Motors U.S. Vice President of Performance Vehicles and Motorsports. "Add your powertrain assembly and you've got a race car that's ready to tackle the drag strip."
Many of the components required to complete the transformation into a full race car, including crate engines, racing engine components, electronics – controllers and harnesses – and more, are available direct from Chevrolet Performance. The catalog is online at chevroletperformance.com.
"Finishing off your race car with authentic Chevrolet Performance parts helps make it all-Chevy, with uncompromising performance and confidence-inspiring durability," said Campbell. "All of our hardcore racing parts have been designed and tested to standards unmatched in the aftermarket."
Ordering information and chassis details
Customers will call 1-800-306-3005 to order a Camaro rolling chassis. The call center will send purchase certificates for the limited number of rolling chassis to be constructed, and customers will take the certificates to the Chevrolet dealerships of their choice to complete the sales.
The completed rolling chassis requires customer pickup in the Detroit area. Each will be serialized, but will not have a Vehicle Identification Number, so they cannot be titled or licensed for road use.
Each rolling chassis is constructed with hardware from the Oshawa assembly plant that manufactures regular-production Camaros. Each is fitted with an NHRA-approved roll cage and other safety equipment, along with NHRA-approved racing chassis and suspension components, including brakes and solid rear axle – minus the third member. Bogart racing wheels mounted on Hoosier tires are also included.
All will come in Summit White, with a production Camaro hood and SS grille, production window glass, headlamps, tail lamps and more. Inside, racing seats, a production-style instrument panel, steering wheel, racing switch panel, door panels, headliner and black carpeting are included. Basic body and chassis wiring is built into the rolling chassis, but it does not come with engine harnesses or a battery.
Customers will need to add basic equipment to complete the assembly, including:
Engine and air inlet system
Engine mounts
Engine controller and wire harness
Exhaust headers
Coolant hoses (a radiator is included)
Transmission and shifter assembly
Driveshaft
Differential third member.
Chevrolet Performance's entire range of high-performance and racing crate engines is available to power the rolling chassis, including the three 2013 COPO LS-family engines, which were developed for NHRA Stock Eliminator classes. They include a 350-cubic-inch engine rated at 325 horsepower; a 396-cubic-inch engine rated at 375 horsepower, and a 427-cubic-inch engine rated at 425 horsepower (part number 17802825). Supercharged crate engines based on the 2012 COPO Camaro program are also available, including a 327-cubic-inch engine with a 2.9L supercharger (part number 17802826) and a 327 with a 4.0L blower (part number 17802827). The 350 and 396 engines will be available later this year.
Chevrolet Performance's new "COPO Build Book," part number 88958767, provides an overview of the factory race cars' assembly process and can be a reference manual for those who intend to complete their Camaro rolling chassis for Stock Eliminator or Super Stock drag racing. It also provides general assembly details that can help builders complete their race car more quickly.