One's first career crash – and a massive one at that – is not on the list for ideal situations when chasing a first career Top Fuel world championship. But any trepidation was removed in the little over an hour that Steve Torrence's team had the back-up dragster ready for a semifinal race against Brittany Force in Dallas. Torrence narrowly lost, but it showed how quickly he had put the crash behind him.
Getting his confidence completely restored in that quest for that championship happened less than a week later, when Torrence went 3.68 at 332 mph during a test session at Indy on Friday.
"We were going into (the test session) pretty confident," Torrence said. "Coming away from it, we're feeling like we haven't missed a beat."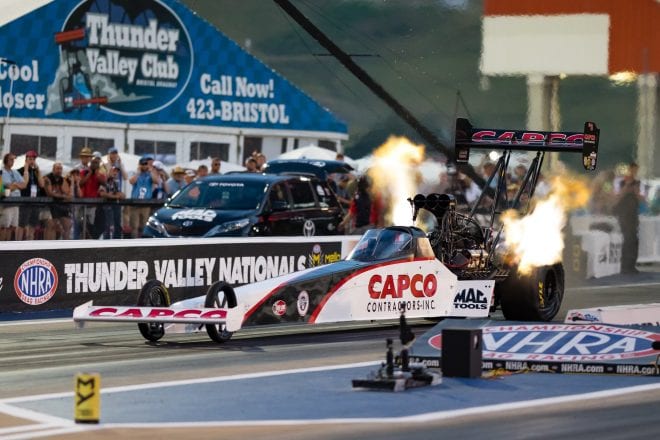 It's that double-barrel confidence that has helped Torrence and his team to its current spot this season, which is winning eight times and holding the Top Fuel points lead heading into this weekend's NHRA Toyota Nationals in Las Vegas.
Force closed the gap to 57 points thanks to her victory in Dallas and Torrence had to deal with a huge crash, the first of his standout career. He smashed hard into the left wall just past the finish line in the second round, but even the major impact and the dragster decimated couldn't take Torrence off his game.
"It was out of sight, out of mind when they told me I could come back for the semis," Torrence said of the crash. "That (dragster) wasn't going to last forever, even if I didn't run into the wall with it. What we do is we race. You climb back in them and keep going. It was definitely out of sight, out of mind."
Torrence was just as eager to climb back in at the test session in Indy, making a full pass out of what was initially intended to be a planned early shutoff. But Torrence said everything felt great and joked, "I figured I would keep going."
They were able to save a number of crucial parts from the wrecked dragster, allowing Torrence and the team, led by crew chiefs Richard Hogan and Bobby Lagana, to use the same combination and data they had before.
Any last nerves were completely removed with Torrence's strong pass and all attention quickly went back to winning a championship.
"Effectively, all we were doing was testing my nerves and making sure the car was fine," Torrence said. "We were very confident when we went to Indy and tested. Then we went out and the car did exactly what we told it to do. It's all good."
Getting back to the matter at hand means going back to business as usual for Torrence, who has 11 final round appearances in 2017. He's been upbeat, confident and unafraid – and perhaps eager – to mix it up with the elite in the class this year. It's added excitement and energy to the Top Fuel championship chase, and Torrence insists he's not going to treat these last two races any differently, even with so much on the line.
"One thing I have been able to do is stay focused on the task at hand," Torrence said. "None of our mindsets are different. We have two more races and you can't approach it any different. You have to stay in that mindset and don't let the pressure get to you, and don't let outside distractions get to you."
The turn of events could have been an easy distraction, but Torrence shrugged them off almost as quickly as one of his runs in the 3.60s this year. As the pressure continues to mount, Torrence will rely on the lessons he learned in winning a Top Alcohol Dragster championship in 2005. The spotlight is bigger now, but Torrence can also take solace in the fact he's part of a group that has pulled off the spectacular time and time again this year, something they proved once again with their yeoman's work in Dallas.
"Honestly, this sounds terrible, but (getting the back-up dragster ready) didn't surprise me as much as it surprised everyone else," Torrence said. "I know it's cliché to say you've got the best team in the business, but I truly believe that. It's very humbling and an honor to be part of a team like what I have.
"You can definitely say it's been a storybook season. Nothing's really changed from last year to this year except just the mindset, the drive and determination of everyone. There's no ego, no personal agenda except they all want to win. Collectively, we do what it takes to win. The only way to know you can win the championship is win both of these races."