Chad Green didn't care one bit about what he had heard about nitrous cars trying to compete at Bandimere Speedway.
He had his DRAG ILLUSTRATED World Series of Pro Mod invitation in his hand and nothing was going to keep him from accepting. A year ago, while watching the inaugural event just outside of Denver, Green wondered how he could ever get opportunity to race in the $100,000 winner-take-all race.
So when Drag Illustrated Founder and Editorial Director Wes Buck hand-delivered his WSOPM invitation at the NHRA race in Topeka, Green was blown away – and also had his answer ready.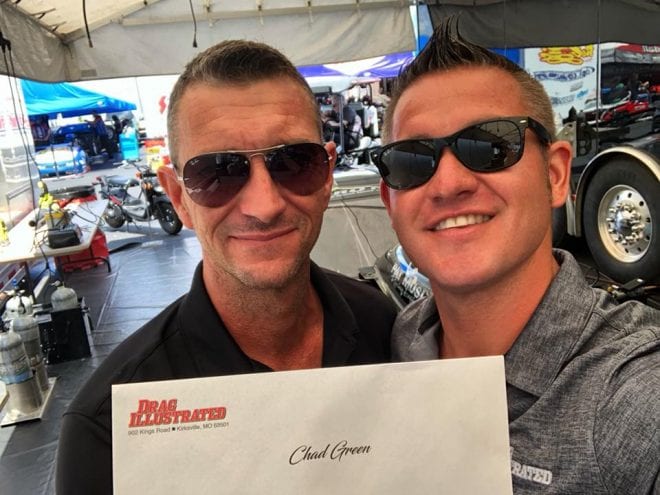 "To get an invitation, I don't know even how to describe it," Green said. "It's such an honor and I didn't think twice about it. For me, it was a no-brainer. Everyone says the nitrous car won't do well at altitude, but we'll see what we can do. It's just an honor to be invited to a race like this. I was not going to turn it down."
It's the latest accomplishment in what has become a brilliant rookie season for Green, even after overcoming some significant adversity in his NHRA Pro Mod debut at Gainesville.
He advanced to the semifinals in impressive fashion before disaster struck, crashing nose-first into the wall in his matchup against Mike Janis. How quickly Green bounced back has been just as remarkable, as Green got a new Camaro from Jerry Bickel Race Cars and didn't miss a race.
He qualified No. 1 and advanced to his first career final round before losing to Rickie Smith in Topeka, and currently sits fourth in points.
It's the culmination of a dream come true for Green, who didn't even start racing until he went to Frank Hawley's Drag Racing School six years ago.
Now, he's got the famed Pat Musi tuning his nitrous-powered Camaro, he's a top-flight competitor in the loaded NHRA Pro Mod class and he is also about to compete at the biggest and richest Pro Mod race in the history of the known universe.
"It's been a dream of mine and a goal of mine to race Pro Mod, but I don't want to do something until I do it right," Green said. "I waited for the right moment and this has been such a dream come true, let me tell you. It's been challenging, but we've spent the last couple years really working and to see it all come together like it has is just a dream. We're just trying to enjoy the moment."
Green took a slightly different path to get to his current status, focusing on testing and practicing over running full-time in a series the past several years.
He has competed at select races, including the PDRA, and ran in NHRA Competition Eliminator last year to get enough grade points to race NHRA Pro Mod, but Green has worked hard to hone his all-around talents.
He now has been licensed in Nostalgia Funny Car, Top Alcohol Funny Car and Funny Car, doing the latter with veteran Tim Wilkerson a year ago. It's all proven beneficial for Green, who used each of those experiences to improve his Pro Mod skills.
"I intentionally never went and raced a full season anywhere," Green said. "I just wanted to learn how to race and spent a lot of time learning. I went to different tracks and races when it fit our schedule. Getting licensed in the Fuel Funny Car with Wilkerson, that's helped me even more with the Pro Mod. To see how it has all evolved, each of these experiences have been helpful and have paid off."
The clincher to run NHRA Pro Mod came at the end of last season when Musi came to him and expressed his interest in being part of Green's team. It was a "no-brainer" decision for Green, just like racing on Thunder Mountain at the WSOPM was another one.
"I'm a Pro Mod driver and it's one of those things, if you're included in that you're included in an elite class," Green said. "It's just an honor to be a part of it."
Green is also aware of the vast challenges of racing a nitrous car at an altitude of nearly 6,000 feet. But with Musi's expertise, Green's talents and the use of the lock-up converter now allowed in nitrous cars, the Midland, Texas, native can see a path to success at the WSOPM.
The altitude has been a big enough potential obstacle it has kept some nitrous drivers away and others wavering, but Green has never been one to back down from a dream. His goal a year ago was to find a way to race at the WSOPM and now he's fully intent of making the most of his opportunity.
"At the end of the day, the fastest cars don't always win. It's about the consistent car that can go down the track round after round," Green said. "We're going to give it a shot and see how it plays out. We're really looking forward to the challenge and I'm hopeful, and I do have hope after what we did in Topeka. The air was terrible and we still put a pretty good gap on field. If we can do that in those conditions, who knows what we can do in Denver, but I do know we're really looking forward to it."