The 3rd annual Stampede of Speed will once again mix Texas traditions with music and motorsports from October 6-15 at the famed Texas Motorplex, culminating with the 38th annual NHRA Texas Fall Nationals, October 12-15. Highlight country music with a two-day concert, bull riding, drag racing, BBQ and some of the biggest personalities in drag racing the ten-day event will entertain fans from across the country while also giving back to the local and regional community through a number of charitable endeavors.
"We start the Stampede of Speed with one of Texas' most traditional events a cattle drive through historic downtown Waxahachie at high noon on Friday and then cap the day with one of the most unique motorsports shows in the country, the Scott Palmer Nitro Side Show," said Christie Meyer Johnson, Texas Motorplex co-owner. "The Nitro Side Show brings a wide variety of high-powered race cars to the track in head-to-head match races that drag racing fans don't see anywhere else. We also have fans from across the region donate food to the Race to Feed the Finish Line which supports the food banks in Waxahachie and Ennis, our two largest neighboring cities."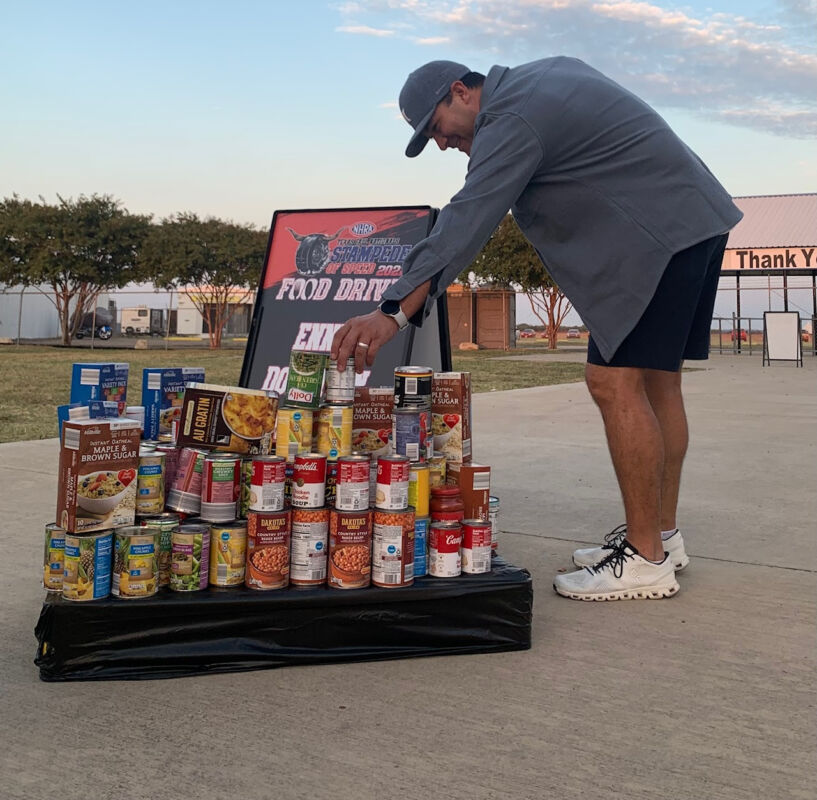 Located in the middle of Ellis County and building on one of the state's strongest rivalries between Ennis and Waxahachie, Texas Motorplex is driving awareness about food insecurity with the Race to Feed the Finish Line. Fans who bring a canned and/or non-perishable food item to the Texas Motorplex will receive $10 off admission to the Nitro Side Show. Fans will be making their donation in support of either Ennis or Waxahachie with the respective city's food bank, Helping Hands of Ennis or Waxahachie Care, receiving the food donations. The city that receives the most individual item donations will be named winner of the inaugural Race to Feed the Finish Line with both city's food banks receiving signage at the track for one year as well as logo placement on Texasmotorplex.com. The food and any cash donations will be split evenly between Helping Hands of Ennis and Waxahachie Care.

"We are so grateful for the Texas Motorplex and all our race fans for supporting our communities and providing much needed food items to our families. This support will allow us to meet a growing need in our area, and for that we say a heartfelt thank you. We are very appreciative of the Texas Motorplex for putting this event together." said Wade Holman, Waxahachie Care Operations Director. "This will be a great opportunity before the holiday season for the community to support Waxahachie Care and see a fun event."
Gates open at 6 p.m. for the Nitro Side Show with fans being treated to high-horsepower exhibition runs and races at 7:15 p.m. and 9:25 p.m. In between these two shows the on-track action will include the wildly popular Small Tire Shootout and Fan Engagement activities. The evening will be capped with a tremendous jet car exhibition.

For more information on Helping Hands of Ennis visit https://www.helpinghandsofennis.org/ and for information on how you can help Waxahachie Care visit https://www.waxahachiecare.org/. To purchase tickets for any of the over a dozen Stampede of Speed events visit www.stampedeofspeed.com.