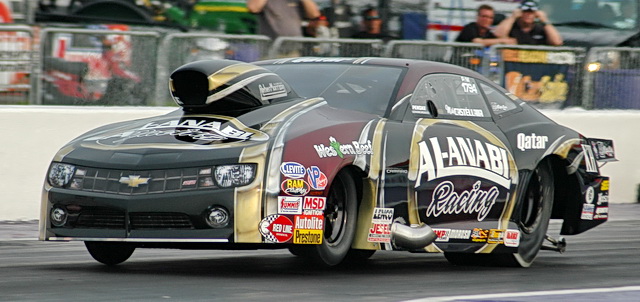 How close are we getting to a 3.60s pass in Pro Nitrous? Pretty darn close according to the performance of Al Anabi Racing's Mike Castellana and legendary crew chief Shannon Jenkins, who laid down an amazing 3.721-seconds pass at an also world record-setting 200.74 mph in winning the first event of the 2013 Arabian Drag Racing League last week at the Qatar Racing Club.
Castellana's quickest and fastest pass in his Reher-Morrison-powered '68 Camaro came during a solo run in the semis that according to Bret Kepner at CompetitionPlus.com, also produced an awesome .928 60-foot time, as well as the world's quickest front- and back-half runs by a nitrous car—2.506 and 1.235, respectively. Kepner pointed out that only the screw-blown Pro Extreme entries of Frankie Taylor and Joey Martin have ever recorded a quicker 330- to 660-foot time in any eighth-mile doorslammer class.
In the final, Castellana officially backed up his record-setting run with a 3.728 at 200.23 mph to beat a game 3.83 at just over 194 mph by Mid-East racer Sultan Al-Zaabi.
Also running in Pro Nitrous at Qatar are NHRA Top Fuel driver Khalid Al-Balooshi and his Al-Anabi Racing teammate Mahana Al-Naemi, along with U.S. drag radial star "Stevie Fast" Jackson. Though none are even approaching Castellana's heroics, they are running consistently quick 3.80s to keep things interesting.
With favorable atmospheric conditions forecast for this weekend's race and the always fast Qatar eighth mile, could Castellana and Jenkins make a little nitrous doorslammer history? DRAG ILLUSTRATED will be watching intently along with the rest of the straightline racing world.
(DI.com file photo by Ian Tocher)