Carl Stevens Jr. did not have to wait long to realize the biggest moment in his drag racing career was not a dream.

He had finished the yells of extreme jubilation inside the car following his final-round win at the Drag Illustrated World Series of Pro Mod at Bandimere Speedway and as he came back up the return road, the massive $100,000 check was within site.

It almost seemed to good to be true, but any chance he was dreaming was put to rest in the form of a champagne cork that walloped him in the face during the ensuing winner's circle celebration.

This was real and it was magical.

"I was actually going to ask somebody to pinch me, then I got shot in the nose with a cork, so I was like, 'This is real, this is really happening,'" Stevens said with a laugh.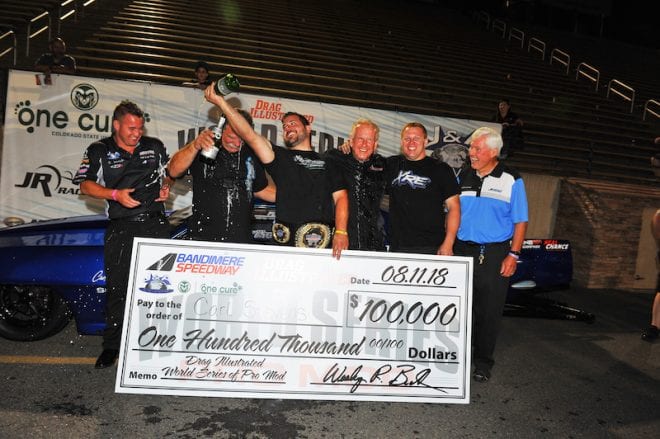 It was unlike anything Stevens had achieved in his standout Pro Mod career. Driving the turbocharged '69 Camaro owned by Jim Bell, the North Haledon, New Jersey, native waded through deep waters at the biggest and richest Pro Mod race in the history of the known universe, ultimately knocking off Danny Rowe with a blistering 5.856 at 246.26 mph to claim victory at the second annual World Series of Pro Mod.

The custom WSOPM championship belt was around his waist, the champagne was cracked – errant cork and all – the check was held high in the air and Stevens had secured his ultimate moment among the Pro Mod elite.

He had accomplished a great deal in his Pro Mod career, including a marvelous, record-breaking 230-mph run in the PDRA in 2015 and, most recently, a victory in June at the NEOPMA Doors Warz event at Maple Grove Raceway.

But the victory on Thunder Mountain was unlike anything the skilled tuner, engine builder and driver had ever won. Even in the midst of an enjoyable celebration and still floating on the sheer emotion of the biggest victory of his career, Stevens had no problem relaying exactly what this accomplishment meant.

"This is easily the biggest event win we've ever had," Stevens Jr. insisted. "Being on the biggest stage for Pro Mod and getting the win, it's just incredible. That's really what it's all about. The money certainly doesn't hurt, obviously, but on this grand stage that we've been given, in my opinion there's nothing bigger."

Stevens' reputation as a tuner and his ability to make a car go fast is well-known, as is the job he and his father, Carl Sr., do building high-performance engines at their Xtreme Race Cars facility.

Still, among observers, fans and media members heading into the race, Stevens likely wasn't considered a favorite, though he kept a quiet confidence about him throughout the week. After watching the inaugural race a year ago, Stevens simply wanted to be part of the event in 2018 and he didn't disappoint, laying down a strong run in the 5.80s in his final Summit Racing Equipment Shakedown run. With the scoreboard turned off, it didn't send a direct message to the all-star lineup of Pro Mod competitors, but it was enough for Stevens to realize he had potentially had something big in store for eliminations. There was nothing to compare it to in terms of time, but he felt good and, ultimately, that's all that mattered.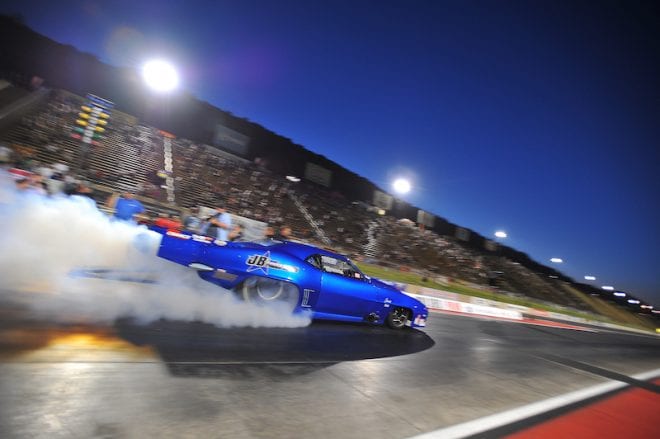 "It was hard to gauge because we couldn't see anybody's numbers, but we knew what it ran and we knew it was really fast, and we knew we could go a little faster if we needed to, so we were pretty confident," Stevens confessed. "I think people were pretty aware we were fast. We've just been trying to connect the dots and put it all together, and what better place to put it all together than (Bandimere Speedway)."

Stevens didn't disappoint in that regard, and on the strength of one incredible performance after another in Denver, he was the last one standing on Thunder Mountain, capped off by the quickest run in the two-year history of the World Series of Pro Mod.

To get to that point, Stevens eliminated a who's-who list of competitors, starting with Marc Caruso in the opening round. Stevens went 5.93 at 245.94, setting up a must-see matchup with two-time NHRA Pro Stock world champion Erica Enders. Stevens went 5.897 at 246.66 to slip past Enders' 5.922 at 243.99, continuing that improvement in his quarterfinal showdown with defending World Series of Pro Mod winner Mike Bowman.
The two turbo-powered talents provided the most thrilling side-by-side duel of the weekend, as Stevens' 5.880 at 246.21 ousted Bowman's 5.912 at 249.03 by a mere .007. It was a duel that left everyone talking, and the make-or-break moment went Stevens' way, signifying it may just be his weekend.

"It's got to be your day at the end of day, but (the race with Bowman) was really exciting," Stevens said. "That was exciting the whole way down the track. We love close racing and that's what we were expecting."

From there, Stevens beat Michael Biehle when he went red, running a quicker 5.863 at 245.90 to move into the final-round matchup against Rowe. Stevens again dialed up another spectacular run in his Xtreme Racing Engines-powered Camaro, tracking down Rowe after the veteran left first.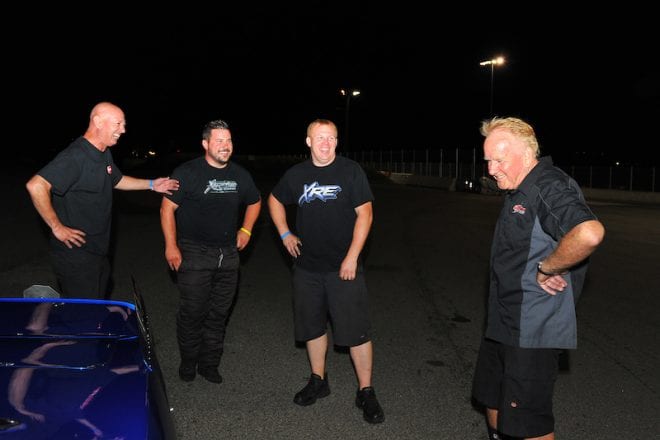 "I was pretty jacked up inside the car," Stevens said. "The people probably heard screaming inside the car as I was turning off the track. I was pretty pumped up. I wanted to see if I could pick it up a little more (in the final). As the tuner, I was looking at the data and thought I could make it go a little better, so I had to try. I was pretty confident in the tune-up."

Stevens was on a roll throughout eliminations following his strong blast on the final Summit Racing Shakedown run on Friday night. In all, he improved during all five elimination runs, knocking off a standout list of talents en route to the six-figure payday.

"We knew it was really fast and we knew we could go a little bit faster if we had to," Stevens added. "We were really pretty confident and just trying to not beat ourselves. Everything just fell together against some huge names."

It was the speed that lured Bell into Pro Mod racing in 2013, but never did the Edmonton native imagine it would lead to a moment like he experienced on Thunder Mountain.

He had his share of success running NHRA Pro Mod in 2014 and 2015, claiming wins at the PSCA SCSN event in St. Louis and the Shakedown at the Summit that same year. But working with the Stevens family has been a dream come true for everyone involved. The team worked flawlessly together in Denver, an amazing feat considering the pressure and magnitude of the moment.

It wasn't lost on Bell, who, like Stevens, did his best to soak it all in.

"I've been to a lot of races, but this one was over-the-top huge," Bell announced. "It's monumental. I've won a few big races, but I've never experienced anything like that in my life. It's the biggest win ever. It's so exciting to win this and every round was tough. We faced some great drivers. The race against Mike could have gone either way and luckily it went our way. As far as winning this, it's a team effort and we're a solid team. We were consistent and going fast in the heat of the day. Danny did a great job (in the finals) and drove a really good race."

The decision to work with the Stevens family was an easy one for Bell, who called Carl Jr. a top-drawer tuner and "his dad is just a magician when it comes to chassis work."
It's the perfect combination for Bell, who still drives the car in eighth-mile races. But when it comes to quarter-mile racing, Bell gladly concedes the duties to Stevens, who again proved in Denver he holds an all-around talent level when it comes to tuning, car set-up and driving.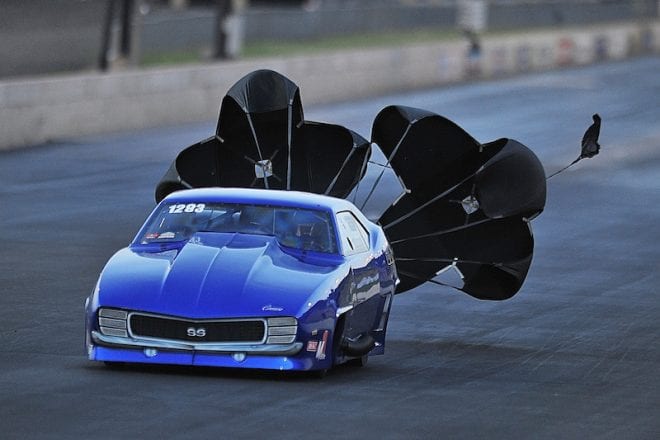 "It's a team," Bell said. "Carl and myself are a solid and real tight team. Would I like to be driving the car? Sure, but I feel like Carl is a better quarter-mile driver than I am, and I've got a really good car. It's got his engine program in it, and the motor is a work of art."

Just the fact that Stevens tuned up the car to go faster in the final round told a great deal about the confidence he had that weekend. He knew he already had the numbers to beat Rowe, but Stevens wanted to push the envelope as much as he could. It gave him a run nobody could have ever predicted a year ago at the inaugural race, and a run that will go down in history. It's also a mindset that has carried Stevens and his business far. Even with $100,000 on the line, there was no point in standing pat in the final round if the car was capable of more. What it left everyone with was a run that won't be forgotten.

"I wanted to see if I could pick it up a little more," Stevens said. "The crew and the team were like, 'Just leave it alone,' but as the tuner I was looking at the data and thought I could make it go a little better, so I had to try.

"We build the engines in the car and the consistency is big for our business. As a tuner, it's nice for people to see we can put a consistent package together and make a handful of good runs."

Stevens left Denver with a plethora of amazing memories, from the standout run to end Friday through five spectacular rounds of eliminations at what he called "a bad-ass facility." He left an otherworldly impression in his debut at Bandimere Speedway, but Stevens didn't do it alone. Along with Bell and his team, Stevens shared the moment – one that topped any other in his career – with his father, the man who introduced him to racing. Many years later, both are still heavily involved in the sport and just as passionate about all things fast in a Pro Mod car. With their names forever engrained in history as World Series of Pro Mod champs, they've also got a moment that will stay with both of them forever.

"The biggest thing is all the racing I do is with my dad," Stevens explained. "Having him here and being able to win this huge event, the biggest event of our lives, together, that's something I'll never forget. It's just awesome memories."