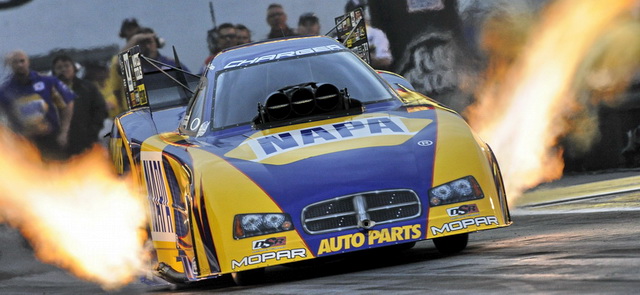 Ron Capps will conclude the three-week, three-race NHRA Western Swing at one of the most important racetracks of his career. He arrives at the Northwest Nationals at Pacific Raceways at Kent, Wash., about 20 miles south of Seattle, on Friday where he won his first of 40 NHRA pro titles in 1995 while driving a Top Fuel dragster for a team owned by Roger Primm.
Since then, all of his titles have come in Funny Cars with the latest on Sunday at the NHRA Mello Yello Series track closest to his hometown of San Luis Obispo, Calif., during the Sonoma Nationals near San Francisco. But as special as it was for Capps to win Sunday with friends and family looking on as he moved up two spots to second in the championship standings, nothing tops a driver's first time.
"Going back to Seattle means a lot to me," said Capps, 48, who lives outside San Diego in Carlsbad, Calif. "I won for Roger Primm on a Tuesday night. We didn't have a sponsor on it and we were huge underdogs, but we beat some of the biggest and baddest teams out there.
"Since then I've gone back there and won in Funny Car (1998) and have a great mojo with the fans there. I really have a love affair with Seattle. I just love going there. The track has character now. It's a place where if you see cloud cover coming in with all the trees and oxygen around you can expect to see some good runs. It's fun going there and being surrounded by all the trees. It's an experience. You have to take it all in."
Trust in what Capps says, because even members of his NAPA AUTO PARTS team questioned his sanity a few weeks ago when he said that taking the Funny Car points was possible by the time the team leaves Brainerd, Minn., which hosts the next event in two weeks.
"Yeah, they looked at me like I was crazy, but I knew how far we had come. I have all the confidence in (crew chief) Rahn Tobler, J.C (assistant John Collins) and all of our guys," Capps said.
Before winning the title on Sunday in Northern California, Capps and his NAPA team had not won a Mello Yello title since the second event of the season on Feb. 24 near Phoenix.
Capps was as low as seventh in points only five events back but made his bold prediction after reaching the championship round over Fourth of July weekend when he lost in the final round to DSR teammate Johnny Gray at Norwalk, Ohio. He arrives at Pacific Raceways only 27 points behind teammate Matt Hagan, who has lost in the first round of the past two races.
"I could tell how the way our NAPA Dodge was running that Tobler was in the groove and we were going to peak at the right time," Capps said. "And it looks like that's just what we're doing."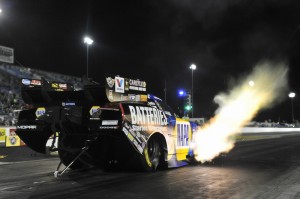 After this weekend's event, only races at Brainerd and the prestigious NHRA U.S. Nationals over Labor Day Weekend near Indianapolis remain before the top-10 in points are determined to compete for the world championship in NHRA's six-event Countdown to the Championship playoff.
Capps was the points leader going into last year's Countdown but lost out on his first NHRA world championship by two points to teammate Jack Beckman on the final day of the season.
(Photos courtesy NHRA/National Dragster; Click to enlarge)