West Coast, this one's for you! For the first time ever, the DMP Awnings Nitro Chaos series heads west to the one and only Famoso Dragstrip in Bakersfield, California, for two days of true nitromethane-burning chaos on Friday night and Saturday, September 27-28, 2024. "California Chaos" will offer thirty-two qualified spots for nitro burners of all kinds and guaranteed payouts of $55,000 plus as the wildly popular Chaos brand created by Chris & Tera Graves joins forces with Blake Bowser and team Famoso for what will be a top attraction for West Coast racing fans next year.
Nitro Chaos is the newest creation from the Graves family and, in its inaugural points championship season this year, attracted over forty nitro teams to competition, mainly from the midwest and southwest. The unique format and run whatcha' brung formula has been a huge hit, and demand for this concept has reached from coast to coast. West Coast, it's your turn! This two-day festival of horsepower will be open to any and all nitro-burning machines with the motor in the front and contested on the eighth mile 'outlaw' style. There are no rules in regard to engine combination, body style, etc. Front engine dragsters, fuel altereds, Funny Cars and Pro Mods are all welcome to get in on the chaos. Additionally, 'nostalgia' style rear engine nitro dragsters will also be permitted to compete. All safety guidelines will be enforced, and the only other 'rule' is, that you must have a minimum of 80% nitromethane in the fuel tank.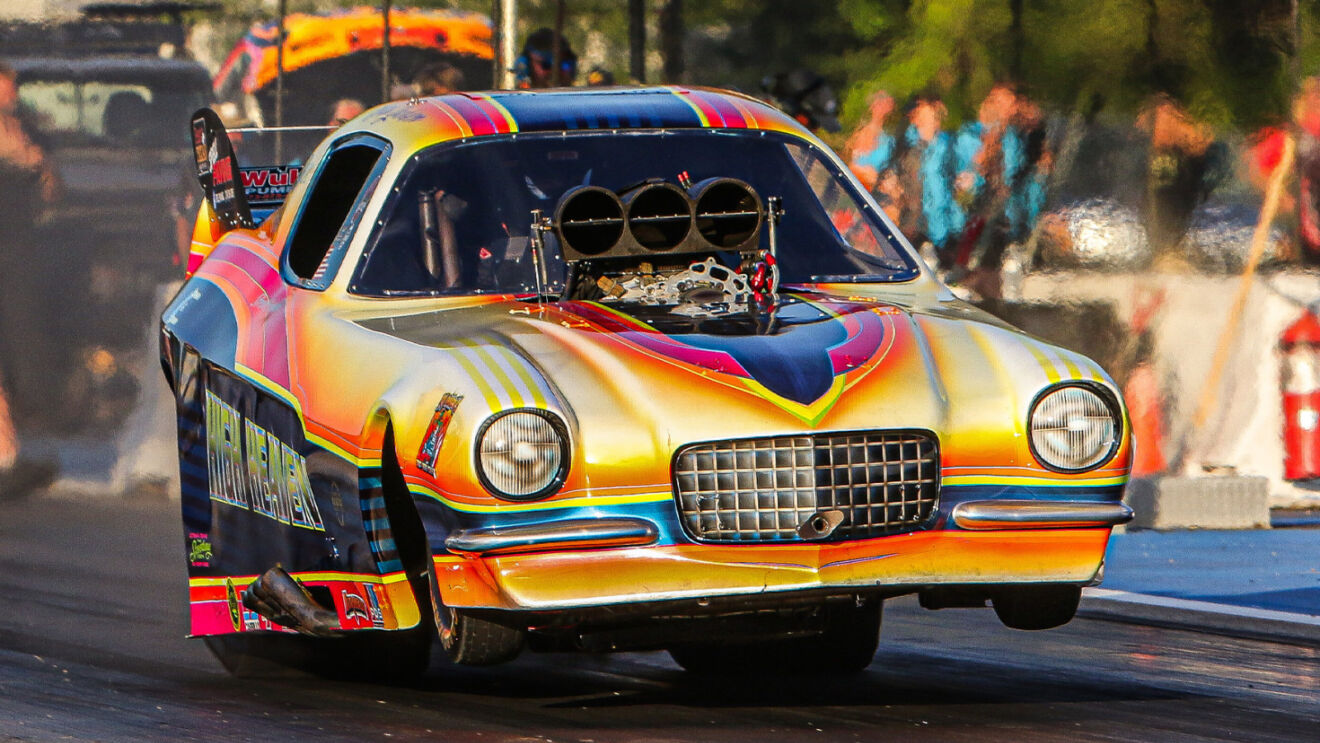 "The hair on my arms is already standing up. This has been a secret that's been hard to keep. The CHAOS brand is finally headed west, and I want to thank Blake Bowser for his efforts in making this happen. Blake and I had several good conversations before Covid, but obviously, the pandemic put a stop to our momentum. It's extremely exciting to bring the CHAOS through the gates of such a historic facility in Famoso Dragstrip. Tera and I have been there many times as photographers and even raced our front motor dragsters at the 2016 CHRR. We've met so many awesome people on the West Coast in those years, and we can't wait to get back to Bakersfield to see many old friends and give all the badass West Coast nitro racers their first opportunity at CHAOS," said Chris Graves.
Thirty-two cars will be offered a qualified spot in the main event after three qualifying sessions. In standard Chaos procedure, those qualified cars will be grouped into elimination fields of eight cars. The 'A' Field will include the quickest eight cars on the property, the 'B' Field will feature qualifiers 9-16, 'C' Field 17-24 and 'D' Field 25-32. Over $55,000 in payouts are guaranteed and up for grabs across all thirty-two qualified spots, and four teams will hoist Nitro Chaos trophies at the end of the night as winners of their field. Race fans can look forward to two days of action-packed racing and entertainment as final details are still being put together, and more announcements will be coming soon.
"All of us at Famoso Dragstrip are proud to announce this new event. The West Coast debut of Nitro Chaos is sure to be amazing! Nitro fans, make your plans now, as this promises to be the largest gathering of nitro-burning Chaos cars ever! Come smell the nitro!" said Famoso Dragstrip's Blake Bowser.
Friday night, September 27, will feature two rounds of heads up, run whatcha' brung nitro qualifying under the lights, plus test and tune for Saturday's class racers. Saturday, September 28, is jam-packed with action, including final qualifying and full eliminations. Racer entry into the Nitro Chaos program will be $250 and includes car, driver, five crew members and one crew camping pass. Friday adult admission will be $25 and Saturday $30 with a two-day adult weekend pass at $45. 'Nitro Zone' tickets will be $100 and includes weekend adult admission plus an exclusive trackside viewing area and event t-shirt. Standard RV spots will be $125, including one occupant. Additional class details, detailed event pricing, the complete event schedule, and event pre-sale ticket portals are all in the works and will be published soon. One thing is certain, get ready West Coast… the CHAOS is coming!