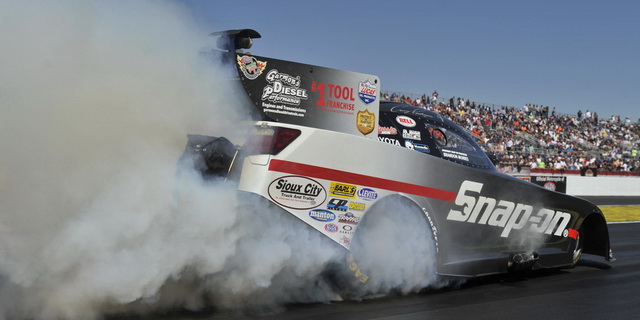 Two-time NHRA Funny Car world champ Cruz Pedregon is taking a different approach to the 2013 NHRA Mello Yello Drag Racing Series season. The veteran driver is battling in the ultra-competitive Funny Car category without a crew chief.
So far, the concept seems to be working. Pedregon's Snap-on Tools Toyota Camry has been really quick at times during the season. He claimed his 51st career No. 1 qualifying position at the recent Amalie Oil NHRA Gatornationals in Florida.
He will try to earn another No. 1 spot and grab a victory at the SummitRacing.com NHRA Nationals, April 5-7 at The Strip at Las Vegas Motor Speedway, where Robert Hight is the defending Funny Car race champion.
Without a high-priced crew chief, Pedregon feels his team has better chemistry and the proof is in how fast his Snap-on Tools Toyota has been running.
"I call them the 'No-Name' crew," Pedregon said. "They are hard-working guys and everybody is loose and we have a lot of fun."
Pedregon said he decided to try this concept in order to devote more of his budget to acquiring better parts and pieces for his race car.
"I believe in having a good well-oiled machine," Pedregon said. "The car is a good car. We take good care of it. I take a lot of pride in making sure it has the right equipment. I make sure my guys understand that bolting the car together is as important as tuning the car.
"A lot of guys want to make you think (the tune-up is) magic and that's why they make half-a-million dollars and some other guys make peanuts. I turn it the other way and try to put a great quality car out there with great parts."
Pedregon has claimed two victories at LVMS during his career and last year he left both events there with the low E.T. of the weekend. He has driven one of the quickest cars in the category for much of the last two seasons.
"Our car likes rough, tough and let it rip," Pedregon said. "Whenever we have a finesse setup the car doesn't want to hear about it. It likes an aggressive setup. That's how we race and that's what works for us."
He says during the off-season his 'No-Name' crew fine-tuned the machine even more.
"We have a good running car and it is forgiving," said Pedregon, currently fifth in the points standings. "It is making us look probably better than we are. The Snap-on Toyota has been running good since mid-year last year. Over the winter we made some changes and some improvements actually. It didn't fall off at all; in fact if anything it picked up a little more consistency."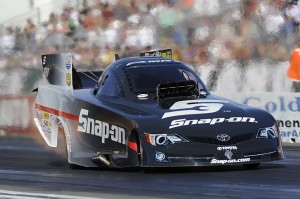 Since last season Pedregon has claimed six No. 1 qualifying positions, but only one victory in two final round appearances. After exiting in the quarterfinals at each of the first three races of this season, he hopes to make the transition from being quick in qualifying to being quick through four elimination rounds on race day.
"I've had a lot of top qualifying positions and they are nice and I never take any of them for granted, but at the end of the day it would be nice to close the deal," said Pedregon, who has 30 career victories, his last coming at the 2012 Auto Club NHRA Finals at Pomona.
"Heck even going to the final round would be a feather in our cap. It has been a good car all year, but we had some bad luck in the first two races and hopefully one of these days it will show all it can do."
In order to get back to the winner's circle in Las Vegas, Pedregon will have to outrun a host of tough competitors, which includes last year's winner, Auto Club Ford Mustang driver Hight and sophomore sensation Courtney Force in her Traxxas Ford Mustang. The 2012 Funny Car world champion, "Fast Jack" Beckman, Arizona Nationals winner Ron Capps, Gatornationals winner Johnny Gray, Matt Hagan and Alexis DeJoria are also hungry for a win in Sin City.
(Photos courtesy NHRA/National Dragster; Click to enlarge)