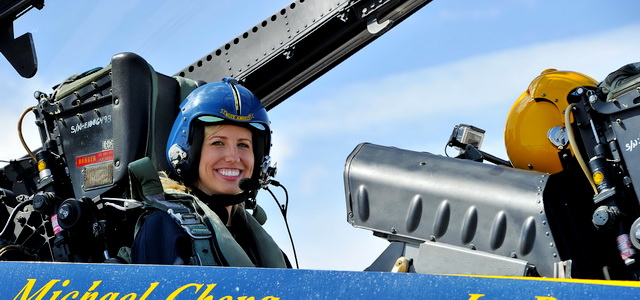 Automobile Club of Southern California Road to the Future Award winner Courtney Force took to the skies with the famed United States Navy Blue Angels Flight Demonstration Squadron today (Mar. 7).
The driver of the Traxxas Ford Mustang flew in a Boeing F/A-18D Hornet strike fighter piloted by Lieutenant Ryan Chamberlain — Blue Angel No. 7. The pair took off from Naval Air Facility El Centro, California for an hour-long flight on Thursday morning. Prior to the flight Force spent time with the Blue Angels officers and enlisted support team.
"First I want to thank the men and women of the U.S. Navy and the Blue Angels for their commitment to the United States. These folks are the best of the best and I can't thank them enough for the sacrifices they make every day along with all the other members of the armed services," said Courtney Force.
"I had an incredible time. We hit 7.3 Gs and went over 700 mph and when we hit Mach 1 and broke the sound barrier I was amazed at the feeling. This day wouldn't have been possible without the support of Auto Club of Southern California and I know I will never forget this experience."
Force is the third John Force Racing Funny Car driver to fly with the Blue Angels.  Robert Hight, driver of the Auto Club Ford Mustang and 2005 Road to the Future Award recipient, also took flight with the world famous aviators in 2007. Prior to Hight's flight, former JFR driver Gary Densham flew with the Blue Angels.
"There is an historic affinity between the high performance military aviation and motorsports communities, and events such as Courtney's flight help bring them together to share technology and experiences while at the same time enhancing visibility for the Navy and all of us associated with John Force Racing," said Rick Lalor, program administrator for the Automobile Club of Southern California's motorsports and special events programs who organized today's flight.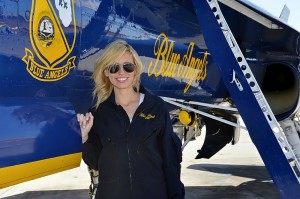 "But most importantly, Courtney's flight reminds the racing community and Auto Club members and employees that the men and women of our Armed Forces are on guard around the world each day, and their sacrifices make it possible for us to enjoy our freedom and quality of life."
An estimated 15 million spectators view the Blue Angels squadron during air shows each year. The fastest speed flown during a Blue Angels air show is about 700 mph (just under Mach 1) and the slowest is about 120 mph. The F/A-18 can reach speeds just under Mach 2, almost twice the speed of sound or about 1,400 mph.
Courtney Force's Traxxas Ford Mustang has reached speeds nearing 320 mph.  She experiences 3 Gs as she accelerates down the race track and negative 5 to 6 Gs when she pulls her parachutes at the finish line.
(Photos courtesy JFR/Ron Lewis; Click to enlarge)