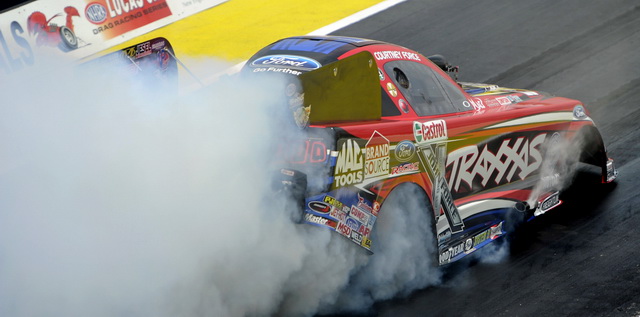 In their first finals head-to-head matchup, Courtney Force (above) claimed a memorable Funny Car victory against her legendary father John Force on Sunday at the Inaugural Auto-Plus NHRA New England Nationals at New England Dragway.
Spencer Massey (Top Fuel), Allen Johnson (Pro Stock) and John Hall (Pro Stock Motorcycle) also were winners of the NHRA Mello Yello Drag Racing Series event, the 11th of 24 in the 2013 season.
Courtney Force earned her second victory in 2013 and third in her career, improving her overall record against her father, a 15-time Funny Car world champion, to 4-2. It was their first meeting in the finals.
C. Force, who lost to her dad on Father's Day in the first round at Bristol Dragway last weekend, outran Alexis DeJoria, Tim Wilkerson and defending Funny Car world champion Jack Beckman to reach the championship round.
In the final round at the Epping, New Hampshire track, C. Force powered her Traxxas Ford Mustang to a winning performance of 4.301 seconds at 261.67 mph, edging past J. Force's Castrol GTX Ford Mustang, which trailed with a 4.367 at 262.28.
"I definitely told him I was going to get some revenge (from last week) and we were able to do it. It was a lot of fun," she said.
"We got down there and our car got in a little bit of trouble, but I had my foot on the throttle hoping he wouldn't catch up. After the win, he came over and hugged me and congratulated me. We were both really excited and it was great for our team."
With the win, Courtney Force moved to fourth in the points standings, while John Force, racing in his second straight final, jumped to fifth with the runner-up finish. C. Force also enjoyed the massive reaction from fans who packed New England Dragway all weekend for the NHRA's debut at the track.
"It's unbelievable. The fans out here are so amazing," said Force, who celebrated her 25th birthday during the event. "They were so excited to have us out here. Adding another track in this part of the country, it was great. It really does mean a lot for me to be the first Funny Car winner at this race."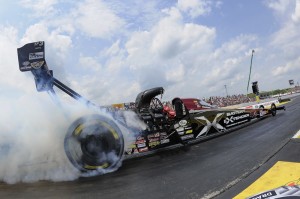 In Top Fuel, Massey claimed his second victory of the season and 12th of his career, knocking off points leader Shawn Langdon in the final round in his Schumacher Electric dragster. Massey, who has advanced to finals in back-to-back weeks, covered the distance in 4.105 at 271.57 to knock off Langdon's Al-Anabi Racing dragster, which smoked the tires early and finished with a 9.694 at 81.50.
"I've been jacked up all weekend, but I really wanted to win this inaugural event," Massey said. "This whole area is filled with die-hard fans and they were so ready for NHRA drag racing, so this victory really means a lot to me. We were having the time of our life this weekend."
Langdon jumped past Tony Schumacher in the points standings with the runner-up finish, while Massey stayed in third. Racing out of the No. 5 qualifying position, Massey beat Khalid alBalooshi, teammate Schumacher and No. 1 qualifier Doug Kalitta to reach the finals, running as quick as 3.814 at 323.81 on Sunday.
"Starting from the first round, it was tough," Massey said. "When you're in Top Fuel, it's going to be tough no matter what because you have to compete with the best of the best. Racing Tony in the second round, that felt like a final. Shawn's been cutting great lights all weekend long, but I was just trying to get the car to the finish line as quickly as possible."
Johnson, the defending Pro Stock world champion, claimed his third victory in 2013 and 19th for his career by outrunning Shane Gray in the final round on a holeshot. Johnson's Team Mopar Dodge Avenger posted a 6.642 at 205.38 while Gray ran 6.633 at 210.34 in his Gray Motorsports Chevy Camaro. The difference came down to Johnson's stellar .025 reaction time on the starting line.
"We had a great day and we just kept adapting to the track," Johnson said. "Our team really worked hard and that was a fantastic run we put together in the finals. We made a radical change after the semifinals to get ready for the finals, and it really worked. We found something that will help the rest of the season."
Johnson took sole possession of second in the points standings with the victory, as Gray moved to sixth. To reach the finals, Johnson knocked off John Gaydosh, Tom Martino and points leader Mike Edwards in the semifinals. That victory also came on a holeshot, as Johnson posted a stellar .027 reaction time against Edwards.
"We've been doing a lot of testing and the testing is over," Johnson said. "We're in race mode from here on out. I think we showed here that we're running well and hopefully we can keep that up going into the (Countdown To The Championship, NHRA's six-race playoffs)."
In Pro Stock Motorcycle, Hall claimed his first career win after rookie Adam Arana, who was making his first finals appearance, fouled with a red-light start on his ProtectTheHarvest.com/MAV-TV Buell in the final. Hall went 6.924 at 193.93 on his Viper Motorcycle Company Buell en route to the victory.
"I don't think it's sunk in yet," said Hall, a Hamden, Conn. resident who was also making his first final round appearance.  "It's just a special time. We needed it and it came at the right time and close to home. We're just happy to be here. I can't thank everybody enough. Matt Smith Racing has opened up a door of opportunity for me, and it's worked out great."
Hall, who moved to second in points behind Hector Arana Jr., knocked off Smith in the second round before beating LE Tonglet in the semifinals. Hall was also able to keep calm leading into his first finals appearance.
"You just have to stay focused and not do anything you're going to regret," Hall said. "I made some mistakes last year and I'm just trying to not do that this year."
The NHRA Mello Yello Drag Racing Series continues June 27-30 with the O'Reilly Auto Parts Route 66 NHRA Nationals at Route 66 Raceway near Chicago.
(Photos courtesy NHRA/National Dragster; Click to enlarge)
EPPING, N.H. — Final round-by-round results from the Inaugural NHRA New England Nationals at New England Dragway and Motorsports Park, the 11th of 24 events in the NHRA Mello Yello Drag Racing Series:
TOP FUEL
ROUND ONE — Clay Millican, 4.042, 291.32 def. Steve Torrence, 4.612, 272.50; Morgan Lucas, 3.906, 301.40 def. J.R. Todd, 5.476, 125.94; Terry McMillen, 3.902, 318.54 def. David Grubnic, 3.930, 315.93; Shawn Langdon, 3.804, 323.89 def. Tim Boychuk, 6.167, 101.10; Doug Kalitta, 3.870, 316.38 def. Ike Maier, 4.762, 162.74; Tony Schumacher, 4.022, 291.76 def. Brittany Force, 4.153, 266.16; Spencer Massey, 3.814, 322.04 def. Khalid alBalooshi, 4.580, 175.50; Bob Vandergriff, 3.856, 321.27 def. Antron Brown, 4.043, 280.95; QUARTERFINALS — McMillen, 3.882, 320.74 def. Lucas, 4.381, 196.64; Kalitta, 3.838, 322.34 def. Millican, 4.407, 190.75; Massey, 3.842, 323.81 def. Schumacher, 3.868, 321.04; Langdon, 3.830, 324.67 def. Vandergriff, 3.890, 312.93; SEMIFINALS — Massey, 3.940, 292.84 def. Kalitta, 3.994, 285.17; Langdon, 3.957, 257.09 def. McMillen, 8.699, 83.37; FINAL — Massey, 4.105, 271.57 def. Langdon, 9.694, 81.50.
FUNNY CAR
ROUND ONE — Jack Beckman, Dodge Charger, 4.141, 307.23 def. Bob Tasca III, Ford Mustang, 5.143, 148.05; Ron Capps, Charger, 4.084, 311.20 def. Tony Pedregon, Toyota Camry, 35.025, 22.68; John Force, Mustang, 4.247, 266.00 def. Dave Richards, Chevy Monte Carlo, 5.654, 125.67; Blake Alexander, Charger, 4.319, 295.08 def. Matt Hagan, Charger, 4.359, 248.80; Courtney Force, Mustang, 4.128, 310.77 def. Alexis DeJoria, Camry, 4.295, 287.17; Del Worsham, Camry, 4.205, 305.15 def. Robert Hight, Mustang, 4.405, 216.93; Tim Wilkerson, Mustang, 4.093, 309.63 def. Johnny Gray, Charger, 4.416, 220.55; Jeff Arend, Charger, 4.173, 304.46 def. Cruz Pedregon, Camry, 5.205, 153.46; QUARTERFINALS — Beckman, 4.158, 306.53 def. Alexander, 4.338, 295.46; Capps, 4.118, 307.79 def. Worsham, 4.214, 306.81; J. Force, 4.109, 308.50 def. Arend, 4.233, 293.22; C. Force, 4.109, 311.92 def. Wilkerson, 4.296, 257.78; SEMIFINALS — J. Force, 4.144, 310.55 def. Capps, 10.056, 84.34; C. Force, 4.175, 308.35 def. Beckman, 4.279, 286.07; FINAL — C. Force, 4.301, 261.67 def. J. Force, 4.367, 262.28.
PRO STOCK
ROUND ONE — Vincent Nobile, Dodge Avenger, 6.673, 208.26 def. Rodger Brogdon, Chevy Camaro, 6.904, 168.41; Tom Martino, Pontiac GXP, 6.731, 205.41 def. V. Gaines, Avenger, 6.655, 209.79; Greg Anderson, Camaro, 6.609, 210.08 def. Steve Kent, Camaro, 6.698, 208.39; Jason Line, Camaro, 6.610, 210.28 def. Larry Morgan, Ford Mustang, 6.688, 207.50; Shane Gray, Camaro, 6.609, 210.31 def. Lewis Worden, Mustang, 6.717, 205.88; Mike Edwards, Camaro, 6.588, 210.44 def. Kenny Delco, Chevy Cobalt, 6.699, 206.76; Allen Johnson, Avenger, 6.597, 209.98 def. John Gaydosh Jr, GXP, 6.861, 179.23; Jeg Coughlin, Avenger, 6.636, 209.46 was unopposed; QUARTERFINALS — Coughlin, 6.681, 210.67 def. Nobile, 6.684, 209.36; Gray, 6.602, 210.70 def. Line, 11.518, 74.97; Johnson, 6.619, 210.50 def. Martino, broke; Edwards, 6.599, 210.67 def. Anderson, 6.635, 209.95; SEMIFINALS — Gray, 6.638, 210.24 def. Coughlin, 6.927, 198.38; Johnson, 6.660, 209.72 def. Edwards, 6.614, 210.21; FINAL — Johnson, 6.642, 210.08 def. Gray, 6.633, 210.34.
PRO STOCK MOTORCYCLE
ROUND ONE — Mike Berry, Buell, 7.079, 190.86 def. Hector Arana Jr, Buell, foul; John Hall, Buell, 6.910, 192.52 def. Jerry Savoie, Suzuki, 6.915, 194.07; LE Tonglet, Suzuki, 6.943, 192.77 def. Andrew Hines, Harley-Davidson, 6.963, 190.89; Michael Ray, Buell, 6.882, 195.22 def. Angie Smith, Buell, 6.997, 190.59; Hector Arana, Buell, 6.894, 193.63 def. Shawn Gann, Buell, foul; Adam Arana, Buell, 6.915, 193.29 def. Jim Underdahl, Suzuki, 6.936, 195.25; Steve Johnson, Suzuki, 6.946, 192.28 def. Scotty Pollacheck, Buell, 6.901, 192.96; Matt Smith, Buell, 6.915, 194.83 def. Eddie Krawiec, Harley-Davidson, foul; QUARTERFINALS — A. Arana, 6.902, 193.85 def. Johnson, 6.954, 191.84; Hall, 6.907, 193.46 def. M. Smith, foul; Tonglet, 6.941, 192.82 def. H. Arana, 6.954, 194.77; Ray, 6.910, 193.10 def. Berry, 6.982, 192.25; SEMIFINALS — Hall, 6.927, 193.46 def. Tonglet, 6.952, 192.71; A. Arana, 6.918, 193.85 def. Ray, 6.909, 196.24; FINAL — Hall, 6.924, 193.93 def. A. Arana, foul.
EPPING, N.H. — Sunday's sportsman final results from the Inaugural NHRA New England Nationals at New England Dragway and Motorsports Park. The race is the 11th of 24 in the NHRA Mello Yello Drag Racing Series:
Super Stock — Anthony Bertozzi, Pontiac Grand Am, 9.037, 145.63  def. Mark Markow, Chevy S-10, 9.160, 146.93.
Stock Eliminator — Anthony Bertozzi, Chevy Camaro, 10.680, 124.18  def. Bob Horgan, Camaro, foul.
Super Comp — Kent Hanley, Dragster, 8.909, 161.98  def. Nick Willard, Dragster, 8.905, 160.54.
Super Gas — Mike Sawyer, Chevy Cavalier, 9.914, 160.90  def. Charlie Kenopic, Ford, 9.932, 152.73.
Super Street — Eddie Brooks, Chevy Camaro, 10.933, 136.11  def. Michael Sawyer, Camaro, 10.913, 138.66.
Top Dragster — Ken LeBlanc, Dragster, 6.886, 196.62  def. Ken Moses, Dragster, 6.929, 189.02.