The real excitement behind the Summit SuperSeries program is that anyone, anywhere can win it. Drivers from the United States, Canada and even a few additional nations have the opportunity to race for a track championship and, with a little luck and a lot of skill, make it all the way from their local track to the big stage at the IHRA Summit Racing Equipment World Finals at Memphis International Raceway compete for a world championship.
And that is exactly the tale told by Tim Butler, Shane Kay (above) and Austin Johnson.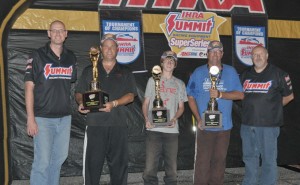 All three drivers won at their local tracks, advanced further at the Team Finals level and eventually found themselves walking in Memphis Oct. 12-13,  along with 48 other drivers going after a championship.
With drivers traveling from as far away as Alaska to compete this weekend, at the end of the day those three drivers were left standing as the 2012 class of the IHRA Summit SuperSeries presented by AMSOIL and Moser Engineering as Butler (Sarasota, Fla.) took the title in Top ET, Kay (Ragland, Ala.) claimed the Mod ET championship and Johnson (Pearisburg, Va.) won the very first Junior Dragster world championship.
"It is a dream come true. To be the first-ever winner of this is amazing. I don't think it has even hit me yet what this means," Johnson said.
Johnson will forever be remembered as the first winner of the Junior Dragster Summit SuperSeries championship as he traveled all the way from his home track of Motor Mile Dragway in Pearisburg, Va. to compete in Memphis this weekend.
Just excited to be a part of the program, Johnson never thought when he started racing Junior Dragsters just two years ago that he would ever have such a monumental opportunity at just 14 years of age. And it showed as Johnson sat in the lanes preparing to run in the final.
"I was a little nervous, but the day went pretty smooth. It was a great day, the car ran good and I kept getting more and more excited as the day went on," Johnson said. "I love the Junior Dragster program and hopefully one day I can race a rail like all of these nice cars out here this weekend. This whole experience has been unbelievable."
With nerves of steel Johnson went up against Cory Tankersley from Texas in the inaugural Junior Dragster championship and made easy worth of the matchup, hammering the three with a .024 light and running a 7.941/82.32 on a 7.93 dial to take the win. Tankersley, representing his home track of Lonestar Motorsports Park, ran a tad too quick with a 7.866/84.34 pass on a 7.90 dial.
Johnson also recorded wins over Dylan Kiser, Robert Vogler and Josh Jones on his way to the win.
With the win Johnson claims a $3,000 prize, a brand-new Junior Dragster built by Vic Puglia with an engine courtesy of Steve Waller, a championship trophy, diamond ring and more. Johnson earned his way to the World Finals via a runner-up finish at the Division 1 Summit Team Finals event at Richmond Dragway earlier this month.
While Johnson will go down in history as the very first winner of the new SuperSeries Junior program, Mod ET winner Shane Kay will be remembered for a different reason.
Kay honestly should not have even been in Memphis after an untimely break put his machine out of commission just one week prior. But through the kind act of his home track Alabama International Raceway and owner Jason Collins, Kay was able to borrow a car to compete at the World Finals and is now $10,000 richer because of it.
"It has been a long season. I won the track championship for the third year in a row, but we had some breaks including last weekend," Kay said. "I came into last weekend for the bracket finals running the best I have run all year and the first round after the main event I blew an engine and was in a bit of trouble.
"Within no time Jason Collins had a car lined up for me and on Wednesday we had it loaded and we were here on Thursday. I had never spent a second in this car until Friday."
Kay won the Division 2 West Summit Team Finals at Memphis International Raceway just one week prior, but had to make an unscheduled trip back home to get his new ride. And after a long week and four big wins Kay was able to drive his borrowed '69 Camaro to the winners circle and collect the IHRA World Championship in Mod ET.
"This is the greatest feeling in the world. I have raced for years, won six track championships, but I have never won an Ironman," Kay said. "You can't imagine what this feels like. This trophy is just beautiful. But I couldn't have done it without Jason Collins for letting me use his car. We borrowed it on Wednesday and won the world three days later."
Kay collected wins over Mark Gubinski, Randy Biddle and Tim O'Moore before meeting Texas native Jay Robinson in the final. With the win on the line both drivers had identical .006 reaction times and both drivers ran superb numbers with Kay hitting a dead on with a zero 9.520/142.07 to get the win over Robinson's equally impressive  11.409/117.35 on an 11.40 dial.
With the win Kay claims a $10,000 prize courtesy of Summit Racing Equipment, a brand new Pace trailer, custom Golf Cart, championship trophy, diamond ring, a trip to Aruba and more.
Florida's Butler wrapped up the Summit SuperSeries champions with the longest haul of the three winners. Butler, representing Immokalee Regional Raceway, traveled nearly 1,000 miles to be in Memphis with one of the fastest cars in the competition.
Advancing to the World Finals via a win at the Division 2 East Summit Team Finals at Carolina Dragway last month, Butler put together a tremendous day with four big wins, a championship and a brand new dragster all going back home with him to Florida for the year.
"This is just awesome. I have been racing since I was 17 and I am 54 now. I have had some pretty big wins and I have been so blessed over the years, but this is right up there with all of them," Butler said.
Butler went four rounds on Saturday, eliminating Chris Dean, Ken LaBoe, Alan Glatt and eventually Jonathan Robin from State Capitol Raceway for the win. In the final Butler had the better light – a .007 to a .016 – but the race quickly turned into a breakout battle as Butler ran over by .004 with a 7.766/169.76 in his very quick dragster while Robin ran a 7.641/171.62 on a 7.65 dial.
With the win Butler claims a $10,000 prize courtesy of Summit Racing Equipment, a brand new dragster built by American Race Cars with a Trick Flow engine and major components from Moser Engineering, Abruzzi Transmissions and Converters and many more, a championship trophy, diamond ring, a trip to Aruba and more.
"This is such a great deal. It is a great program Summit puts on with American Race Cars, with Trick Flow, Moser, AMSOIL and all of the people, this is just fantastic," Butler said.
The 2012 Summit SuperSeries presented by AMSOIL and Moser Engineering featured drivers from over a dozen states and provinces with drivers hauling from as far away as Alaska, western Canada and Arizona to be on hand.
(Photos courtesy IHRA; Click to enlarge)