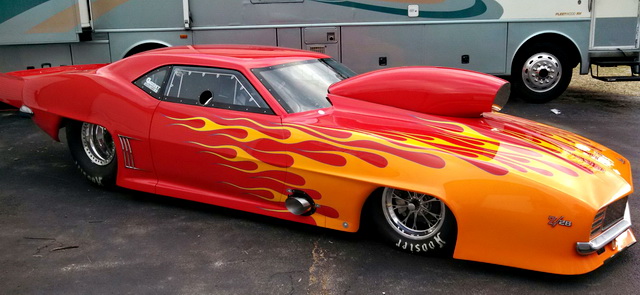 When Glenn Butcher rolls up for round one of Top Sportsman qualifying in the X-treme Drag Racing League's (X-DRL's) Thunder Valley Madness this weekend (Apr. 26-27) at Bristol Dragway, he'll be driving a brand-new Garret Race Cars-built '69 Camaro.
"We did go to Bowling Green (KY) last week for a test session, but this will be its first race," said Butcher, who will be making his X-DRL debut, too, in the series' second event of the year. "We struggled a little bit with the (torque) converter—it was a little too tight—but the car felt great, it drove great, and I couldn't be happier with the way it turned out.
"It's been a long process and it's pretty exciting really, to finally have it in the trailer ready to go racing," the Doylestown, Ohio-based driver continued.
"I love racing at Bristol, so I'm really looking forward to this weekend. Hopefully we can make a few laps and put down some good numbers and who knows, maybe even win the race. If I can get the car dialed in and be repetitive, I really believe that could happen."
This is the second new Garret car in five years for Butcher, who in the off season sold the '68 Camaro he'd been racing to Chris Gullitti, who won the IHRA season opener with it early this year in Florida.
"This new car for Glenn has a lot of special touches; the firewall and all the interior panels are complete custom, one-off pieces with highly detailed flames and skulls all hand-rolled into the panels," Garret Livingston, founder and president of Garret Race Cars, explained. "We've done that kind of stuff before in other cars, but this one takes it to a whole other level.
Livingston also said Butcher's Camaro makes extensive use of weight-saving titanium and carbon fiber, making it much more like a modern Pro Nitrous car than a traditional Top Sportsman entry. It provides Butcher additional tuning options to move weight around the chassis to meet Top Sportsman minimums while also allowing him to move up to Pro Nitrous if he chooses with the same car.
"I really want to thank Glenn and his wife, Linda, for letting me run with this car and allowing us the time to really take this one over the top. I think it really shows off the kind of high-quality work we turn out here at Garret Race Cars.
"But it's not how we would normally build a Top Sportsman car and most people would not need anything like that," Livingston added. "We would build something much more cost conscious, but just as effective for most applications. The important thing is that we will work hard to deliver whatever it is that our customer wants or needs."
Toward that goal, Livingston said he recently added a dedicated carbon-fiber fabrication shop for doing complete custom interiors, as well as new in-house powder-coating capabilities.
"It's all part of a plan to make Garret Race Cars a one-stop shop for any doorslammer racer looking to build the very best car possible," he said