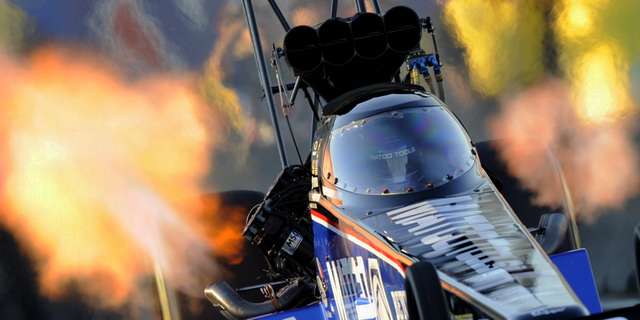 Antron Brown could use a break from a racetrack, and he'll get that this week before the NHRA Southern Nationals May 3-5,  at Commerce, GA. He'll also get some reminders of how rewarding the life of a driver is even when you are in a little slump.
Brown and Don Schumacher Racing's Matco Tools Top Fuel Dragster team remain second in NHRA Mello Yello Drag Racing Series points despite losing in the opening round of the past two events including last Sunday at Royal Purple Raceway, near Houston.
If anything, the popular driver from near Indianapolis, could use a little respite before the seventh event of the season opens Friday at Atlanta Dragway, to close out the season's first stretch of three or more consecutive race weekends.
On Wednesday night, Brown and his wife, Billie Jo, will be guests of honor at a dinner in Atlanta hosted by Coca-Cola to honor professional champions from last year's NHRA pro tour. The reigning Top Fuel world champ will be joined by DSR teammate Jack Beckman, who won last year's Funny Car championship.
"It's a special way for Coca-Cola to honor us," Brown said. "I think of all the other NHRA champions who have been there and it is very humbling."
On the following night, Brown will head to Talladega, Ala., where DSR owner Don Schumacher will be inducted into the prestigious International Motorsports Hall of Fame located at the Superspeedway.
Schumacher will be inducted along with NASCAR legends Rick Hendrick, Rusty Wallace and Dale Inman.
"That will definitely be a special night for Don, and all of us really," said Brown, who has won 21 of his 38 NHRA titles driving a DSR Top Fueler and Pro Stock Motorcycle.
"Just to be part of it and to be there to celebrate with Don and his family will make it a special night. Most people don't realize how much work and time Don invests in DSR and all the teams. It just feels pretty darn cool to be part of it."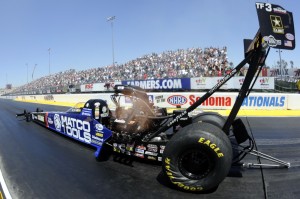 Regarding this weekend's race, Brown, along with Matco crew chiefs Brian Corradi and Mark Oswald, is not shaken by last weekend's subpar effort at Houston, where he lost in the opening round of eliminations. Several teams were adversely affected by the second consecutive event when two qualifying sessions were lost to rain.
"We aren't really worried about what happened," Brown said. "Our Matco dragster just had too much power for the track under those conditions. We'll be fine."
Atlanta has been a good track for Brown. He has won there twice in Top Fuel and twice in Pro Stock Motorcycle.
(Photos courtesy NHRA/National Dragster; Click to enlarge)