A new season's on the drag racing horizon, but for Brylon Holder, last year's finale continues to take up real estate in his mind.
The son of Street Car Super Nationals legend Roger Holder, Brylon earned his first-ever SCSN victory, turning on the win light over DJ Reid in the ProCharger Pro 275 presented by M&M Transmission No-Time final. The win proved historic as the first father-son combo to earn first-place trophies at the bucket-list event.
Hardly an average race for any fan or racer, SCSN holds a special place in the hearts of the Holder family. As Brylon's first-ever victory at a drag strip, it was even sweeter.
"It was awesome!" he said. "I grew up with my dad drag racing and going to Vegas every year for the Street Car Super Nationals. I raced the Super Nationals a couple times in past years with a different car and to race in Pro 275 and be able to win, it was definitely an accomplishment."
The younger Holder's SCSN memories go back a ways. Farther back than being a participant, past even being in the pits with his dad. Brylon's first recollection of being at any drag race was sitting in the stands at The Strip at Las Vegas Motor Speedway with his grandpa, doing what comes natural in Sin City: gambling.
"When I was super young, me and my grandpa would be up in the stands and he would give me a stack of one-dollar bills and he would take a stack of one-dollar bills. We'd bet a dollar on every race and just sit up there for hours."
Holder's Pro 275 car, a 2015 Camaro with a ProLine engine and ProCharger, is operated upon and made great by a crew the second-generation racer is quick to acknowledge. Ensuring they stay positive is a priority for the young racer.
"We've got a really good crew," he said. "With this new car I'm racing, they've really got it rolling and got it going. The Street Car Super Nationals was a no-time race, but we also race class racing where we show times. We've got this car to go 3.71, which is the fastest I've ever been in any type of car. They keep me motivated to keep going faster."
Famoso Drag Strip in Bakersfield, Calif. is Holder's current home track and the facility where he got his start. But he took a break from drag racing after running a Jr. Dragster there for a couple years, heading to the roundy-round world of dirt racing. IMCA Sport Mods was a successful avenue for him, with Brylon winning a few features, including the prestigious Richie McGown Memorial in 2017.
Vegas has always been kind, even on the circle track, as he raced well at the Duel in Desert, making the main every time he entered the event. Despite his dirt success, the pull of drag racing proved too much and Braylon returned to the drag strip and the eighth-mile.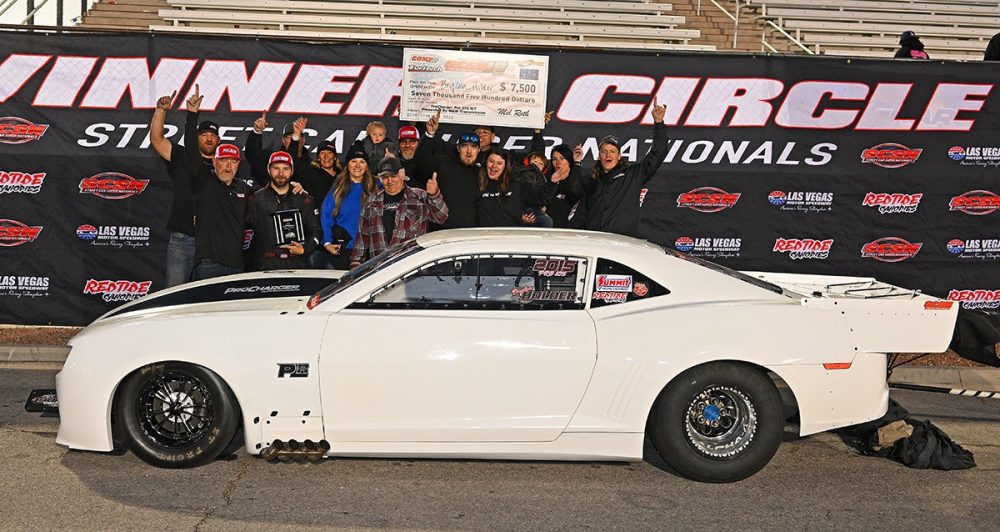 "I ended up getting a real car, which was a '91 Fox-body Mustang with nitrous on it," Holder said. "The fastest I ran on that was a 4.67 and I switched to Pro 275 after that. I started out in the '67 Nova that David Reese built and just recently, picked up David Singletary's 2015 and I've been racing that ever since."
It takes a village to build a drag racer and Holder acknowledged the people in his life working to get him where he is today.
"Just want to thank my parents, Roger & Roberta Holder, Lyons Custom Motorsports with Tim, Mason, and Robbie, the whole crew, Spencer, DC, Lyle, and just everyone that helps us."
Holder intends to enter the 19th running of the Street Car Super Nationals when it returns to The Strip at Las Vegas Motor Speedway on a new date this year. The marathon of speed is scheduled for Oct. 18-22, 2023. For more information, visit StreetCarSuperNationals.com.