Nearly ten years ago when Bruton Smith announced he was building a 4-wide, world-class drag racing facility as part of the Charlotte Motor Speedway complex in Concord, N.C., there was a mixture of skepticism and excitement. After the first event at "The Bellagio of Drag Strips" in 2009, both emotions remain, but the latter has outweighed the former, indicated by the massive crowds at the springtime race at zMAX Dragway.
With the success of the NHRA 4-Wide Nationals, Speedway Motorsports Inc.—the parent company of Charlotte Motor Speedway and all the NASCAR/NHRA facilities owned by Smith—it was recently announced The Strip at Las Vegas Motor Speedway would follow suit and create a 4-wide facility of its own. SMI Chief Executive Officer Marcus Smith said the 4-wide strip at Vegas has been in the works for some time and that his father, SMI Executive Officer and LVMS owner Bruton Smith, had built The Strip with four lanes in mind.
"It's something that my dad has had on his mind since we first built Vegas, to tell you the truth," Marcus Smith said. "We left room in the site plan for two additional lanes and we just happened to build it in Charlotte first. So this is something he's definitely had on his mind for many years."
Feedback, especially from the drivers and teams, regarding the 4-Wide experience at zMAX Dragway, was mixed at first. Now that nine NHRA 4-Wide Nationals are in the books at Charlotte, LVMS President and General Manager Chris Powell said the news he has received has been nothing but positive.
"We've found the teams are ecstatic about this, the drivers are ecstatic, and the fans really like it," Powell said. "It's going to be something that's brand new for drag racing in the western region of the country and we're very excited about it. It has gone over so well in Charlotte over the years and we could not help but notice that."
Powell did say he understood some fans still were not keen to the idea of a strip they considered to be non-traditional. He also said, however, once fans are able to see the experience live, they're apt to become believers as well.
"While we still will have some people who do not cotton well to a four-lane drag strip, we believe fans, when they come out especially in the first couple years when it's still a novelty, will gain a tremendous amount of excitement about it," he said. "We're looking forward to seeing four cars going 300-plus miles per hour down the The Strip at Las Vegas Motor Speedway. It's going to be very exciting and I think it'll be great for NHRA drag racing as a whole."
Marcus Smith agrees.
"I think it's going to be a really cool thing for NHRA and for NHRA fans," he said. "I know that people out west that have not been to 4-Wide yet. There's a lot of curiosity and trepidation, but I know that based on what we've seen here in Charlotte, it's something the fans will love and really get excited about."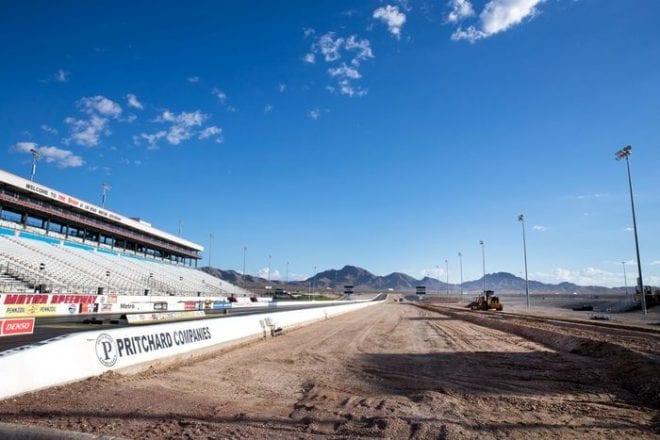 For the elder Smith, a recent inductee into the NASCAR Hall of Fame for his work throughout the decades in promoting the stock-car racing sanctioning body, a second 4-wide facility cements his legacy within drag racing as well. For Powell, there's never been a question as to Bruton Smith's motorsports legacy.
"I've said all along since I've gotten to know Bruton Smith that he is quite the visionary in motorsports," Powell said. "I mean, if you go back in time and you look at who the visionaries where, whether it was Tony Hulman, Bill France Sr. and Bill France Jr., Bruton Smith stands shoulder to shoulder with those types of men.
"Bruton has brought so many new things to drag racing and to motorsports in general and certainly, the 4-Wide drag strip is going to be one of his legacies, but he'll have many."