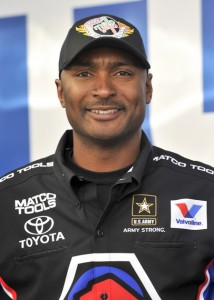 Antron Brown, the 2012 NHRA Top Fuel world champion and driver of the Matco Tools Top Fuel dragster for Don Schumacher Racing, will visit Penn State Erie, The Behrend College on Monday, March 3.
Brown will speak to students about life choices, setting goals and achieving dreams at 7 p.m. in the Junker Center on the campus of Penn State Behrend. A former student-athlete at Mercer College in New Jersey, Brown also will talk about his NHRA Drag Racing career where he has amassed 42 career wins, including the NHRA's most recent stop near Phoenix on Feb. 23.
"I'm really excited to visit Penn State Behrend and just talk to students about how to set goals and get what they want out of life," said Brown. "I'm grateful to have the opportunity to talk to students about their futures and their career paths. It's something I really enjoy and I'm looking forward to meeting everyone."
Brown, 37, is the only racer in NHRA history to win races in both the Top Fuel and Pro Stock Motorcycle classes. In addition to his 42 career wins, he has 34 career No. 1 qualifying awards and was the first African-American to win a major motorsports title.
"The Athletic Department at Penn State Behrend is thrilled to host Antron Brown here on our campus," Penn State Behrend, Director of Athletics Brian Streeter said. "As an athlete he has achieved success through his hard work, dedication and determination with his team and in his car.
"His presence and talk will continue to support the same values we instill in all our students here at Penn State Behrend. I am personally excited to have Antron share his experiences and his car to our entire campus. I know our engineering students, our student-athletes, and the race fans in general will be thrilled to hear from him. His visit should draw a lot of excitement here on the campus of Penn State Behrend in Erie, Pa."
The 10,000-horsepower Matco Tools dragster show car also will be on display in the Junker Center lobby on March 3, beginning at 8 a.m.
The event is sponsored by the following groups on campus at Penn State Erie, The Behrend College: Athletics, School of Engineering, Sam & Irene Black School of Business, Student Activity Fee, Office of Educational Equity and Diversity Programs, Student Athletic Advisory Committee, Society of Automotive Engineers, Student Government Association. The event is free and open to the public.