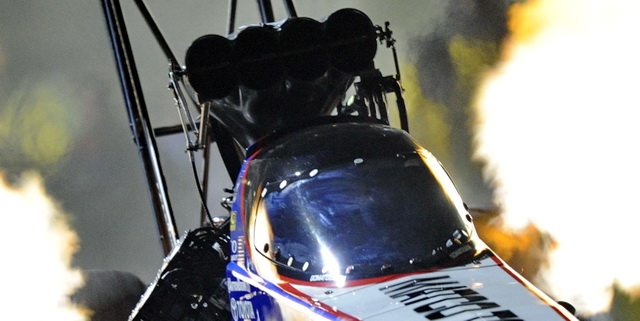 Antron Brown and the Matco Tools team continued their hot streak in 2014 for Don Schumacher Racing and was the quickest Top Fuel dragster Friday during opening day of the Circle K NHRA Winternationals at Pomona, Calif.
The pole-sitting run by Brown was nearly topped by DSR teammate Ron Capps, who qualified third in Funny Car in a spectacular way when a fiery engine explosion destroyed his NAPA AUTO PARTS Dodge Charger R/T body near the finish line to open the 24-event Mello Yello Drag Racing Series season.
Brown and the Matco Tools Top Fuel team led by crew chiefs Brian Corradi and Mark Oswald earned the provisional pole with a time of 3.731 seconds at 326.00 mph, which is their sixth straight run in the 3.7-second range including January testing in South Florida.
"The first run we just wanted to get down the race track," Brown said of his opening 3.798-second pass. "We came back and regrouped. We weren't sure how much we could push it on the last run but Brian and Mark stepped on it.
"The guys did it. The track conditions are very consistent with what we saw at testing. Brian said we had to give it more power because it was more humid here than at West Palm (Beach, Fla.)."
Capps and the NAPA AUTO PARTS team completed a run in 4.014 seconds at 304.67 in the day's second session before an apparent mechanical problem just past the finish line detonated the 10,000-horsepower engine that ripped apart much of the carbon fiber Dodge Charger R/T body. A portion of the body when airborne before landing in the left lane and was hit by DSR teammate Jack Beckman's Valvoline Dodge that also destroyed the front of his Funny Car.
The concussion from the blast seemed to briefly stun Capps, who is starting his 20th season as a professional racer. But he was able to get out of the car and walk away from his destroyed race car.
"I'm OK. That was pretty sudden," he said laughing a few minutes after getting out of the car. "Something came up and hit my helmet but Impact did a great job on the helmet and the (face) shield. I was covered by flames and something went across the shield but nothing got to me.
"These Funny Cars are fun to drive but that's going to happen once in a while.
"To be honest when I was a kid standing at the fence at Lion's Drag Strip (a legendary track from 1955-72 in the Los Angeles area) I wanted to be a Funny Car driver because I saw guys like Snake (Don Prudhomme) and Don Schumacher blowing up like this so I guess I asked for too much.
"But a helluva of a job by (crew chief) Rahn Tobler and the NAPA guys for a great run and it was an exciting shutdown. Hey, we're in the show."
Capps is the top-seeded DSR Funny Car going into Saturday's final qualifying sessions at 1 and 4 p.m. before Sunday's 16-car championship eliminations.
"We'll take it back and see if we can figure out what happened to it," Tobler said. "It looked like it was running fine. I didn't see a flash or any indication that anything was wrong until it happened. Most likely it either broke a (connecting) rod or something in the valve train."
Losing a body wasn't the only disappointment for Beckman. On the last run of the night, reigning world champion John Force clocked a run at 3.966 seconds to take the elapsed time record from Beckman, who ran 3.986 seconds on Oct. 7, 2012, near Reading, Pa.
(Photos courtesy NHRA/National Dragster)