Antron Brown piloted his Matco Tools Top Fuel dragster to victory on Sunday at the ninth annual NHRA Carolina Nationals at zMAX Dragway in Concord, N.C.
John Force (Funny Car), Jason Line (Pro Stock) and Chip Ellis (Pro Stock Motorcycle) also were winners in their respective categories at the 19th event of 24 on the 2016 Mello Yello Drag Racing Series schedule. The NHRA Carolina Nationals is the first race of the six race Countdown to the Championship playoffs.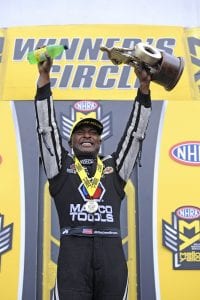 Brown claimed his 59th career victory, and fifth of the season, with a 3.763-second pass at 319.29 mph in his dragster to defeat Doug Kalitta and his Mac Tools machine, 3.811 at 320.28. It is Brown's second consecutive win at the NHRA Carolina Nationals, the opening event of the NHRA Mello Yello Countdown to the Championship. In 2015, Brown went on to win the Top Fuel World Championship.
"I'm dreaming right now, someone needs to come and pinch me," Brown said. "When you come here, this is the way you want to start the Countdown off. Qualifying didn't go the way we wanted it. We just kept digging. That was the key, to keep digging. The track was the hottest that we have had all year long. We knew it was going to be tricky. We navigated down it and we did what we had to do."
Before picking up the victory over Kalitta, Brown faced down Clay Millican, Brittany Force, and Pat Dakin. Kalitta, the No. 1 qualifier, had to defeat Ike Maier, Leah Pritchett and Wayne Newby to reach the finals. Brown remains on top of the points with Kalitta in second.
Force, a 16-time world champion, powered his PEAK Antifreeze Chevy Camaro Funny Car to a 3.946 at 324.05 pass to defeat No. 1 qualifier Tommy Johnson Jr. and his Make-A-Wish Dodge Charger R/T's 3.987 at 315.71 run for his 146th career win, third of the season and second overall at zMAX Dragway. The win propels Force into third in the points standings.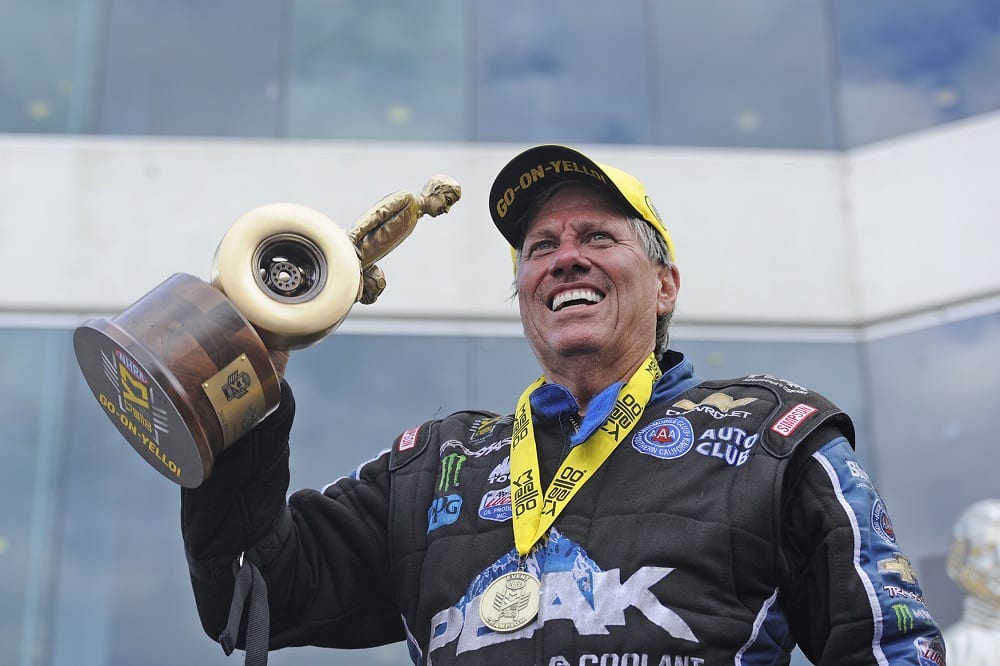 "It's stadiums like this that really create the magic in your heart and you really want to race and we had a good day," Force said. "I've got a race car now that I can race with and when you have a race car and you're on your game, I ain't great, but I'm good. But when I'm on my game, I can win."
On his way to the win, Force defeated Dave Richards, Tim Wilkerson, and points leader Ron Capps. Johnson Jr. raced past Bob Gilbertson, national record holder Matt Hagan and defending champion Del Worsham before facing Force. Despite a semifinal exit, Capps maintains the points lead. Johnson Jr. is now fourth.
For Line in Pro Stock, this is his eighth win of the season. He raced his Summit Racing Equipment Chevy Camaro to a winning pass of 6.621 at 209.39 to defeat Summit Racing Equipment teammate Greg Anderson and his Camaro's losing run of 6.639 at 209.20.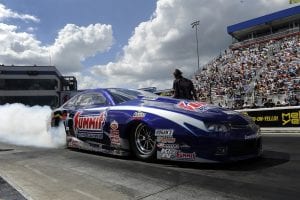 "It was a great day for us," Line said, "To be sitting here is a great feeling. It's a great way to start the countdown. If you want to win the championship you have to come out smoking and somehow we were able to do that today."
Line, a two-time world champion, powered past Shane Tucker, teammate Bo Butner and Vincent Nobile before defeating Anderson who picked up wins against Alan Prusiensky, Chris McGaha and Alex Laughlin in the earlier rounds. The teammates remain one and two in the points standings, respectively.
In Pro Stock Motorcycle, Ellis rode his PiranaZ/Pippin Motorsports Buell to a 6.879 at 194.88 to defeat points leader Andrew Hines and his Screamin' Eagle Vance & Hines Harley Davidson's 6.908 at 193.49 in the final. Ellis has seven wins in his Pro Stock Motorcycle career. His last win came in Englishtown, N.J. in 2008.
"I'm ecstatic with our performance today," Ellis said. "I did get a couple breaks today against Angelle when her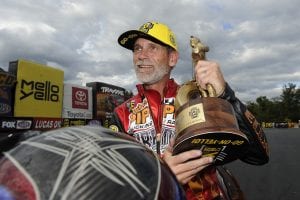 bike broke and LE had some issue or else he probably would have beat us. As a racer, some days you just have a feeling where today's the day and today's the day."
In the earlier rounds, Ellis defeated Shawn Gann, LE Tonglet and No. 1 qualifier Angelle Sampey to reach the finals. Hines rode past Melissa Surber, Steve Johnson and Jim Underdahl before falling to Ellis. He maintains the points lead and Ellis jumps to the number two spot.
NHRA Mello Yello Drag Racing will continue at the AAA Insurance NHRA Midwest Nationals at Gateway Motorsports Park in Madison, Ill., Sept. 23-25.