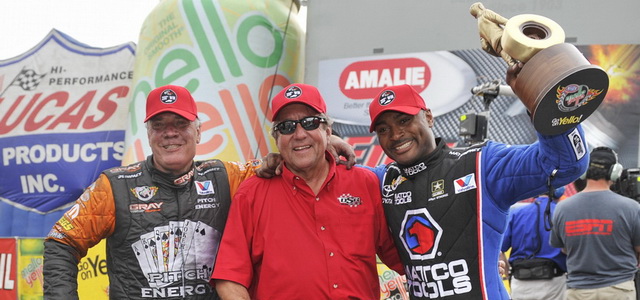 Antron Brown (above right) raced to the Top Fuel victory Mar. 17, at the Amalie Oil NHRA Gatornationals at historic Auto-Plus Raceway at Gainesville, giving Don Schumacher (center) Racing its 200th team win.
Johnny Gray (Funny Car, above left), Allen Johnson (Pro Stock) and Hector Arana Jr. (Pro Stock Motorcycle) also were winners at the tradition-rich NHRA Mello Yello Drag Racing Series event.
One month after walking away from a spectacular high-speed crash at the season-opening race at Pomona, Calif., Brown powered his Matco Tools dragster to a 3.761 second run at 318.77 mph to finish in front of Clay Millican, who posted a 3.813 at 319.67 in his Parts-Plus dragster. It was defending world champion Brown's 38th career victory and his first of the season.
"It's a great team effort," Brown said. "It felt good to bring that win home and hopefully we can put Pomona behind us and keep moving forward."
Brown outran Larry Dixon, Steve Torrence and Spencer Massey in the first three rounds to advance to the final. He moved into the points lead, four up on second place Tony Schumacher, who lost in the opening round.
"To win you have to have every piece of the pie," Brown said. "It was important to be consistent and as fast and quick as you can be. Every round was tough.
"It's a great win for this team. It gives you great confidence as a driver to see the car running like this and come out and win after what happened in Pomona."
Schumacher earned five of his victories as a driver and 195 have come over the years from a variety of drivers in all four NHRA Mello Yello Drag Racing Series categories. Only John Force Racing has more team victories in NHRA history, with 218, all earned in the Funny Car category.
"It's incredible," Schumacher said. "It started in 1970 in Indianapolis when I won the U.S. Nationals. I am not someone who ever counts things like that. I never thought it would happen or even considered it. Thanks to all of my drivers. They do an incredible job day in and day out."
Prior to Brown claiming the 200th DSR win, Gray earned his fourth career victory in Funny Car and the 199th team win for Schumacher as he held off Del Worsham at the finish. Gray covered the distance in 4.053 at 315.49 in his Pitch Energy Dodge Charger while Worsham trailed in his DHL Toyota Camry with a 4.100 at 303.50.
Gray, who was runner-up at this race one year ago, defeated early round opponents Jeff Arend, Alexis DeJoria and defending world champ Jack Beckman to get back to the final round here.
"The Gatornationals is such a prestigious race and to win it is just a great feeling," Gray said. "I was disappointed last year we had a great race car and should've won it, but it wasn't our day."
Gray, who says he will retire from full-time driving at the end of the season, was also thrilled to play a key role in his team owner's special day.
"Don has been great to me and to be a part of that it's an awesome feeling for everybody down the line who has contributed to this, which started with Don winning the first one," Gray said. "To be a part of his organization is unbelievable."
In Pro Stock, Johnson used a quicker reaction time to defeat teammate Jeg Coughlin in the final round for his first victory of the season and the 17th of his career. The defending world champion finished in 6.535 at 212.59 in his Team Mopar Dodge Avenger, just in front of the quicker, but losing, JEGS.com/Mopar Dodge Avenger of Coughlin, which posted a 6.514 at 212.25.
"Everyone asks me why I would hire two assassins," Johnson said about his teammates Coughlin and Vincent Nobile. "They make me better. Vincent challenges me and it's the same with Jeggie; I knew I would have to do my ultimate best to beat him. I hope we have to go head-to-head like that a bunch more."
It is the first Gatornationals victory for Johnson and his first final round in The Swamp. To advance to the final, Johnson drove around Matt Hartford, Erica Enders-Stevens and Jason Line.
"I think we're one of the premier teams in Pro Stock now," said Johnson, who moved to third place in the points standings. "We have a great team that makes great decisions based on scientific methods and data and we keep improving those decision making tools. We aren't the fastest car right now, but we are consistent and we can win some races like that."
In Pro Stock Motorcycle, Arana Jr. scored his fourth career victory and first in more than a year when he outran veteran rider Steve Johnson in the final. Arana Jr. rode his Lucas Oil Buell to a 6.885 at 195.65 to hold off Johnson's Suzuki, which trailed with a 6.920 at 193.99.
"To grab the race win for Team Arana and Lucas Oil is a big accomplishment and it proves that having a third bike (with brother Adam riding the third team bike) isn't going to slow us down, but actually speed us up," said Arana Jr., who beat Michael Phillips, defending world champ and three-time defending Gatornationals winner Eddie Krawiec, and Hector Arana Sr. to advance to the final.
"I am looking forward to a very competitive season and some close racing this season," Arana Jr. said. "This is a step in the right direction. When my dad won his championship he won the Gatornationals and Eddie Krawiec has done that the last two years. I hope to keep that trend going this year as well."
The NHRA Mello Yello Drag Racing Series continues April 5-7 with the SummitRacing.com NHRA Nationals at The Strip at Las Vegas Motor Speedway.
(Photos courtesy NHRA/National Dragster; Click to enlarge)
GAINESVILLE, Fla. — Final round-by-round results from the 44th annual Amalie Oil NHRA Gatornationals at Auto-Plus Raceway at Gainesville, the third of 24 events in the NHRA Mello Yello Drag Racing Series:
TOP FUEL
ROUND ONE — Steve Torrence, 3.769, 326.63 def. Morgan Lucas, 3.836, 323.58; Clay Millican, 3.809, 320.58 def. Brittany Force, 3.873, 301.47; Shawn Langdon, 3.798, 320.28 def. Sidnei Frigo, 4.292, 174.28; Antron Brown, 3.782, 321.81 def. Larry Dixon, 3.881, 302.55; Doug Kalitta, 3.801, 325.53 def. Leah Pruett, 5.129, 135.97; Khalid alBalooshi, 4.147, 260.16 def. Tony Schumacher, 9.317, 76.39; Spencer Massey, 3.797, 323.04 def. David Grubnic, 4.165, 203.74; Brandon Bernstein, 3.828, 322.96 def. Bob Vandergriff, 4.711, 159.27; QUARTERFINALS — Millican, 3.835, 321.42 def. alBalooshi, 3.835, 321.88; Kalitta, 3.791, 319.45 def. Bernstein, 3.813, 322.58; Massey, 3.802, 323.27 def. Langdon, 4.149, 259.56; Brown, 3.771, 326.48 def. Torrence, 3.793, 326.08; SEMIFINALS — Millican, 3.818, 323.27 def. Kalitta, 4.125, 243.33; Brown, 3.777, 320.74 def. Massey, 3.799, 325.92; FINAL — Brown, 3.761, 318.77 def. Millican, 3.813, 319.67.
FUNNY CAR
ROUND ONE — Jack Beckman, Dodge Charger, 4.121, 301.13 def. Ron Capps, Charger, 4.276, 307.09; Johnny Gray, Charger, 4.038, 311.56 def. Jeff Arend, Charger, 4.484, 210.67; Cruz Pedregon, Toyota Camry, 4.041, 311.99 def. Paul Lee, Charger, 4.338, 260.41; Matt Hagan, Charger, 4.091, 308.00 def. Bob Tasca III, Ford Mustang, 4.259, 269.51; Courtney Force, Mustang, 4.092, 314.83 def. John Force, Mustang, 6.917, 101.56; Del Worsham, Camry, 4.689, 253.04 def. Tim Wilkerson, Mustang, 6.307, 108.95; Alexis DeJoria, Camry, 4.085, 308.14 def. Blake Alexander, Chevy Monte Carlo, 6.255, 108.18; Robert Hight, Mustang, 4.070, 313.29 def. Tony Pedregon, Camry, 4.788, 177.18; QUARTERFINALS — Gray, 4.080, 312.28 def. DeJoria, 4.127, 307.16; Hight, no time def. C. Pedregon, 4.077, 308.71; Beckman, 4.094, 309.91 def. Hagan, 4.130, 306.67; Worsham, 4.122, 306.53 def. C. Force, 4.135, 310.63; SEMIFINALS — Worsham, 4.070, 309.49 def. Hight, 7.164, 93.97; Gray, 4.140, 302.89 def. Beckman, 4.390, 290.32; FINAL — Gray, 4.053, 315.49 def. Worsham, 4.100, 303.50.
PRO STOCK
ROUND ONE — Vincent Nobile, Dodge Avenger, 6.545, 211.79 def. Chris McGaha, Avenger, 6.548, 211.63; Erica Enders-Stevens, Chevy Camaro, 6.505, 212.96 def. Shane Gray, Camaro, 15.139, 54.57; V. Gaines, Avenger, 6.505, 212.63 def. Rickie Jones, Pontiac GXP, 6.526, 212.09; Greg Anderson, Camaro, 6.504, 212.16 def. Kurt Johnson, GXP, 6.757, 209.59; Jason Line, Camaro, 6.492, 212.59 def. Rodger Brogdon, Camaro, 6.549, 211.10; Mike Edwards, Camaro, 6.473, 213.57 def. Warren Johnson, GXP, 14.395, 63.47; Allen Johnson, Avenger, 6.514, 212.49 def. Matt Hartford, Avenger, 6.593, 210.70; Jeg Coughlin, Avenger, 6.510, 212.83 def. Greg Stanfield, Camaro, 13.912, 60.90; QUARTERFINALS — A. Johnson, 7.201, 151.44 def. Enders-Stevens, 13.412, 63.39; Coughlin, 6.526, 212.29 def. Anderson, 6.540, 211.56; Line, 6.517, 211.96 def. Gaines, 6.507, 212.33; Edwards, 6.488, 213.67 def. Nobile, 6.516, 212.26; SEMIFINALS — A. Johnson, 6.532, 212.86 def. Line, 6.501, 212.36; Coughlin, 6.525, 211.30 def. Edwards, 14.536, 46.54; FINAL — A. Johnson, 6.535, 212.59 def. Coughlin, 6.514, 212.26.
PRO STOCK MOTORCYCLE
ROUND ONE — Scotty Pollacheck, Buell, 6.896, 193.07 def. Michael Ray, Buell, foul; Eddie Krawiec, Harley-Davidson, 6.942, 189.31 def. Mike Berry, Buell, broke; John Hall, Buell, 6.889, 191.02 def. Shawn Gann, Buell, 6.895, 193.63; Andrew Hines, Harley-Davidson, 6.886, 192.69 def. Adam Arana, Buell, 6.913, 191.43; Hector Arana, Buell, 6.860, 194.74 def. Jim Underdahl, Suzuki, 6.926, 191.35; Hector Arana Jr, Buell, 6.829, 195.00 def. Michael Phillips, Suzuki, 9.170, 93.15; Steve Johnson, Suzuki, 6.881, 194.32 def. LE Tonglet, Suzuki, foul; Chip Ellis, Buell, 7.009, 192.06 def. Matt Smith, Buell, 7.221, 190.03; QUARTERFINALS — Pollacheck, 6.894, 190.92 def. Ellis, 6.947, 190.00; Johnson, 6.863, 195.99 def. Hines, 6.935, 190.06; H. Arana, 6.848, 195.03 def. Hall, foul; Arana Jr, 6.876, 193.63 def. Krawiec, 6.890, 192.14; SEMIFINALS — Johnson, 6.840, 196.96 def. Pollacheck, 6.885, 193.24; Arana Jr, 6.849, 194.97 def. H. Arana, 6.844, 196.10; FINAL — Arana Jr, 6.888, 195.65 def. Johnson, 6.909, 193.99.
GAINESVILLE, Fla. — Sunday's final-round sportsman results from the 44th annual Amalie Oil NHRA Gatornationals at Auto-Plus Raceway at Gainesville. The race is the third of 24 in the NHRA Mello Yello Drag Racing Series:
Top Alcohol Dragster — Rich McPhillips, 5.331, 266.90  def. Ken Perry, 5.420, 262.79.
Top Alcohol Funny Car — Dan Pomponio, Chevy Monte Carlo, 5.609, 259.61  def. Todd Veney, Chevy Impala, 6.988, 140.11.
Competition Eliminator — Frank Aragona, Dragster, 8.228, 129.80  def. Steve Ambrose, '23-T Ford, foul.
Super Stock — Anthony Bertozzi, Pontiac Grand Am, 8.832, 152.66  def. Herbie Null, Chevy Camaro, 9.754, 134.94.
Stock Eliminator — Bo Butner, Ford Mustang, 9.679, 134.60  def. Charley Downing, Mustang, 10.976, 115.02.
Super Comp — Greg Kamplain, Dragster, 8.919, 172.96  def. Mia Tedesco, Dragster, 8.903, 180.48.
Super Gas — Troy Coughlin Jr, Chevy Corvette, 9.930, 157.26  def. Mia Tedesco, Chevy Cavalier, 9.884, 172.41.