A trio of first-time world-championship winners–Antron Brown, Jack Beckman and Allen Johnson–headlined those drivers crowned Nov. 12, during the 2012 NHRA Full Throttle Drag Racing Series awards ceremony at the Grand Ballroom at the Hollywood and Highland Center.
The other NHRA Full Throttle Series world champion, Eddie Krawiec, who earned his second consecutive and third overall championship, also was honored and joined the others in receiving a check and trophy for winning the 2012 NHRA Full Throttle Countdown to the Championship.
TOP FUEL: ANTRON BROWN
Top Fuel champ Brown, 36, made history by becoming the first African-American driver to win a major U.S. auto racing championship. He claimed the title in dramatic fashion at the season-ending race in Pomona, Calif. The driver of the Matco Tools dragster earned six victories in 11 final rounds during the season .
He battled teammates Tony Schumacher and Spencer Massey to the final day of the season finale. Brown earned $500,000 from NHRA and Full Throttle for the series crown and added to NHRA's storied history of diversity, joining pioneering champions Shirley Muldowney, Cruz Pedregon, Tony Pedregon, Angelle Sampey and Hector Arana Sr. in the NHRA record book.
Brown entered Sunday's eliminations 67 points ahead of Tony Schumacher and for a while it appeared that Schumacher would put together another magical come-from-behind victory to take the title. Schumacher lost in the final, however, by eighth-thousandths of a second to a holeshot by Brandon Bernstein.
When the win light went on in Bernstein's lane, Matco Tools dragster driver Brown was mobbed by his teammates, family and friends in a huge celebration at the starting line.
"I feel so blessed to be in this moment right now and this is a big huge moment," Brown said. "I am just glad we could bring it home for Don Schumacher Racing.
"To win the world championship the way the competition has been this year in Top Fuel and to run and compete how we've been doing all season long is just phenomenal. We all switched the lead back and forth a bunch of times. Is this really happening?"
Brown, who earned six victories in 11 final rounds, was top qualifier three times and set a national performance record in Reading, Pennsylvania, to add 20 valuable points to his total en route to his title, continues the great history of diversity in NHRA, joining pioneering champions Shirley Muldowney, Cruz and Tony Pedregon, Hector Arana and Angelle Sampey.
"If I can be an inspiration for any of the kids out there who have dreams, any Americans, that's all I want," said Brown, who became the 18th different driver to win a Top Fuel world championship title.
FUNNY CAR: JACK BECKMAN
Beckman, 46, took the $500,000 Funny Car title when he outlasted teammate Ron Capps at the Auto Club NHRA Finals in Pomona, eventually winning the crown by two points in one of the closest title finishes in NHRA history.
Top qualifier Capps lost in a close semifinal round to rookie Courtney Force and dropped out of contention. Beckman was crowned champion before his semifinal matchup against eventual race winner Pedregon, which he ultimately lost.
Beckman's title gave team owner Don Schumacher both nitro championship trophies and more than a million dollars in earnings for the weekend, duplicating his effort from 2005 when his son Tony won Top Fuel and Gary Scelzi took the Funny Car crown.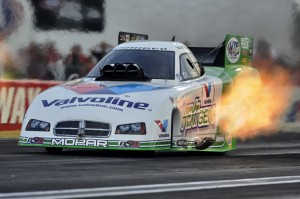 Beckman, a cancer survivor who won the 2003 Super Comp championship, came on during the Countdown playoffs and moved into contention with a win at St. Louis. He took the points lead at the event in Reading, Pennsylvania, where he set a national performance record and was the top qualifier. A major historian of the sport and former drag racing school driving instructor, Beckman, who drives the Valvoline/NextGen Dodge Charger, was more than thrilled with this year's outcome.
"You think about this, and you dream about this," he said. "It's going to take me a while to wrap my head around this.
"We would have loved to have won it head-to-head (against Capps) in the final, but the trophy is going to shine just as well no matter what. We really wanted to win."
PRO STOCK: ALLEN JOHNSON
Johnson, 52, earned his first Pro Stock world championship and gave Dodge its first series title in 18 years and fifth overall. He drove the Team Mopar Dodge Avenger to a personal-best seven victories, with three of those coming during the Full Throttle Countdown to the Championship playoffs.
Johnson was awarded $250,000 for the series title from NHRA and Full Throttle.
In Johnson's first year, 1996, he qualified for just one of 18 races. The next year he made seven of 22 and the year after that only two of 22 events on the schedule. His first three victories came three years apart. This year there were the seven wins plus four runner-up efforts, 10 number-one qualifying runs and a 51-16 record.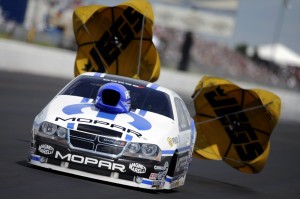 "It's been 17 long years, a lot of work and a lot of money," said Johnson, explaining the difference this time around was consistency, something his team developed the way it had everything else—by working hard as a family.
"That is the part that is the most satisfying," added Johnson, who lives in Greeneville, Tennessee. "We did the engines on our own, my dad built them, and we climbed the mountain and learned how to run the cars and developed a crew.
"We learned how to win. We started this thing as a family and we built it from there. To finally reach the pinnacle has taken a long time, but it's well worth it."
PRO STOCK MOTORCYCLE: EDDIE KRAWIEC
Krawiec, 35, earned his second consecutive and third overall world-championship title in Pro Stock Motorcycle by racing to a personal-best nine victories in 10 final rounds on his Screamin' Eagle Vance & Hines Harley-Davidson, including three victories during the Countdown playoffs.
An Englishtown, New Jersey, native who now lives near Indianapolis, Krawiec claimed $75,000 from NHRA and Full Throttle for this season's title. He clinched the Pro Stock Motorcycle crown just by qualifying second to Screamin' Eagle Vance & Hines Harley-Davidson teammate Andrew Hines at Pomona.
"This is like a dream season. It's tough to win one race out here, let alone win nine," Krawiec said. "I'm very grateful for the position I'm in. I've got an awesome team with awesome people behind me."
OTHER AWARDS
Funny Car driver Courtney Force was named the winner of the $20,000 Automobile Club of Southern California Road to the Future Award, which recognizes the top NHRA rookie performer of the year.
Force had an outstanding first season and raced to one victory in four final rounds and claimed two No. 1 qualifying positions, including the top spot at the prestigious NHRA U.S. Nationals in Indianapolis. She finished fifth in the Full Throttle Countdown to the Championship final points standings and received the award based on votes from a panel of the nation's top motorsports journalists.
She becomes the fourth driver from the John Force Racing stable to win the coveted award, joining teammates Robert Hight and Mike Neff and sister Ashley Force Hood. The other candidates in the very strong rookie class included Alexis DeJoria, Khalid alBalooshi, Todd Lesenko, Blake Alexander, Chris McGaha, John Hall and Scotty Pollacheck.
Winners of the Full Throttle Hard-Working Crew Awards, which recognize the hardest-working crews in each of the four NHRA Full Throttle Drag Racing Series categories, were Brown's Matco Tools dragster crew in Top Fuel ($25,000) for setting the national elapsed time record at 3.701 seconds in Reading and jumping to a 104-point lead at the fourth of six Countdown playoff events; Force's Traxxas Ford Mustang crew in Funny Car ($25,000) for helping the rookie driver win her first race in only her 15th start in Seattle despite having their worst qualifying effort of the
season (14th); Erica Enders' GK Motorsports crew for helping Enders make NHRA history in Chicago by becoming the first female to win a Pro Stock race ($15,000); and Krawiec's Screamin' Eagle Vance & Hines Harley-Davidson crew in Pro Stock Motorcycle ($5,000) for setting a then national elapsed time record of 6.750 seconds and racing to a season-opening victory at the NHRA Gatornationals in Gainesville, Fla.
For the fifth time overall and second year in a row, Ford was named the NHRA Manufacturers Cup winner. Ford also won NHRA Manufacturers Cup titles in 1964, 1965 and 1982. Funny Car racers Neff, Hight, Bob Tasca III, Force, Tim Wilkerson and John Force and Pro Stock racer Larry Morgan, along with NHRA Lucas Oil Drag Racing Series drivers Drew Skillman, Bo Butner and Ray Skillman, among others, contributed to the winning effort for Ford.
Popular NHRA announcer Bob Frey was presented the prestigious Don Prudhomme Award for his many contributions to the sport of NHRA Drag Racing throughout the years. Frey, who recently announced his retirement, received a standing ovation from the crowd when he accepted the award.
Drivers in seven categories in the NHRA Lucas Oil Drag Racing Series also were recognized as 2012 world champions: Jim Whiteley (Top Alcohol Dragster), Frank Manzo (Top Alcohol Funny Car), Bruno Massel (Competition Eliminator), Jimmy DeFrank (Super Stock), Brad Burton (Stock Eliminator), Alan Kenny (Super Comp) and Jeff Lopez (Super Gas).
The 2012 NHRA Full Throttle Drag Racing Series awards ceremony will be available in its entirety to fans worldwide on the Internet on Wednesday, Nov. 14, at NHRA.com and the NHRA channel on YouTube.
(Photos courtesy NHRA/National Dragster; JFR/Ron Lewis; Click to enlarge)