Pro Stock veteran Rodger Brogdon scored the biggest victory of his professional career Sunday, defeating reigning world champion Erica Enders-Stevens by 14 feet in the final round of the 31st annual CARQUEST Auto Parts NHRA Nationals at Wild Horse Pass Motorsports Park.
It was the second time Brogdon has beaten his Houston neighbor in the final round of a national event but the first time since Enders-Stevens won the Pro Stock world title last year. Both racers are powered by Elite Performance engines, the main sponsor of Enders-Stevens' team.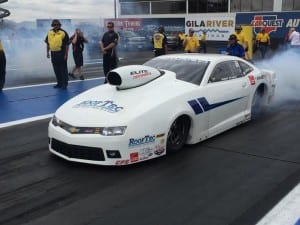 "We've both got fast race cars and it was an exciting race," said Brogdon, who moved into the points lead with the win. "That's such a great group over there at Elite, and Erica is the champion and we're all very proud of her. Beating that girl isn't easy, I can promise you that. She's had my number most of the times we've raced, but I just found out that we're 2-0 against her in final rounds, so I guess that balances it out a bit.
"Everyone else in this class better watch out because Elite-powered cars are dominating right now and we're going to win a bunch more races. Hopefully that includes our group. I'd like to win several in a row. I have such a great team of dedicated guys. I'm lucky."
Brogdon beat Deric Kramer, Shane Gray, and Drew Skillman to get a shot at Enders-Stevens. Although he gave up a .033-second head start in the final, he quickly passed Enders-Stevens and drove away for a 6.560-second, 211.49-mph win. Enders-Stevens appeared to have a mechanical issue and slowed to a 6.640 at 205.51 mph.
"What's crazy is we really didn't decide to race until maybe two or three weeks before Pomona," said Brogdon, who is competing this season without the help of a corporate sponsor. "We decided to run the first eight to 10 races and see how we do. Certainly winning a race against the champ will help our sponsor hunt tremendously. It shows we have the ability to run with anyone and even contend for the championship.
"It takes a lot of talent in every position on the crew, great horsepower, and a big sponsor to run at this level for an extended period of time. We've got a team helping us search for sponsors, but it's very hard to do. All I can do as a driver is try my best on the track so we draw as much attention as possible to what we're doing."