Brittany Force showed the competition and her fans that it's "Game On" as the Castrol EDGE Dragster blasted off the starting line like a missile and ran an impressive 3.765 second pass at 322.81 mph during the second qualifying session at the 30th annual NHRA Nationals at Maple Grove Raceway.
The 2013 Auto Club Rookie of the Year ran her quickest Top Fuel pass since Sonoma earlier this year. Force also picked up two NHRA Mello Yello Bonus Points for her awesome qualifying performance in that second session despite having her BOSS 500 engine explode into a fireball right as she crossed the finish line.
"That was definitely a crazy run. I watched it on the screen when NHRA replayed it and I no idea there was a fireball that big right behind me. My Castrol EDGE dragster went right down the track and it felt like it left hard and was on a smooth straight run then, it started to rattle about six or seven hundred feet out, it shook a little but it picked and I drove right through it," she said.
"Right as I crossed the finish line I felt an explosion behind me, I knew it was a big one but not as big until I saw the footage later on. It hurt the car but like crew chief said, you can't have your cake and eat it too. We ran such a good number, we're number two and I'm pumped," .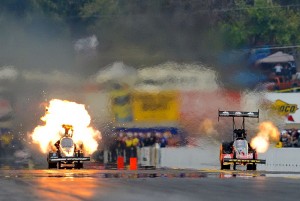 In the opening session, Brittany's dragster started out on a good pass but quickly began to haze the massive Goodyear slicks and could muster only a 4.894-second run at 144.06 mph. The always optimistic Brittany Force knew her crew would evaluate the run and make the right call heading in the second qualifying session.
"On the first session, my dragster left good then at 300-feet, it went up in smoke so I decided to get out of the throttle and not risk doing more damage. There are only 16 Top Fuel dragsters here so we didn't see the need to pedal it and get it down there as it would only hurt the car. I knew we'd have another session later in the afternoon and the conditions would be a lot cooler, we wanted to put a good number on the board and it did," she said.
When it came time for the second session, Brittany's crew had a handle on the weather and track conditions and the crew, led by Todd Smith and Dean "Guido" Antonelli, made the right call and took advantage of the conditions to move the Castrol EDGE Dragster up from the 14th spot to number two.
"We knew the conditions would be better and didn't want to lose the opportunity to move Brittany up in the field. She was on a good run until something happened to the engine right at the stripe. We're looking at it now and will fix it. We're all happy she qualified number two as it's a great confidence builder for the whole team," Smith said.
The Castrol EDGE team will get two more shots down Maple Grove Raceway and with Brittany currently qualified second, the crew can focus on getting the car set up for Sunday's final eliminations. With only two races in the Countdown, Force is focused on going rounds and winning her first Top Fuel race for Castrol EDGE and John Force Racing.
"I try not to focus too much on the Countdown, I know there's that added pressure as you want to do good for the team and you want to work your way up the ladder. Right now, we're number 10 and you can't kick us out of the Countdown, we can only go up from there, so that's our plan we're going after it," Brittany said.
"Each weekend I jump in the car I just look at it as another race and I have a job to do, doesn't matter which race it is or who's in the next lane, I'm going to do my job and get the car down the track. We all have a lot of work to do tomorrow to get ready for those two runs but we're ready."
(Photos courtesy JFR/Lewis/Nastase)