Around the world, sportsman drag racing is flourishing as one of the best kept secrets in drag racing. Kids are getting their start in a Junior Dragster, high school programs are getting more kids involved in their daily drivers and competitive points series are completed by hundreds of race tracks weekly.
Among those racers running in every bracket class known to man, there are always a few names that stand out above the rest. There is always that one guy at every track who is the ringer in the pits every week, then there are the national big names – maybe they won a big-money race, run the divisional series with the NHRA, or possibly even took a national championship home after a long year's hard work. One of those racers is named Luke Bogacki. Most know Luke from his widely popular website, ThisIsBracketRacing.com, and through his social media, podcasts and videos highlighting a particular weekend or a series of events that he recently attended.
Over the past few years, Bogacki has added numerous wins to the shop wall in big-money bracket racing, including a first- and second-place points finish in the 2016 DragRaceResults.com Ultimate Shootout at Huntsville, taking home a brand-new rolling chassis dragster and a complete engine to insert right between the frame rails. "Cool Hand Luke" also scribed his name into the NHRA history books by claiming a Super Comp and Super Gas world championship in back-to-back seasons, along with a prestigious US Nationals Wally in the Super Comp category in the K&N Filters-sponsored, American Race Cars dragster. Bogacki also won the NHRA JEGS Allstars Challenge at Route 66 Raceway in Super Gas, wheeling his RacingRVs.com-sponsored Chevrolet Corvette roadster.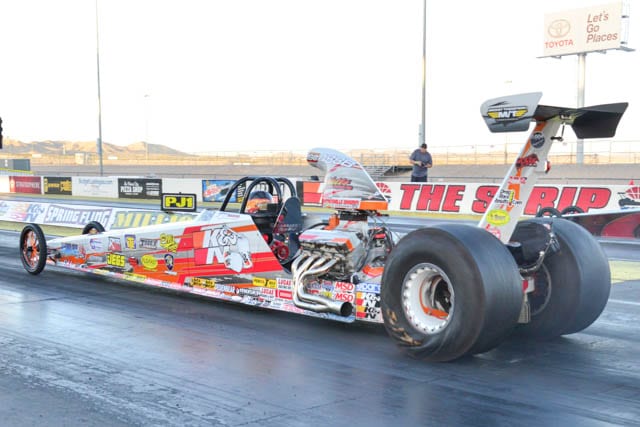 However, one victory still eluded the ever-popular wheelman that has proven time and time again that the big stage usually does not bother him – Bogacki had not claimed a win in the Million. As of 2016, there were now two chances to win 'The Million,' with Peter Biondo and Kyle Seipel adding the K&N Spring Fling Million at Las Vegas Motor Speedway to their growing line of bracket races. Bogacki claimed a $25,000 Thursday event win and has won numerous smaller days at the original Million Dollar Drag Race now held at Montgomery Motorsports Park, but has also seen stints at Memphis and Huntsville, but the big race was always kept away from the Illinois-based runner – until now.
A couple weeks ago, Bogacki packed up the RacingRVs.com-sponsored truck and trailer. His wife, Jessica, and son, Gary, piled into the motorhome and off they went on the long trek to Nevada and to the second running of the K&N Spring Fling Million. After fighting through some of the toughest racers on the planet, Bogacki found himself in the final round with Texas runner Michael Pennington and his sleek roadster. Both drivers were clean and green in the finals with both going dead-on their respective dial-ins, but the K&N-sponsored, American Race Cars-built dragster of Bogacki had the win light by the narrowest of margins, nearly completing the storied career of the well-known and liked racer.
"I don't say this so much to brag but to process it myself – it almost doesn't seem real," Bogacki said. "I feel like it's the last leg of a grand slam – I've won two world championships, won the US Nationals and won the JEGS Allstars event. The Million was really the last big win that I wanted to get. The race is so big and the competition is unmatched, I just did not know if it would ever happen. Our American Race Cars dragster was on point all weekend long with the horsepower from Huntsville Engine and Advanced Product Design, a great converter package from BTE Racing, a set of sticky Mickey Thompsons on the rear and Renegade Racing Fuels in the tank. This would not be possible without all of the manufacturers and marketing partners who had a hand in what I truly believe is one of the baddest hot rods on the planet right now in bracket racing."
In talks with Bogacki, he had very positive and strong words for his peers, Peter Biondo and Kyle Seipel, who are the promoters of the Las Vegas-based event and the two other Spring Fling Bracket Races, contested at GALOT Motorsports Park and Bristol Dragway later in the season.
"I feel like they seemingly think of everything," Bogacki added. "They coordinate parking two weeks in advance with the LVMS staff and their other events. I was there for three weeks and never had to move my operation. The entire event just runs like a well-oiled machine and it is very racer-friendly. Peter and Kyle even had an Easter egg hunt for the kids on Saturday; not many promoters remember that this is a family sport. The spoils for the winner are over the top with the limo ride to downtown and the incredible suite for not just one night, but two. When it comes down to it, they are just racers putting on the event that they would want to compete at themselves, and it makes the event bigger and better each time."
In closing, Bogacki has claimed just about every big check known to man in the world of sportsman bracket racing. He jumped into the NHRA ranks and took home numerous Wallys and two world championships for his efforts, all while never losing his bracket racing touch. When asked what is next on his bucket list for the sport of drag racing, the answer was simple. "That's a good question, but I want to continue to compete at a top level, help other racers maximize their own talents and race as a family with Jessica and Gary."
While Luke Bogacki has finally grabbed the Million by the horns as he has done so many other events over the years, do not look for the Illinois racer to check up anytime soon, as his operation is full blast with three cars of his own, Jessica's dragster, and surely a Junior Dragster will enter the Luke Bogacki Motorsports juggernaut very soon.

Story by Tyler Crossnoe
Photos by John DiBartolomeo