When 2-time NHRA national champion Luke Bogacki pulled his rig into Brainerd International Raceway three weeks ago for the NHRA Lucas Oil Nationals, he was in the midst of a subpar season. To that point, he had attended nine Super Comp events in 2015, and with the exception of a runner-up finish at the NHRA Route 66 Nationals he had struggled in the 8.90 category, advancing past the second round of competition just twice in those nine appearances. Three weeks later, the perception of his season couldn't have changed more.
Bogacki drove his K&N Filters backed dragster to the Super Comp title in Brainerd, his first 8.90 victory in over two years, by defeating 4-time NHRA national champion Gary Stinnett in the final round. A week later, he continued his winning ways by plowing through the field at the NHRA Lucas Oil Series event in Bowling Green, KY, where he once again won the Super Comp category. That title continued an incredible run at that event and facility: in five appearances, Bogacki has three Super Comp victories and a runner-up in Bowling Green! From there, he made his way to the biggest NHRA event of the year, the Chevrolet Performance U.S. Nationals, riding a 13-round winning streak.
"I joked with friends about it," Bogacki laughed. "To win Indy I'd have to win 20 straight rounds of racing in what I believe is the toughest, deepest class in NHRA competition, Super Comp. I argued that you couldn't stage for 20 consecutive rounds in this class without running into a .010 package or some sort of buzz saw in the other lane. Somehow it happened; I still can't believe it."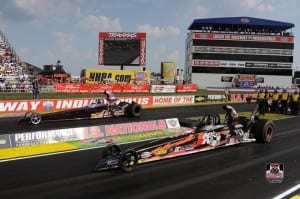 Bogacki did win seven rounds at Indianapolis, running his unbeaten streak to an unheard of 20 consecutive rounds, as he defeated a "Who's Who" list of Super Comp opponents en route to his first U.S. Nationals crown and tenth NHRA national event victory. Behind the wheel of his American Race Cars built, K&N Filters backed machine, Bogacki advanced past Roger New, Ray Miller III, Tom Stalba, Rock Haas, Billy Torrence, Chase Murray, and final round opponent Anthony Fetch. In eliminations, which were contested over four days, Bogacki's reaction times varied from .005 to .014. He left first in every green light matchup except for the third round confrontation with Stalba, who edged him at the tree, .006 to .013.
"This K&N Filters dragster has just been incredible," Bogacki beamed. "We made some changes prior to Brainerd and it's really responded. The combination was always good, but we seem to have found a bigger window of forgiveness with it; it's been extremely predictable, particularly in big weather swings. I'm really proud of my driving too. I made good decisions down track, and I hit the tree really well; probably better than I ever have. In eleven runs over six days, my physical reaction time varied just .007-of-a-second. Given the conditions, how spread out the race is, and the pressures of Indy I was really happy with that. And of course, I had a lot of luck on my side. For the first several months of the season, it seemed like every opponent I faced made their best run of the event beside me. Lately, I've been up against several great racers, but almost without fail they've made their worst runs of the event in the opposite lane. I feel like we made a lot of runs that would've been tough to beat, but thankfully I didn't have to make a lot of great runs – we got all the breaks."
Bogacki credited his equipment with giving him the confidence necessary to win at such a high level. His K&N Filters dragster is a 240" American Race Cars chassis. A Huntsville Engine 632 cubic inch powerplant is capable of pushing the machine to E.T.'s in the low-seven second range, but an APD Max Speed carburetor slows it to the 8.90 Super Comp index at speeds nearing 180 miles per hour. Featured engine components include BRODIX SR20 cylinder heads, a BRODIX aluminum cylinder block, Clark Gaskets, Milodon oil pan, Wiseco pistons, Jesel rocker arms and belt drive, a Crane Cams camshaft and roller lifters, along with Manley I-Beam rods and valve springs. A K&N Wrench Off oil filter and Lucas Oil protect the engine, which is wrapped in a J&J Performance engine diaper. Renegade 116+ racing fuel is pushed through an APD mechanical pump via Earl's Performance hose and fittings, then exhausted through a set of Hedman Hedders outfitted with Nitroplate coatings and protective tethers from CollectorTethers.com.
Bogacki transfers power to the ground thanks to a BTE Top Dragster transmission and BTE 10" torque converter, attached to an innovative CVD driveshaft from Goethe Enterprises which drives a Moser Engineering third member and Moser axles. Mickey Thompson wheels and tires round out the drive train package, along with a single Ohlins TTX-36 shock absorber and a set of Moser Engineering Pro Drag disc brakes. In the cockpit, Luke relies on Auto Meter's multi-function data logger to monitor and record critical functions. A K&R Performance Engineering Pro-Cube delay box and switch panel control the vehicle, and operate the APD throttle stop as well as a Dixie Racing Products electric shift solenoid. Additional manufacturers that the team depends on include Dedenbear, ISC Racer's Tape, Charlie Stewart Race Cars, Nitrous Express, California Car Cover, DragRaceResults.com, Todd's Extreme Paint, Racer Tees, SHARP Stuff, and Fastonix Solutions.
Bogacki's 20 consecutive round wins have vaulted the two-time champ into second place in the national Super Comp points standings, but he cannot overtake current leader Kevin Brannon.
"Our divisional performances were too poor this season to entertain any thought of another championship," Bogacki explained. "Honestly, coming into Brainerd even finishing the year in the top ten felt like a stretch. But after this run we should end up in the top ten, maybe even the top five. Don't get me wrong, I'd love to win another championship at some point. But to win Indy and capture a JEGS All-Stars title this season, man those are huge accomplishments. If you're using a national championship as your only barometer for success, you're bound to be disappointed. We've had another amazing year."
In addition to his Super Comp triumph, Bogacki briefly flirted with the idea of a double victory at the U.S. Nationals (a feat that has never been accomplished in event history). He advanced his Racing RV's backed Super Gas Corvette into the fourth round of competition before falling to Paul Brown.
The Luke Bogacki Motorsports team will take two weekends away from the NHRA tour before Luke attempts to extend his unprecedented winning streak at their "home" Mello Yello Series event, the AAA Insurance Midwest Nationals, near St. Louis, MO. In addition to major partners K&N Filters and Racing RV's, Bogacki also wished to recognize his teams associate marketing partners for their role in his continued success. Those partners include Watts Auto Diesel Service, Advanced Product Design (APD), Accelerated Graphics, Bill Taylor Enterprises (BTE), Mickey Thompson Tires, American Race Cars, Renegade Race Fuels, Product Development Group (makers of Flo-Fast pumps and AirTek pressure monitoring systems), JEGS, and C.A.R.S. Protection Plus. He also thanked his wife Jessica, son Gary, father-in-law Jack, and all of his friends and family for their support.